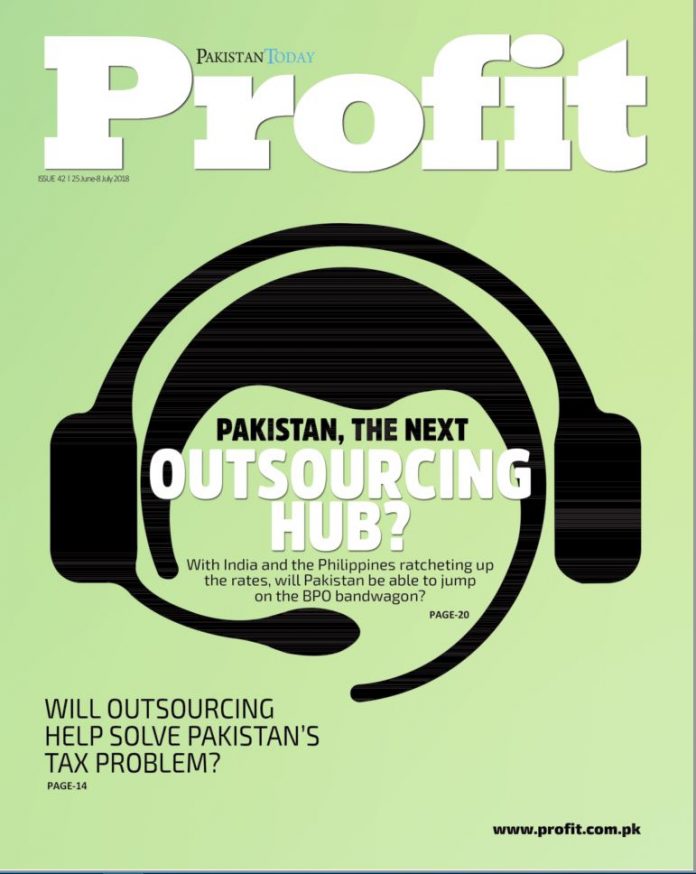 If there is one theme that dominates this issue of Profit, it is unquestionably outsourcing. Our cover story explores Pakistan's miniscule business process outsourcing (BPO) industry and whether it has the potential to gain market share against its larger rivals in India and the Philippines as they struggle with rising labour costs and increasing competition from lower-cost geographies.
And we have another feature that explores the proposal – put forward by the Pakistan Muslim League Nawaz (PML-N) – of outsourcing important functions of tax collection from the Federal Board of Revenue.
The fundamental premise of outsourcing is similar to that of gains from trade: each individual, company, and country are better off specialising in the product or service in which they have a comparative advantage (relative to their own capabilities in other products or services) and simply trading for the remainder of what they need.
The economic logic behind this is simple enough, albeit often greatly misunderstood, most prominently in the current era by United States President Donald John Trump.
But the context in which outsourcing takes place can be important. In the case of the BPO industry, the view taken by most experts – and the editorial view of Profit – is that it is almost invariably good for the Pakistani companies that are seeking to compete in this industry as well as their US and European rivals who are looking to outsource some of their non-core functions to BPO providers, whether they be located within their markets, or in other countries.
When it comes to outsourcing government functions, however, there are several other important considerations beyond just the efficiency of the moment. Profit, like most business publications, believes in economic liberty and limited government. We believe that the government's role is not to become a direct market participant but rather to create a facilitative environment, and establish clear and fair rules of the game.
However, that does not mean that we blindly believe in reducing the footprint of the government, even from areas where its role is important, and which constitute a core function of government. Tax collection, in our view, is one such function. The government has the power to tax the income and businesses of its citizens, and it has the right to use force against those who do not comply with tax laws.
In our view, such a function should never be outsourced, no matter what the compulsions of the moment might be.