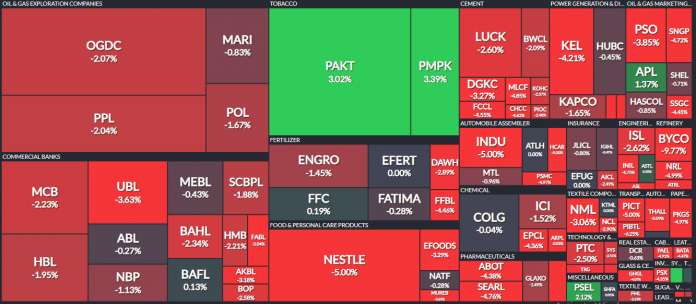 — Index is 4 per cent away from touching 52-week low
KARACHI: If one thing was visible at the Pakistan Stock Exchange (PSX) on Friday, it was the colour red. Indices traded in the negative direction right from the word go owing to the uncertain macroeconomic situation of the country.
On the economic front, as per the latest data released by the State Bank of Pakistan on Thursday, the foreign reserves of the country fell to a four-year low of $8.4 billion level (6.95 per cent WoW basis). To add fuel to the fire came out the news of Shahbaz Sharif being taken into custody over the Saaf Paani case, wiping out any positivity. Furthermore, the Oil and Gas Regulatory Authority (OGRA) made an announcement to increase the prices of natural gas up to 143 per cent.
The KSE 100 touched intraday low of 39,030.03 after a massive loss of 1,050 points before it settled lower by 767.57 points at 39,319.55. The index is 4 per cent away from touching its 52-week low. The KMI 30 index declined by 2.29 per cent and closed the session lower by 1,559.07 points at 66,468.09, while KSE All Share index depreciated by 2.05 per cent or 602.89 points, ending the day at 28,795.99.
The trade volume was recorded at 153.50 million. Worldcall Telecom (WTL +32.44 per cent), The Bank of Punjab (BOP -2.58 per cent) and Pakistan International Bulk Terminal Limited (PIBTL -6.25 per cent) led the volume chart. The scripts had traded 9.34 million, 8.82 million and 7.97 million shares respectively.
Treet Corporation Limited (TREET -5.00) touched its lower lock after declaring its financial results for Financial Year 2018 (FY18). Sales were up by 12 per cent from the previous year, while earning per share declined from Rs1.45 to Rs-3.97.
Flying Cement Company Limited (FLYNG -1.28 per cent) announced its results for the year ending June 30, 2018. Sales appreciated by 18 per cent YoY whereas the earning per share increased from Rs1.13 in the previous session to Rs1.32 in the current year.
Diamond Industries Limited (DIIL -1.95 per cent) released its financial performance for FY18. Sales declined by 90 per cent from the preceding year. However, the company's earnings per share improved from Rs-70.01 to Rs2.00.