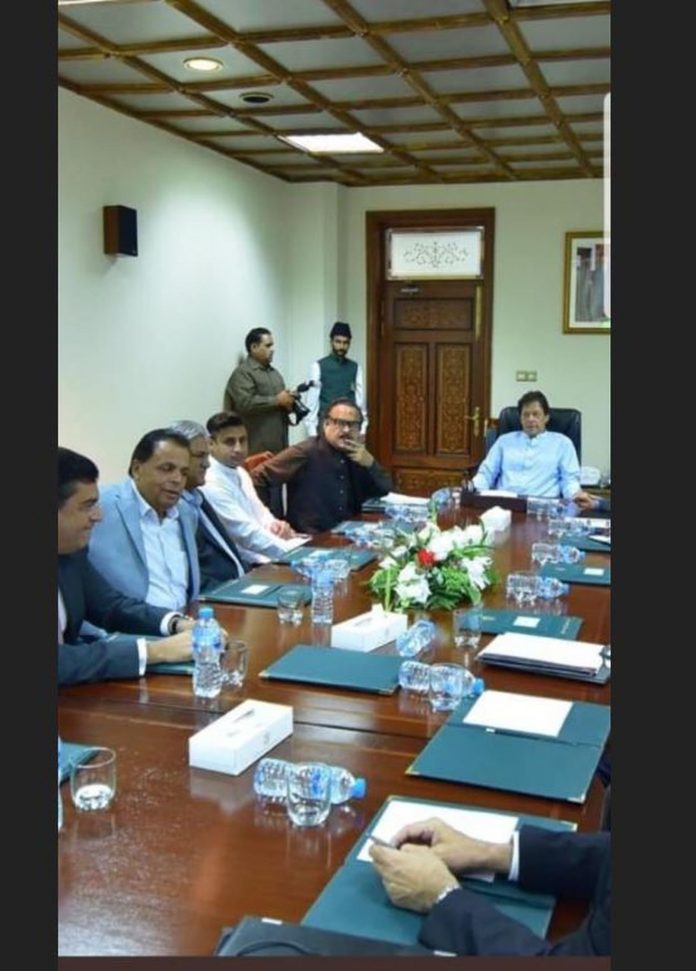 LAHORE: The Economic Coordination Committee (ECC) of the cabinet in its meeting last week directed the formation of a special committee comprising of members from Finance, Power Division, Auditor General of Pakistan, Ministry of Petroleum and FBR to address various issues relating to the transfer of K-Electric shares from Abraaj Capital to Shanghai Electric.
The ECC meeting was attended by the cabinet members and it was decided to constitute a special committee comprising members from various departments of the federal government were instructed to address various issues facing the K-Electric deal.
After the ECC meeting and the circulation of this picture on social media and various other forums during the same period, it was rumoured that they were inter-related.
Profit reached out to Special Assistant to Prime Minister on Media, Iftikhar Durrani who told this was a 'courtesy call' from Arif Naqvi.
Firstly, Abraaj is facing bankruptcy proceedings in the Cayman Islands, which were filed by a Kuwaiti fund in June when it declined to agree to a proposed debt freeze, which had complicated Abraaj efforts to sell its investment management business to New York-based Cerberus Capital Management.
Moreover, another creditor Auctus followed suit and initiated legal proceedings in the Cayman Islands in which it sought restructuring of the private equity firm's liabilities.
Consequently, Abraaj was then forced to file a petition in the Cayman Islands asking the court to appoint PwC as provisional liquidators.
However, the situation hasn't improved, as Abraaj has been compelled to sell-off its fund it for which it received a bid of $1 from private equity firm Actis in September.
Also, compounding Naqvi's problems have been worsened by the delay in the sale of Pakistani private power utility K-Electric which it sold for $1.66 billion to Shanghai Electric in October 2016.
The proceeds from the consummation of the transaction could be a major lifeline for Naqvi, which could be utilized to pay off the company's creditors who have been at his neck since the last few months.
The reason to meet PM Khan could stem from the aforementioned reason to help the stalled K-Electric deal move forward and get it cleared from the relevant authorities, which could pave the way for Naqvi's financial troubles to ease.
But could Naqvi's meeting be to extract a favour from the prime minister, whom Reham Khan in her book alleged that her ex-husband told her the Abraaj founder had funded 66 percent funded of his election campaign in 2013?
And considering the dire financial situation, Abraaj is in currently, extracting a favour from the PM to remove obstacles in the clearance of the K-Electric deal could be the reason Naqvi could have met Khan for.
According to various reports, Abraaj has been forced to close its London and Dubai offices as it struggles to remain afloat.
Abraaj has been in doldrums and was once the largest private equity house in the Middle East and Northern Africa region.
Its high-flying executive once adorned places like the World Economic Forum in Davos and rubbed shoulders with people like Microsoft founder Bill Gates and proselytized good deeds and money making.
Naqvi, who set up Dubai-based Abraaj in 2002, in February passed the reins of the fund management arm to two new co-chief executives so he could concentrate on managing the parent company, Abraaj Holdings.
Mr Naqvi's reputation has been tarnished in the aftermath of the scandal where Abraaj's leading investors accused it over the misuse of healthcare funds in February.
Known to be a generous philanthropist, Mr Naqvi studied at the prestigious institute London School of Economics (LSE).
Mr Naqvi has made donations to LSE and Abraaj has been a leading promoter of Middle Eastern art and has financed a prize and glitzy fair.
Note: An earlier version of this article insinuated that the picture was related to the ECC meeting. The error is regretted.