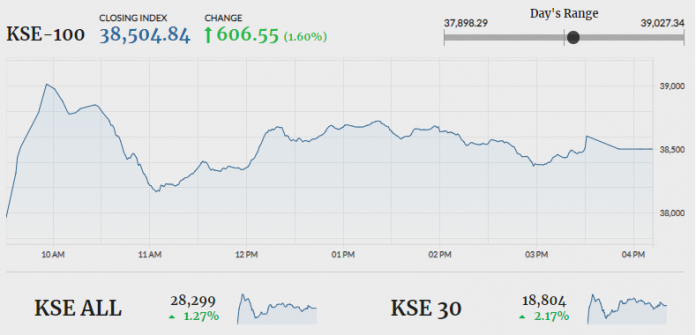 — Bulls made a strong comeback after six negative sessions, PSX gained 606 points
KARACHI: The finance minister's announcement regarding the International Monetary Fund (IMF) brought life back to the Pakistan Stock Exchange (PSX) on Tuesday. Breaking the negative trend of six consecutive sessions, bulls made a strong comeback as it was reported that Pakistan would officially approach IMF for a bailout.
On the economic front, the Pakistani rupee dropped sharply, falling around 7 per cent to Rs133 per dollar, more than 25 per cent lower than it was at the beginning of December last year.
The KSE 100 index managed to gain 70.96 points to touch intraday high of 39,297.31. It settled higher by 606.55 points at 38,504.84. The KMI 30 index was up by 2.53 per cent as it gained 1,621.18 points to close at 65,645.68, while KSE All Share index closed the day at 28,299.34 after adding 356.24 points to its account. Trading volumes improved from 186.01 million in the preceding session to 225.12 million, an increase of 20 per cent.
Lotte Chemical Pakistan Limited (LOTCHEM +4.41 per cent) was the volume leader of the day exchanging 14.17 million shares. Next in line was The Bank of Punjab (BOP +3.26 per cent) with 10.11 million shares followed by Azgard Nine Limited (ANL -8.16 per cent) with a volume of 9.49 million.
The oil and exploration sector gained 4.81 per cent in its cumulative market capitalization following the increase in global oil prices and the sector being a beneficiary of currency devaluation. Oil and Gas Development Company Limited (OGDC +5.00 per cent) touched its upper-circuit breaker, whereas Pak Petroleum Limited (PPL) was up by 4.49 per cent, Pakistan Oilfields Limited (POL) by 4.82 per cent and Mari Petroleum Company Limited (MARI) by 4.87 per cent.
Frontier Ceramics Limited (FRCL -1.69 per cent) announced its financial results for the year ending June 30, 2018. Sales surged up by 56 per cent YoY while earning per share increased by 767 per cent from Rs0.12 in the previous year to Rs1.04 in the current year.
Hascol Petroleum Limited (HASCOL +0.45 per cent) made an announcement that the company has successfully acquired a plant of liquefied petroleum gas (LPG) for Rs175 million from Marshal Gas (Pvt) Limited and the Oil and Regulatory Authority (OGRA) has granted an approval or NOC for the transfer of the LPG plant and assets with the license to operate the LPG business. The company intends to commence its operations immediately after the receiving the NOC from the Competition Commission of Pakistan (CCoP).