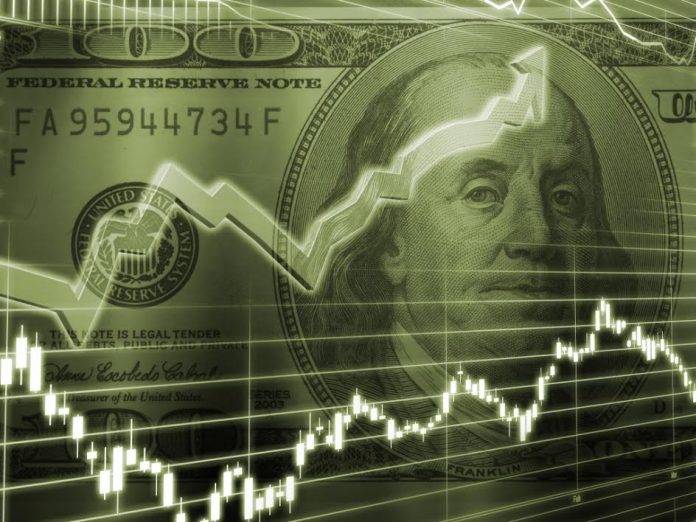 SINGAPORE: The U.S. dollar edged up on Tuesday after it was dented by weak U.S. retail sales data overnight, while New Zealand's currency gained on the back of stronger than expected inflation data.
The dollar index, a gauge of its value against six major peers, traded steady at 95.143, gaining 0.09 percent on Tuesday, but off an intraday high of 95.37 on Monday prior to release of the retail sales data.
That data suggested consumers were reluctant to spend and came as U.S. bond yields cooled off from its seven-year high last week.
The benchmark U.S. 10-year yields consolidated at 3.16 percent on Tuesday, having hit a seven-year high of 3.26 percent on Oct. 9.
To some analysts, the dollar has not been moving like a safe-haven currency at present.
The Japanese yen weakened by 0.19 percent on Tuesday and changed hands at 111.97. The yen had hit a one-month high of 111.61 on Monday.
The Swiss franc weakened 0.17 percent versus the dollar to trade at 0.9886 on Tuesday, after tacking on 0.45 percent overnight.
Both the yen and Swiss franc have attracted buyers amid tensions between the Western powers and Saudi Arabia, which has been under pressure since a prominent Saudi journalist Jamal Khashoggi, a critic of Riyadh and a U.S. resident, disappeared on Oct. 2 after visiting the Saudi consulate in Istanbul.
An impasse over Brexit talks and global trade tensions have added to the cocktail of negative factors that battered global stocks.
The sterling changed hands at 1.3144 as investors wait for more clarity over the post-Brexit status of Britain's land border with Ireland.
The euro traded flat versus the dollar at 1.1572, well off a seven-week low of 1.1429 hit last Tuesday.
Chancellor Angela Merkel's Bavarian sister party said on Monday it would back political stability in Berlin after suffering big losses in a regional election that their far-right foes hailed as "an earthquake" that would rock the coalition government.
The New Zealand dollar advanced 0.24 percent versus the U.S. one to trade at 0.6567 as the domestic inflation rate was higher than expected in the third quarter.
Government data showed consumer price inflation rose 0.9 percent in the September quarter, topping the 0.7 percent expected, due to rising petrol costs and a weakening currency.
However, the bank's own preferred measure of core inflation stayed at 1.7 percent in the third quarter, suggesting there was no rush to tighten policy either.
The Australian dollar traded flat versus the greenback at 0.7126. Minutes of the Reserve Bank of Australia's October policy meeting released today showed policy makers remained upbeat on the economic outlook overall.