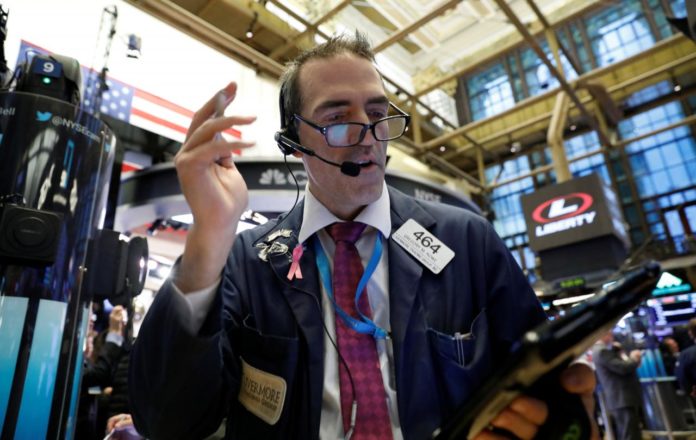 Benchmark S&P 500 is on a six-day losing streak and has fallen in 14 of the 18 trading days this month
US stocks slid on Wednesday, continuing a brutal month, as weak forecasts from chipmakers fanned concerns over the impact of tariffs and China's slowdown on corporate profit, even though Boeing hiked its outlook.
The benchmark S&P 500 is on a six-day losing streak and has fallen in 14 of the 18 trading days this month, pounded by worries ranging from rising borrowing costs and bond yields to Italy's budget and upcoming US mid-term elections.
After disappointing forecasts from industrial giants Caterpillar (CAT.N) and 3M (MMM.N) on Tuesday, chipmakers Texas Instruments and STMicroelectronics (STM.PA) (STM.N) warned of slowing demand on Wednesday.
"There is a lot of market angst at present. One thing that has been critical in sustaining a bull market has been earnings … and they're not as robust as the first half of the year," said Bryan Reilly, a managing director at CIBC Private Wealth Management. "Tariffs are certainly getting a lot of attention and companies are bracing for further tariff hikes, and should that persist there is only one way for corporate optimism to go given that we are at an all-time high."
Texas Instruments (TXN.O) dropped 3.9 per cent, helping pull the Philadelphia Semiconductor index down 3.10 per cent. Advanced Micro Devices (AMD.O), which reports after the bell, fell 5.3 per cent and Intel (INTC.O), reporting Thursday, shed 2.1 per cent.
The beaten-down S&P technology sector retreated another 1.47 per cent. Microsoft (MSFT.O), which also reports after the bell, declined 2 per cent.
Results from S&P 500 companies so far have been strong, pushing up third-quarter profit growth estimates to 22.4 per cent from 21.6 per cent in the last 10 days, but dour forecasts have pulled down fourth-quarter growth estimates to 19.5 per cent from 20 per cent, according to Refinitiv data.
A notable exception was Boeing (BA.N), the largest US exporter to China, which rose 3.8 per cent after raising its full-year profit outlook. That helped the Dow Jones Industrial Average open higher before the mood soured.
At 12:59 p.m. ET, the Dow was down 98.57 points, or 0.39 per cent, at 25,092.86, the S&P 500 was down 24.56 points, or 0.90 per cent, at 2,716.13 and the Nasdaq Composite was down 111.82 points, or 1.50 per cent, at 7,325.72.
AT&T (T.N) tumbled 5.9 per cent after US wireless carrier's quarterly profit rose less than expected, held back by its declining satellite TV business.
That also weighed on other media companies and dragged the communications services sector down 2.07 per cent, the most among the 11 major sectors.
Only the defensive utilities, real estate and consumer staples posted gains. Ford (F.N), due to report after the closing bell, fell 2.7 per cent.
Declining issues outnumbered advancers for a 1.74-to-1 ratio on the NYSE and a 2.40-to-1 ratio on the Nasdaq.
The S&P recorded 10 new 52-week highs and 39 new lows. The Nasdaq recorded 14 new highs and 278 new lows.