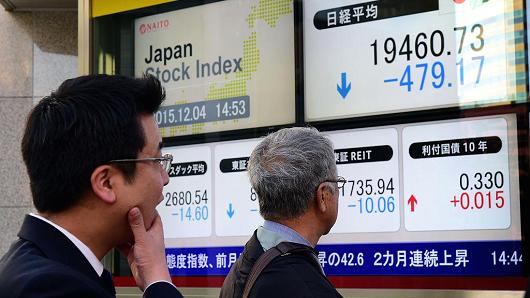 SHANGHAI: Asian shares tumbled to 20-month lows and S&P futures fell sharply at the end of a turbulent week for financial markets on Friday, as anxiety over the outlook for U.S. corporate profits added to lingering fears about global trade and economic growth.
The losses came despite a bounce on Wall Street overnight, highlighting fragile investor confidence, as shares of tech titans Amazon.com Inc and Alphabet Inc fell sharply after the closing bell on disappointing earnings.
In Friday's Asian session, S&P E-mini futures slumped 0.66 percent, setting up a potentially rough session for U.S. markets which had crumbled on Wednesday on concerns about earnings and sent global equities into a tailspin.
MSCI's broadest index of Asia-Pacific shares outside Japan dropped 1 percent, erasing tiny gains made in the opening hour and hitting its lowest level since February 2017. Not helping was a slide in the Chinese yuan past a key level, refocusing market attention on slowing growth in the world's second-biggest economy.
The MSCI Asia index has been bruised by a heavy sell-off in the past several days and is on course for its fifth weekly loss – its longest such streak since 2015. It has fallen more than 4 percent this week.
Chinese shares were pulled lower amid the generally dismal mood, and as the yuan fell past the psychologically important 6.96 level to the dollar, touching its lowest levels against the greenback since January 2017.
The blue-chip index was down 1 percent and the Shanghai Composite was 0.53 percent lower in early afternoon trade.
Chinese shares have been hit by volatility this week amid a string of official announcements and measures aimed at supporting the markets following a recent plunge. The heavy sell-off has raised concerns about risks posed by about $620 billion worth of shares pledged for loans.
In Hong Kong, the Hang Seng index was 1.05 percent lower, with tech shares dropping 2.72 percent.
Tech firms also fell in South Korea, where the broader market slid 1.62 percent, deepening losses after the Kospi closed at its lowest level since January 2017 on Thursday.
In Australia, shares turned down 0.4 percent after gaining modestly at the start. But Japan's Nikkei stock index was shaken by a volatile session, spending much of the morning in the red and last trading flat after tumbling 3.7 percent on Thursday.
Financial markets have been whipsawed in recent sessions on concerns over global growth as investors fretted over Sino-U.S. trade frictions, a mixed bag of U.S. corporate earnings, Federal Reserve rate hikes and Italian budget woes. A slowdown in China has been particularly worrying for policymakers and investors, hitting asset markets from stocks to currencies and commodities.
Investors will get a chance to check the U.S. economic pulse later Friday when the government releases third-quarter GDP data.
DRAGHI COMMENTS HIT EURO
In currency markets, the euro fell, extending weakness after European Central Bank President Mario Draghi said the bank's 2.6 trillion-euro ($2.96 trillion) asset purchase program will end this year and interest rates could rise after next summer, despite fears about the monetary union's economic and political future.
The single currency was 0.1 percent lower at $1.1362.
The dollar was off 0.21 percent against the yen at 112.16. The dollar index, which tracks the greenback against a basket of six major rivals, was 0.04 percent lower at 96.644.
U.S. Treasury yields rose as equity markets plunged. The 10-year yield fell to 3.1056 percent compared with its U.S. close of 3.136 percent on Thursday.
Oil prices gave up ground, heading for their third weekly loss after earlier rising on signals from Saudi Arabia's energy minister that there could be a need for intervention to reduce oil stockpiles.
U.S. crude dipped 0.85 percent to $66.76 a barrel. Brent crude fell 0.62 percent to $76.41 per barrel.