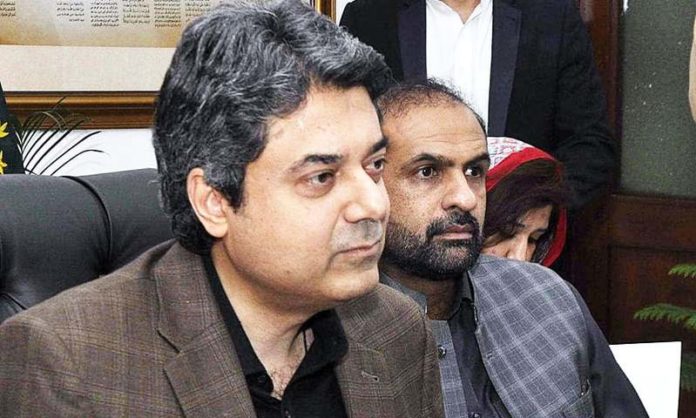 Law minister says there are certain NGOs that are only wasting the money of the west and are not helping in any cause
ISLAMABAD: Law and Justice Minister Barrister Dr Muhammad Farogh Naseem said on Tuesday that Pakistan direly needs the support and cooperation of European Union (EU) for economic stability and prosperity in the country.
Talking to a seven-member delegation of the European Parliament Committee, headed by Jean Lambert, Barrister Farogh Naseem said steps were being taken to ensure witness and judicial protection for effective dispensation of justice in Pakistan.
On the issue of the death penalty, the law minister said that the death penalty was never abolished in Pakistan; however, there was a moratorium on executions of the death penalty.
He said incidents like Army Public School massacre, Zainab case and similar cases of child abuse resulted in a huge public uproar, adding that the death penalty was awarded in "rare of the rarest cases".
During the meeting, the issue of extending support to international NGOs was also raised by the delegation members to which the law minister responded, "The government will support all the genuine NGOs that are working in Pakistan but there are certain NGOs that are just wasting money of the west and are not helping in any cause."
Barrister Dr Naseem appraised the delegation about steps the new government was taking to overhaul the legal system in order to help the people of Pakistan. He said human rights were on the government's agenda and support from the European Union in this regard was essential. He urged the European Union to help Pakistan eradicate the menace of corruption.
Lambert on the occasion thanked the law minister for his time and expressed her gratitude for the hospitality extended by the Pakistani side. She informed the minister that the delegation comprised of representatives of three different political groups and was in charge of relations with six countries. She further informed that their job was to engage with governments as well as with the civil societies of these countries.
Parliamentary Law and Justice Secretary Maleeka Bukhari and Law Ministry Consultant Raja Naeem were also present during the meeting.