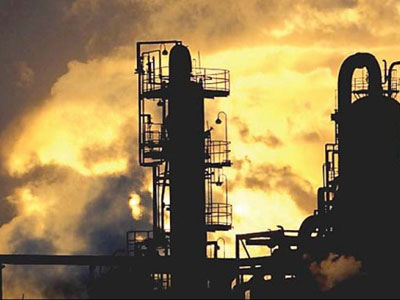 DUBAI: Economic growth in the energy-rich Gulf will recover in 2018 from a contraction last year but remains vulnerable to volatility in crude oil prices, the IMF forecast on Tuesday.
The global lender predicted that an overall energy price recovery from 2015-2016 lows would spur the economies of the six-nation Gulf Cooperation Council to grow by 2.4 per cent in 2018 and 3.0pc in 2019, after a contraction of 0.4 percent last year.
Grouping Bahrain, Kuwait, Oman, Qatar, Saudi Arabia and the United Arab Emirates, the GCC states together pump over 17 million barrels per day and depend heavily on crude revenues.
But "the growth outlook for oil exporters remains subject to significant uncertainty about the future path of oil prices," the IMF said in its Regional Economic Outlook for the Middle East and North Africa (MENA).
After their earlier extended recovery, oil prices have shed a fifth of their value in just one month, with Brent crude trading near its lowest price since April.
Growth in non-GCC oil exporters in MENA, which includes Iran, Iraq, Algeria and Libya, is projected to slow to 0.3 percent in 2018, from three percent the previous year, and pick up modestly to 0.9 percent in 2019, the IMF said.
"This largely reflects the expected impact of the re-imposition of US sanctions on Iran, which is likely to reduce Iranian oil production and exports significantly over the next two years at least," the IMF said.
It projected Iran's economy to shrink by 1.6 percent this year and 3.6 percent in 2019.
For oil-importing countries in MENA, growth is expected to continue at a modest pace of 4.5 percent in 2018, before dropping back to four percent next year, the IMF said.
This level of growth is not sufficient to create the required jobs for a region marred by instability and civil strife, it said. Oil revenues for MENA exporters have increased by about $260 billion (230 billion euros) over the period 2016 to 2018.
This has mostly been due to a price rise generated by production cuts in nations belonging to the OPEC cartel, as well as non-OPEC producers.
The current account balance will turn from a deficit into a surplus and overall budget shortfalls will decline, the lender said.
The IMF urged GCC states to continue with and expand reforms, welcoming the imposition of a value-added tax by Saudi Arabia and the UAE.
It also called on GCC countries to impose a corporate and personal income tax in order to diversify their revenue streams.