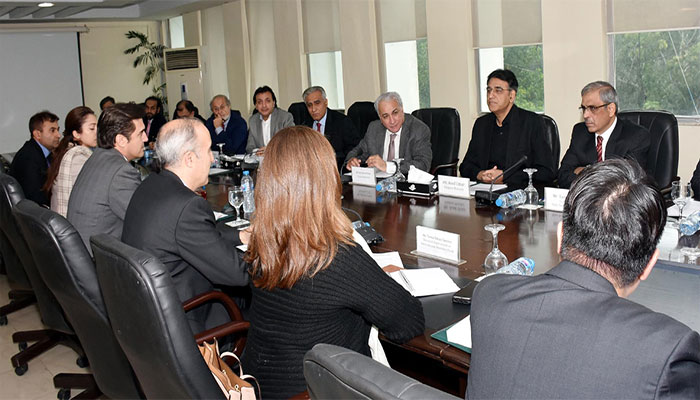 'It will be a huge challenge if there is no headway in the negotiations in the next few days'
Finance Minister Asad Umar on Wednesday said that despite financial assistance from other countries, approaching the International Monetary Fund (IMF) is still in the best interest of the country.
Talking to a private TV channel, he said that any foreseeable financing problems until June 20, 2019, have been eliminated because of the financing agreements made by the incumbent government. However, only an immediate crisis had been thwarted while other reforms have just been started for the elimination of the actual crisis which forces the country to seek bailout programmes repeatedly, he added.
He said that time is required for supporting and implementing the basic reforms the government wishes to undertake, therefore, entering into another IMF programme is still a good option, adding that Pakistan would only enter the programme if its conditions are in its best interest.
Responding to a question regarding the ongoing talks with the IMF mission, he said that while it was "difficult" to negotiate with the lender, the talks had only just begun, adding that it would be a huge challenge if there is no headway in the negotiations in the next several days.
The finance minister ruled out any challenge regarding the direction of the ongoing talks and said that the debate would totally focus on the pace of fiscal adjustment. He also dismissed the perception that the government had delayed approaching IMF for a bailout, adding that he had approached them just 10 days after his appointment.
"We had asked the IMF to send a mission to Pakistan to conduct an analysis of the economy while we simultaneously carried out bilateral discussions with other countries. The government had announced its decision of approaching IMF only days after we received the staff mission's report," he said.
The finance minister said that after exploring other options, the government now had room to negotiate with the lender.
He also that last year, the country had an accumulated current account deficit of $19 billion and it also faces payments of $9 billion for previously taken loans. However, due to the steps taken by the government and monetary policy actions announced by the State Bank of Pakistan (SBP), the current account deficit had shrunk by $6 billion, he added.
"The current account deficit may total $12-13 billion this fiscal year," he said.