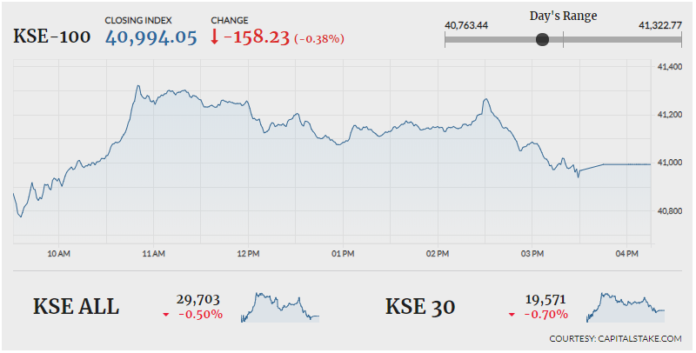 KARACHI: The Pakistan Stock Exchange (PSX) once again went under the control of bears, as indices that opened positive swung in both directions before ending the session on Wednesday in the red.
The day open with MSCI, a leading provider of research-based indexes and analytics, released its review for the month of November 2018. Previously included in the mid-cap indexes, Lucky Cement Limited (LUCK +2.92 per cent) and United Bank Limited (UBL -4.24 per cent) were demoted to the small-cap index, while Honda Atlas Cars (Pakistan) Limited (HCAR -2.96 per cent) and Maple Leaf Cement Factory Limited (MLCF +2.89 per cent) were removed from the small-cap indexes.
The KSE 100 index declined by 388.84 points shortly after the start of the session to reach an intraday low. The index then rebounded to touch intraday high of 41,322.77. However, it failed to sustain the gains and settled lower by 158.23 points at 40,994.05. The KMI 30 index lost 352.85 points to end at 70,235.76, while the KSE All Share index fell short by 148.16 points to close at 29,703.44. The advancers-to-decliners ratio stood at 193 to 145.
The market participation improved significantly from the previous session with total volumes recorded at 255.17 million. Siddiqsons Tin Plate Limited (STPL +4.37 per cent) managed to secure the top position with a volume of 25.21 million, followed by Lotte Chemical Pakistan Limited (LOTCHEM +2.09 per cent) and TRG Pakistan Limited (TRG -4.85 per cent) with 24.311 million and 17.34 million traded shares respectively.
The cement sector (+2.96pc), refinery sector (+2.88pc), textile weaving sector (+2.87pc) were among the top gainers of the day, while the losers included oil and gas exploration sector (-3.30pc), food and personal care sector (-2.49pc), technology and communication sector (-2.10pc), insurance sector (-1.87pc) and jute sector (-1.70pc).
The banking sector (largest sector by market capitalization) lost a slight 0.40pc from its market capitalization. Major player Habib Bank Limited (HBL) managed to register a minor gain of 0.75pc, whereas MCB Bank Limited (MCB) appreciated by 0.01pc. United Bank Limited (UBL -4.24pc) also ended in red after the announcement made by the MSCI. Standard Chartered Bank (Pakistan) Limited (SCBPL -1.43pc), Bank AL Habib Limited (BAHL -0.03pc) and Allied Bank Limited (ABL -0.05pc) also ended slightly negative.