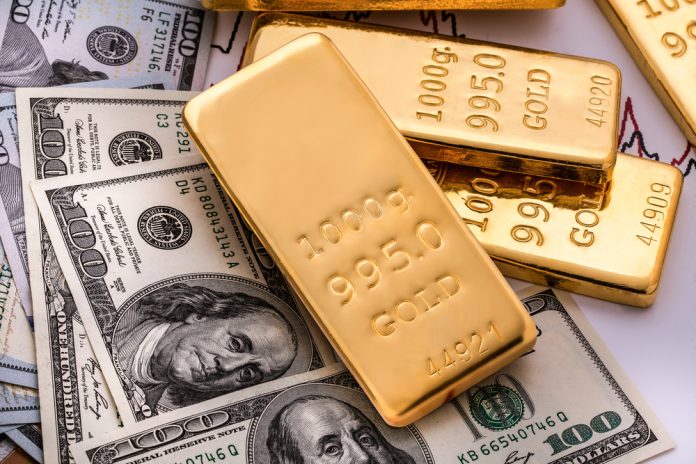 BENGALURU: Gold edged higher on Thursday as growing risk aversion weighed on the dollar, while palladium held ground at a premium to the bullion.
Spot gold was up 0.2 percent at $1,239.86 per ounce, as of 0429 GMT, while U.S. gold futures were 0.2 percent higher at $1,244.9 per ounce.
A balance between a host of factors such as a rate hike by the U.S. Federal Reserve in December, uncertainty about trade tensions between Washington and Beijing, and a flattening yield curve has helped create a premium for the bullion, Lu added.
Fed policymakers will gather at a Dec. 18-19 meeting, at which the central bank is widely expected to raise interest rates.
The dollar declined against the safe-haven yen as a spike in risk aversion pressured equities and U.S. Treasury yields. The spread between the two-year and five-year Treasury yields inverted this week and the two-year/10-year spread was at its flattest in more than a decade amid a sharp fall in long-term rates.
Spot gold may test a resistance at $1,245 per ounce, a break above which could lead to a gain into a range of $1,253-$1,258, according to Reuters technical analyst Wang Tao.
Meanwhile, palladium continued to be more valuable than gold after outshining the yellow metal for the first time since 2002 on Wednesday, with prices soaring by around 50 percent in less than four months to record levels.
Spot palladium rose 0.1 percent to $1,245.00 per ounce, hovering near its record high hit in the previous session.
The market now awaits Friday's U.S. non-farm payrolls data for November, which is expected to show unemployment remains at 3.7 percent.
Amongst other metals, silver fell 0.7 percent to $14.41 per ounce, while platinum extended losses into a third session, declining 0.7 percent to $795.00 per ounce.