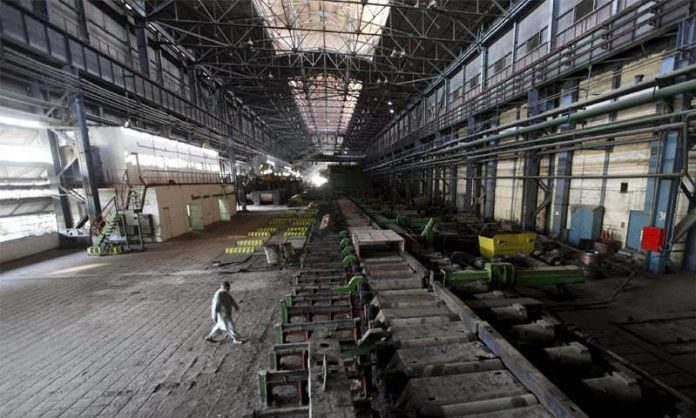 ISLAMABAD: Setting aside Pakistan Steel Mills (PSM) board of directors as well as Public Procurement Regulatory Authority (PPRA) rules, the Ministry of Industries and Production has handed over the task of PSM revival to private steel mill companies and Hub Power Company Limited (HUBCO), sources revealed on Tuesday.
According to insiders, the ministry has allegedly hired the services of 'favourite' private steel companies and HUBCO for the revival of ailing PSM, which was facing Rs475 billion in losses. They said that the ministry, acting upon the advice of PM's Adviser Abdul Razak Dawood, has advised the PSM Board to share confidential information and data with private companies and HUBCO for preparation of the revival plan.
Sources claimed that the ministry has so far ignored the PSM revival plan that was prepared by Chinese company, Sinosteel, in 2015, after taking millions of rupees as payment for the said purpose.
An important meeting of PSM Board is scheduled to be held on January 4 to review and approve the handing over of PSM revival to private companies, to share confidential information with private companies and also to discuss the offers so far presented by Russia and China in this regard, said sources.
They said that PSM stakeholders, in a letter to Prime Minister Imran Khan, had asked for an inquiry against all those who are out to sabotage the revival plan.
Documents available with Pakistan Today disclosed that the ministry, in violation of rules, has adviced PSM Board to approve the decision of handing over the revival of PSM to private companies. Similarly, by issuing advice, the ministry has surprisingly violated the rules of corporate governance as it interfered in the domain of PSM's Board. Moreover, the ministry, while hiring the services of HUBCO and private steel companies, has not fulfilled the concerned PPRA rules.
Officials at Industries Ministry, on the condition of anonymity, alleged that Additional Secretary Mazhar Niaz Rana had arranged meetings of PSM officials with the HUBCO management and private steel companies in Karachi and shared the information and data of PSM in violation of the rules and the regulations.
They said that these meetings were held without seeking any approval from the PSM Board, adding that the important position of chief executive officer of PSM was lying vacant since April 2016 while there was no permanent chief financial officer of the state-owned entity.
Due to the absence of CEO and CFO, the ministry has been taking advantages and making decisions regarding PSM, officials added.