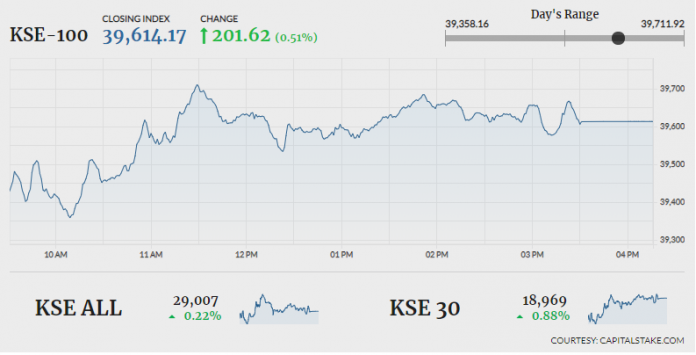 KARACHI: Positive sentiments surrounded the Pakistan Stock Exchange (PSX) for the second consecutive session on Tuesday, as indices traded in green all day long. Foreign investors continued to be net buyers on Monday with a total inflow of $0.87 million.
The benchmark KSE 100, after fluctuating in initial hours, touched its intraday high of 39,711.92, accumulating 299.37 points. It finally settled on the upper side at 39,614.17, up by 201.62 points. The KMI 30 index jumped up by 592.66 points and ended at 67,135.03 points, while KSE All Share index gathered 63.35 points, closing at 29,006.72. Out of the total traded scripts, 118 advanced, 189 declined while 26 remained unchanged.
Market volumes improved from 115.33 million in the previous session to 122.24 million. Pak Elektron Limited (PAEL +1.16pc) topped the volume chart with 15.35 million traded shares, followed by The Bank of Punjab (BOP +0.78pc) and Lotte Chemical Pakistan Limited (LOTCHEM -3.50pc). The scripts had swapped 11.53 million shares and 11.42 million shares respectively.
The oil and gas exploration sector gained 2.81pc in its cumulative market capitalization. Pak Petroleum Limited (PPL +4.86pc) nearly touched its upper lock, while Oil and Gas Development Company Limited (OGDC) and Pakistan Oilfields Limited (POL) were up by +2.94pc and +0.38pc correspondingly. Mari Petroleum Company Limited (MARI -0.82pc) on the other hand ended negative.
Meanwhile, the fertiliser sector added 1.29pc in its total market capitalization. Engro Corporation Limited (ENGRO +2.88pc), Dawood Hercules Corporation Limited (DAWH +3.23pc), Fauji Fertilizer Company Limited (FFC +1.77pc) and Arif Habib Corporation Limited (AHCL +1.05pc) all closed in green.
Major gainers included the woolen sector (+3.32pc), oil and gas exploration sector (+2.81pc), leather and tanneries sector (+1.96pc), modaraba sector (+1.49pc) and fertilizer sector (+1.29pc). On the other hand, close-end mutual fund sector (-4.19pc), vanaspati and allied industries sector (-3.99pc), tobacco sector (-2.57pc), chemical sector (-2.56pc) and automobile parts and accessories sector (-2.10pc) concluded the day as losers.