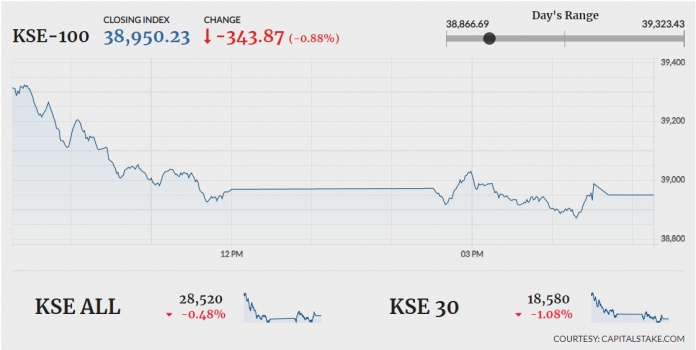 Trading volumes declined further by 11pc and were recorded at 73.95m
KARACHI: The Pakistan Stock Exchange (PSX) continued its downward journey and was dominated by bears on Friday.
Indices moved downhill owing to lack of positive triggers, while volumes remained thin. Foreign investors closed as net sellers on Thursday with a net outflow of $0.921 million.
According to latest data released by the State Bank of Pakistan, foreign exchange reserves held by central bank jumped up by 0.99pc on a weekly basis and now stand at $8.12 billion.
After losing 427.41 points by midday, the KSE 100 index benchmark touched its intraday low of 38,866.69. The index ended on the lower side at 38,950.23 after dropping 343.87 points. The KMI 30 index declined by 915.21 points to settle at 64,383.01, while the KSE All Share index fell short by 137.27 points, ending at 28,520.20. The advancers to decliners ratio stood at 81 to 222.
Trading volumes declined further by 11pc and were recorded at 73.95 million. Worldcall Telecom (WTL 2.94pc), The Bank of Punjab (BOP +0.14pc) and Pakistan Stock Exchange Limited (PSX +5.81pc) were volume leaders of the day. The scripts had traded 12.47 million shares, 6.66 million shares and 6.62 million shares respectively.
According to news reports, pharmaceutical exports increased by 2.72pc in the seven months of the financial year 2018-19. Exports worth $122.181 million were made during the period under review as compared to exports of $118.942 million in the same period last year.
Following the news, the pharmaceutical sector gathered +0.65pc in its cumulative market capitalization. Abbot Laboratories (Pakistan) Limited (ABOT +3.14pc), GlaxoSmithKline (Pakistan) Limited (GLAXO +1.69pc), The Searle Company Limited (SERAL +1.05pc) and Otsuka Pakistan Limited (OTSU +4.44pc) all ended in green.
Continuing with the positive sentiments post the announcement of mini-budget, the automobile assembler sector gained +2.31pc in its total market capitalization. Indus Motor Company Limited (INDU +5.00pc) and Honda Atlas Cars (Pakistan) Limited (HCAR +5.00pc) touched their upper circuit breakers, while Pakistan Suzuki Motors Company Limited (PSMC +3.41pc) and Hinopak Motors Limited (HINO +1.29pc) also closed positive.