LAHORE: Rumours have been circulating that Amazon, world's largest online retailer, is keen to enter the Pakistani market, yet this speculation has never been confirmed however now Amazon has hinted that Pakistan will soon be added into the list of approved countries on Amazon.
Recently, officials from Amazon U.S. have reached out to Pakistani manufacturers to initiate the process of getting Pakistan listed as an approved country to sell from. Amazon officials have also ensured that every effort would be made to make the process of selling on Amazon easy for Pakistani nationals. Currently Amazon supports over 103 countries to sell on their platform within the U.S., unfortunately, Pakistan is not one of them.
Enablers CEO Saqib Azhar told Profit, "Amazon U.S. has reached out to us to initiate the process of getting Pakistan on the list of approved countries to sell from. Before there were sellers who used to sell on the platform, however, the process was very complicated and offshore companies had to be formed, but now we are seeing some positive signs for Pakistan and the Pakistani industry."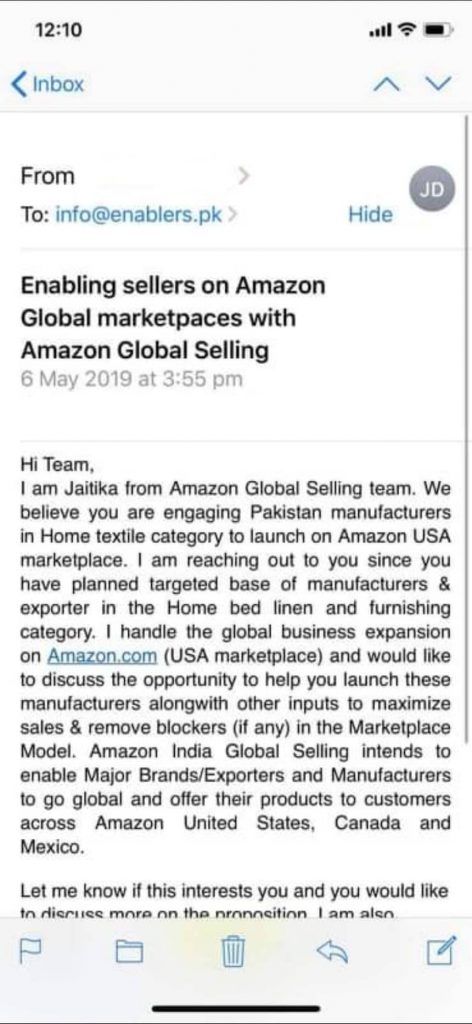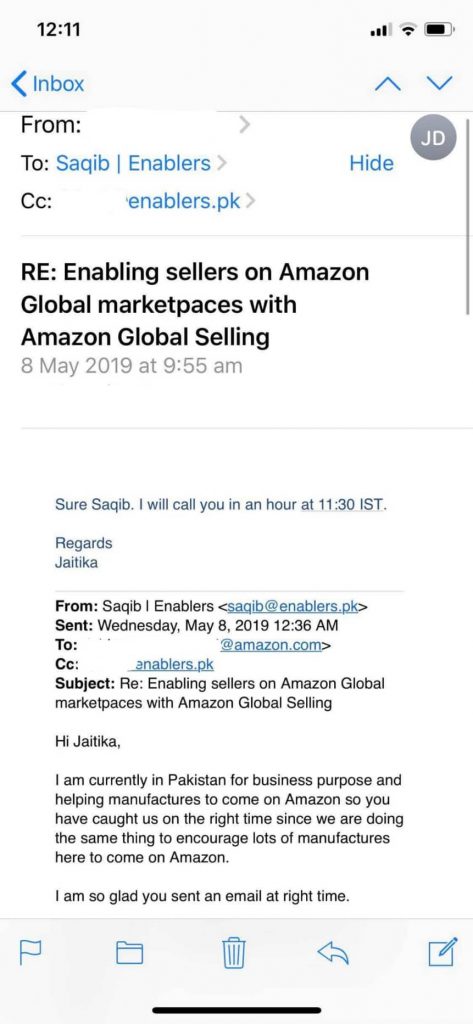 "Amazon realises the potential of the Pakistani market due to the manufacturing industry in Pakistan and its exports and now is actively looking to engage an audience of sellers within the home, bed linen and furnishing category from the country," Saqib said, adding, "Amazon does understand the challenges that we in Pakistan face when it comes to selling on Amazon and they are working to address these issues."
Earlier in May, Saqib had been approached by Amazon U.S. to formulate a mutual partnership between Amazon and Pakistani manufacturers to work together to bring Pakistani products into different categories on Amazon.com.
According to Saqib, it has been agreed that the identity verification process, which currently does not include Pakistan and is one of the key requirements to sell on Amazon, would now include a customised link shared by Amazon to Enablers allowing sellers to sign up using Pakistani identification documents. Initially, this facility will only be for sellers within the home and textile category.
Nonetheless, discussions are still underway and have not been formally agreed by Amazon.
Saqib told Profit, "It is a great opportunity for anyone who wants to build an international online business and especially on Amazon, which has over 197 million monthly website visitors and over 100 million prime members." He reiterated, "$1 of every $2 spent online in the USA is spent on Amazon and since there is so much money on this platform, it is nearly impossible not to build a million-dollar business of your own by only selling on Amazon."
Moreover, in another development, an Amazon official, who wishes not to be named, told Profit, "Amazon has been eager to enter the Pakistani market for a very long time, however, the banking system and the problem with proper addresses have been the biggest hurdles up till now. Earlier in 2015-16, a team was also commissioned to scope out potential firms like Daraz and Goto.com.pk for a potential takeover but nothing could be finalised."
He said, "Amazon realises Pakistan's and MENA region's potential and it has recently bought Souq, a middle eastern e-commerce company, to expand its reach in the region." He further added, "Amazon PK is certainly on the cards and you might soon see that being established. We are formulating a strategy similar to the one which is being followed in India."
Meanwhile, Saqib also informed Profit, "We have also held talks with the Pakistan Tehreek-e-Isaf (PTI) government, including former finance minister Asad Umar to formulate a strategy to address the issues being faced by companies like Amazon and Paypal to enter Pakistan."
In 2017, Amazon completed its acquisition of e-commerce firm Souq.com, which was first announced at the end of March and saw the U.S. retail giant enter the Middle Eastern market.
Amazon paid $580 million in cash for Souq, according to reports whereas it was previously reported that Amazon was in discussions over an investment at a valuation in excess of $1 billion but, amid rivalry from Emaar's ambitious Noon.com project and others, an acquisition agreement was reached.
It is pertinent to mention, that according to official figures provided by Amazon, the number of people with over a million dollars in annual sales on the Amazon.com platform is 24,000 and rapidly growing. Moreover, Amazon.com sales for Prime Day 2018 aloe stood at $3.5 billion, while Pakistan's total exports in 2018 accounted for $24.772 billion.
Currently, Pakistan's e-commerce industry is valued at under $100 million.
Pakistani manufacturers and sellers looking to sell on Amazon will be inducted in the Amazon FBA (Fulfilled by Amazon) programme, where sellers from Pakistan will export products to Amazon warehouses in the U.S. and Europe, under their own brand. In return, Amazon will store the said products and once orders are placed, Amazon will ship products on the seller's behalf.