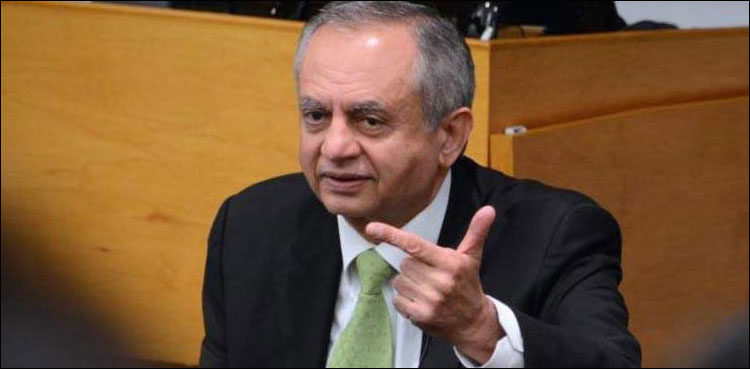 Highlighting the economic achievements of the government during a press conference regarding Pakistan Economic Survey on Monday, Commerce Adviser Abdul Razzak Dawood said among other achievements, a very important achievement is that the government successfully reversed de-industrialisation.
"It is no small feat. As a businessman myself (who has worked) in Pakistan, we found 3-4 years ago that we are experiencing rapid de-industrialisation. We went to (former prime minister) Shahid Khaqan Abbasi and told him what is happening.
"Today, that process has stopped and we are now reversing the trend. Go to Lahore, Faisalabad, Karachi and speak to businessmen. Ask them: do you have more orders now, or did you have more orders in August 2018? They will tell you that they have more orders now. That means something, doesn't it?
"(Secondly), exports needed to be increased, and we needed market access. It is a big achievement for the government that a free trade agreement (FTA) with China has been completed. The FTA with China is in phase 1 and we have removed all stumbling blocks from that arrangement. What were those stumbling blocks? You know and I know that our industry was suffering due to imports from China. In our first FTA agreement, we had no power. Today, we have protective clauses that allow us to take safeguard measures if there is any injury to our industry. (Likewise) Indonesia has given us market access unilaterally.
"You say there has been no increase in exports. I think that, deep down, there has been increase maybe not in dollar terms but definitely in quantitative terms. That means that Pakistan is producing more goods. It means our industry is working.
"On the imports end, we have now saved over $4.5 billion and by end June, we will have saved $5bn in total. This means our trade gap is narrowing. By the end of this year, it will be down to $13.2 billion."