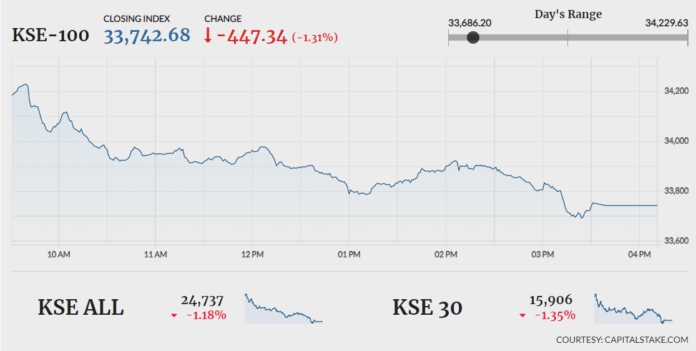 KARACHI: The investors of the Pakistan Stock Exchange (PSX) witnessed a dull start to the week, as the indices traded in the red all day long amid low market turnover. Foreign investors closed the preceding week as net buyers with a net inflow of $5.84 million.
The KSE-100 Index touched its intraday low of 33,686.20 shortly before the end of the session, eventually settling lower by 447.34 points at 33,742.68. The KMI-30 Index plunged 920.29 points to close at 53,421.34, while the KSE All Share Index declined by 296.16 points, ending at 24,736.62. Out of total traded scripts, 57 advanced and 221 declined.
The overall market volumes remained low and were recorded at 59.55 million. K-Electric Limited (KEL -4.98pc), Maple Leaf Cement Factory Limited (MLCF -2.06pc) and TRG Pakistan Limited (TRG -4.13pc) were the volume leaders of the day. The scripts had exchanged 7.44 million shares, 4.4 million shares and 3.62 million shares respectively.
In a notification sent to the exchange, Arif Habib Limited (AHL -0.88pc) has expressed its intention to buy-back its own ordinary shares up to a maximum of 6,600,000 at a purchase price of Rs35. The offer is valid till the closing of purchase period, i.e. 7th August, 2019.
The automobile assembling sector lost -1.86pc from its cumulative market capitalization with Sazgar Engineering Works Limited (SAZEW -5.00pc) touching its lower circuit breaker. Pakistan Suzuki Motors Company Limited (PSMC -4.60pc), Honda Atlas Cars (Pakistan) Limited (HCAR -4.65pc) and Atlas Honda Limited (ATLH -1.59pc) also closed in the red.
The oil and gas exploration sector chipped off -1.46pc from its total market capitalization. Pak Petroleum Limited (PPL -2.20pc), Oil and Gas Development Company Limited (OGDC -1.41pc) and Pakistan Oilfields Limited (POL -1.26pc) all closed in the negative zone.