Platform businesses – those that make money by providing a platform for other business to sell their products to consumers – are typically associated with e-commerce businesses rather than those with a physical location. But one woman operates a dessert bar in the DHA neighbourhood in Lahore, which offers desserts made by chefs and bakers from around the city. 
Muniba Javed is the founder of Dessert Directory, a luxury dessert bar as she likes to call it. 
Dessert Directory is different from your traditional dessert shops around the block. What makes the brand unique is that the desserts offered here are prepared by home-based patissiers in Lahore, who are allowed to display and sell their products under their respective brand names at Dessert Directory. Muniba says she allows others to sell their products at her facility to promote entrepreneurship, and that a personal experience drove her to do it. 
"I started off with a home-based business in 2012 by the name of Prime Edibles. Later, Prime Edibles started Prime Events. Prime Edibles received a lot of success. We used to take orders while sitting at home, for occasions such as Mother's Day, Father's Day. We used to make fruit bouquets. The demand started increasing a lot because the market we were operating in was a stagnant market. People would go to somebody's house and take a cake or sweets along. People were demanding something new. So, when we received a lot of success there, people started approaching us to have our products placed at their shops, but without our brand name," Muniba told Profit in an interview.
It might seem an interesting proposition. For a nascent business, placing products at famous outlets, the names of which Muniba refused to reveal, would understandably increase sales and profits because of the strong customer base of established brands. But putting their products at other shops under a different brand name was a deal-breaker for Muniba, and which later became the basis of her new business. 
"They insisted that we should place our products at their shops. There is so much that we did, our chocolates were very popular. So they said that keep your things with us, it will increase your sales but you won't get a name on it. We told them that we don't do what we do for money. We do it because we like it, to keep ourselves busy. We were trying a new thing. We gave their offer a thought and denied it," she says.
It was in February 2016 when Dessert Directory was born. Muniba says she came up with this idea when she was being approached by a lot of people to sell her products without her brand name. She thought that there must be so many other people also working from home but who did not have enough money, resources, and time to run their own outlets individually, although they might be selling online. 
"At that time there were no luxury desserts bars in Lahore. There were some [dessert places] but their offering was limited. We thought that Lahore lacks a proper luxury dessert bar where you can find 30-50 types of desserts under one roof which cannot be found anywhere else. I was already working on Prime Edibles. We decided that we will ask other people to join us as well. We started approaching different people, through different online food blogs. We started searching for home-based bakers. There were 600 people on the list who approached us. That is when we decided to start Dessert Directory, a dessert bar where others would also sell their products under their own brand names," Muniba told Profit.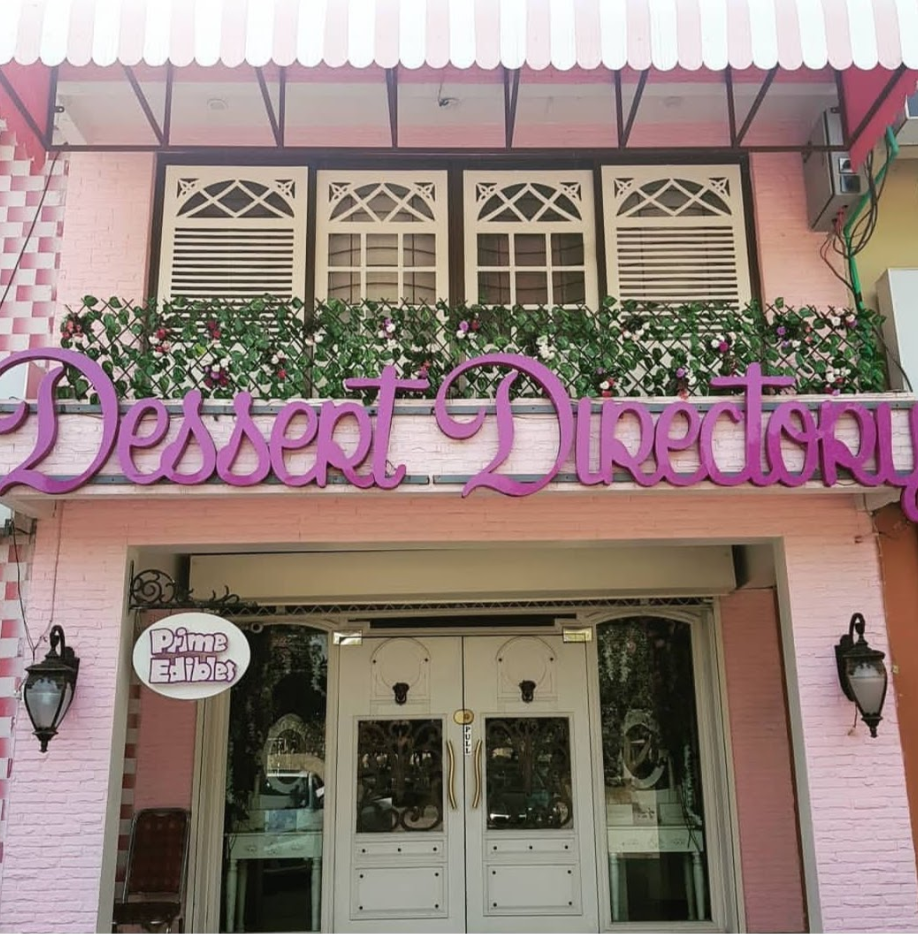 Dessert Directory advertises its brand online on social media pages but lacks a proper website or a phone app to take orders. Businesses these days aggressively leverage technology to scale and increase sales. Muniba says that the technology factor is there in the form of advertising and marketing the brand on the internet, but there is no online order taking mechanism through a website or an app because they don't have a delivery service yet. 
"We were approached by food delivery businesses to partner with us to deliver our products through online orders, but they asked for a huge commission. The commission is going to go out of my pocket, I don't see a benefit in doing that," Muniba tells Profit. 
Since the Directory has an online presence, and there's no better way than looking up on social media about people's perception about a business, especially in the food industry, Profit looked at what people, who visited Dessert Directory, had to say about the place on social media and found mostly positive comments, reflecting a good overall perception of the business. For instances where people had a bad experience at the place, they were promptly responded to by the management, and even the vendors at times.
Presently, Dessert Directory has 10 bakers — all women — on six-month contracts, selling their desserts on its platform. That is besides the in-house production of Prime Edibles, the main source of revenue for the business. Muniba says that the number of patissiers she works with varies and they have partnered with as many as 15 patissiers at one time and five of them have been with her from day one. 

Though all the vendors presently working with Dessert Directory are women, there is no women-only bakers policy and anyone can be a part of the cohort to sell their boutique desserts at the Directory, given that they meet the quality standards of the platform. 
"Initially, it was 8-10 bakers we started off with. They were providing us their products on a daily basis. Then we took it to 15. We also started in-house production. This is not a commission, not a profit-based business. We are just empowering entrepreneurs, people who are working from home. Right now, we have 10 bakers, but the number is always varying. We don't want everybody to start placing their product on our platform. We only allow very selective things. We take advice from different customers about what sort of dessert should we have here. We have tasting sessions. When the dessert is approved and finalised, that is when people would stock it here. There is a standard that we follow, and it has almost been three-and-a-half years now that we have maintained our standard," she says. 
Likewise, there is no constraint for any of the vendors to leave the Directory either. They can choose to quit if they are not satisfied with the sales or do not want to continue their business anymore for any reason, after giving a month's notice. Moreover, the vendors are not restricted to sell their products on any other platforms, online or otherwise, while they sell at the Directory. According to Muniba, if she promotes other businesses, it does not mean she has bought them.
Sarah Ali, one of the vendors selling her desserts at Dessert Directory under the brand name 'The Pink Kitchen', told Profit that she provides five different types of desserts to the bar after they were approved by a panel of six judges. And while she provides to the Directory, she takes orders online as well from her social media page without any objection from Dessert Directory.
A customer Profit spoke to found the prices of the desserts exorbitantly high for the desserts that were stocked there. A similar concern was also found online among the customers who had been to the Directory.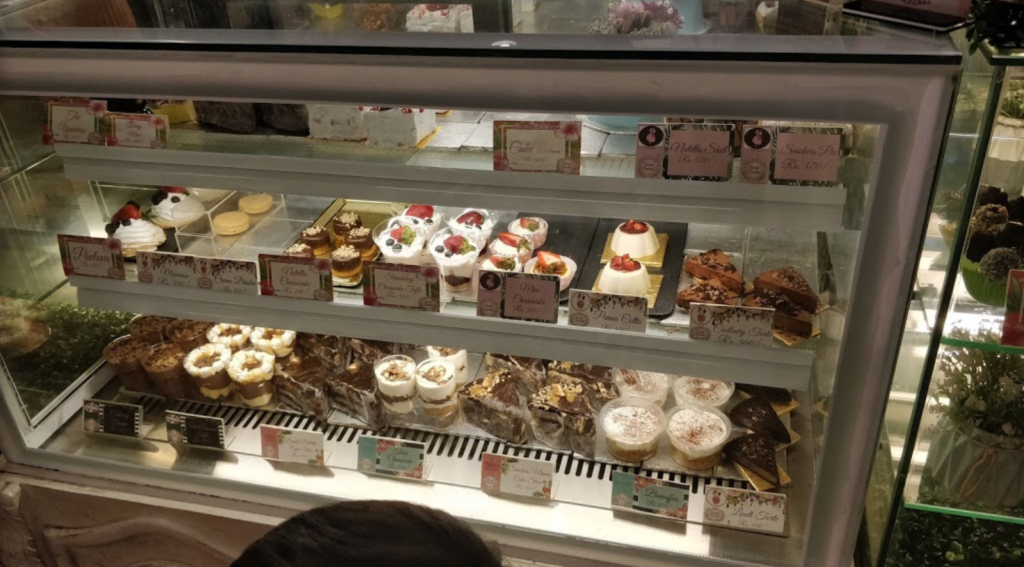 Muniba disclosed that partners provide desserts to the Directory on a daily basis and the sale price of the dessert is mutually decided by these partners and the Directory's management. The Directory only adds GST on the sale and a minimal service charge for people working there, which usually runs between Rs20-40, according to Muniba. 
Sarah tells Profit that the sale price of her products at the Directory and what she sells online are similar, except that when the products are sold at the Directory, GST and service charges are added on top of it. It is similar for other vendors as well, says Muniba.
For its services, Dessert Directory charges a rent of Rs5,500 per month, per product, per vendor. The sales go back to the partners as revenue and whatever is unsold is either their loss, or they can sell on other platforms. 
Sarah Ali says that she has been with Dessert Directory when they started and continued because it has been a good experience so far, and mainly because it has been profitable. 
But while the business is profitable for her vendors, for what Muniba charges her partners, the business would hardly sustain on its own with all the overheads and costs of operating an outlet on a rental property, an assessment Muniba agrees with. She, however, insists that the business is profitable because a major chunk of the revenue comes from in-house production of desserts by Prime Edibles, which also does catering and events. 
"Our margins come from the in-house production we have for our brand Prime Edibles. Initially, we had in-house production for drinks only, coffee menu and cold beverages as well. Then we got into cakes and started introducing our own desserts as well," she says. 
"We treat Prime Edibles as a vendor like others. We have production for that on a daily basis. And Prime Edibles was already a brand. It started Dessert Directory as a second brand. Prime Edibles is still doing their orders from our office here at Dessert Directory. We are doing fruit baskets, fruit bouquets and catering," she tells Profit.
On a question as to why Dessert Directory does not charge its vendors a percentage of commission on each product sold, Muniba responded that there are certain profit margins that the vendors have set for themselves after calculating their expenses and if she starts charging a commission on each sale, the price of the product would increase to achieve those margins, decreasing the demand of the product.
For the three-and-a-half years that Dessert Directory has been in existence, it has failed to open another branch. Muniba says that though they have plans for expansion, it has been slow because she is the only one taking care of the business and has a lot to take care of to keep things running smoothly.
"It is a one-man show. I do everything myself. I have rebranded the shop recently, all the interior was done by me. I have to monitor our products and I am also training the staff myself. In hospitality, the staff does not stick for longer periods. So the trainings keep going on. But we are planning another branch and will announce by the end of this year hopefully," she says.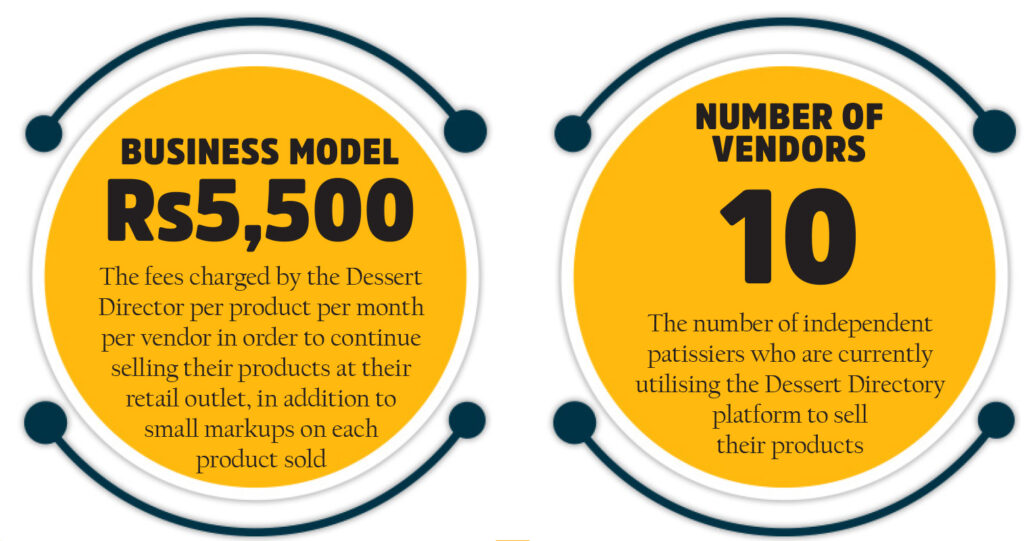 The Directory also does not allow any competition between vendors. "If somebody is offering Cadbury Mousse, no one else will be allowed to sell that Mousse. So there is no competition between two vendors. Even Prime Edibles' product is different from other vendors. We work as a single team, that is how we have developed ourselves," says Muniba.
"If let's say we have 30 desserts here, each product is different from the other. If people come, we want everyone to leave as a satisfied customer. We are also trying to kill the generic product, the market of customers that comes and only asks for a certain dessert, like molten lava cake or bread butter pudding. We were trying to get out of that. We have all sorts of desserts that people demand mainly. Everybody's palate is obviously different. So we are trying to cover all of it," she adds. 
On a question how much a vendor makes on average, Muniba disclosed that each vendor makes a different amount as the sales for each product vary. "It depends on the sale. It is summer these days so the demand for fruity desserts is high. The demand for chocolates desserts is low. But it is also not true on the other hand because on the weekends and some days, even chocolate desserts would get completely sold out," she says.

"I have made payments to my vendors of Rs50,000 at times for their sales and Rs150,000 at times as well. It varies. Each vendor makes a different amount and at different times," she disclosed, adding that the earnings of each vendor are distributed on a monthly basis. 
 An unregulated enterprise?
According to the guidelines provided by the Punjab Food Authority (PFA), all food-related businesses, including those selling online, are required to obtain a license from PFA for their business. Once they apply for the license, the food authority checks their kitchen, food and supplies to mark it safe for consumption. 
Though Muniba says Dessert Directory is licensed by relevant authorities, one of the vendors Profit reached out to, which supplies to the Directory and also sells online individually, expressed ignorance about the licensing requirements of the food authority and said that she does not presently have a license, but says that she maintains high hygiene in her kitchen. 
A representative from the PFA told Profit that home-based kitchens should get a license from the authority as soon as possible before action is taken against them. PFA informed Profit that the license for home-based kitchens can be applied on PFA's online app, and the license costs around Rs11,000. 
The representative further said that the home-based kitchens also need to register with the PFA all the products they are selling, and the cost to register each product is Rs5,800. "It is the same for all home-based kitchens in Lahore, except those in the Cantonment area, which fall under the jurisdiction of Cantonment Board," he says.