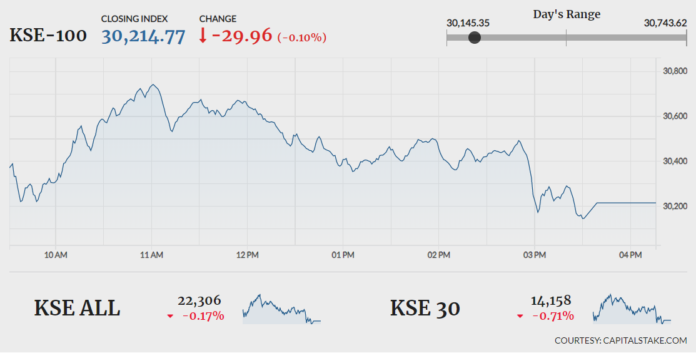 KARACHI: Bulls of the Pakistan Stock Exchange (PSX) failed to sustain their control on Thursday, as the indices took a U-turn in the late hours to end the session in red. Foreign investors offloaded stocks worth $4.57 million on Wednesday.
On the economic front, the National Electric Power Regulatory Authority (NEPRA) has allowed Rs1.78 per unit increase in the power tariff for all power distribution companies, except K-Electric.
The KSE-100 Index marked an intraday high of 30,743.62 after gaining 498.89 points during the early hours of trading session. The index then lost its momentum, marking its intraday low of 30,145.35 after losing 99.38 points. It finally closed lower by 29.96 points at 30,214.77. The KMI-30 Index fell by 187.07 points to end at 47,527.27, while the KSE All Share Index fell short by 38.96 points, settling at 22,306.35.
The fertilizer sector (-37.25 points), cement sector (-32.67 points) and oil and gas marketing sector (-15.37 points) pulled the index in the negative zone. On the other hand, the power generation sector (+43.17 points), oil and gas exploration sector (+28.89 points) and the banking sector (+16.77 points) remained the top positive contributors of the day.
Trade volumes were recorded at 146.46 million. Maple Leaf Cement Factory Limited (MLCF -2.58pc), Worldcall Telecom (WTL +1.18pc) and Lotte Chemical Pakistan Limited (LOTCHEM -4.82pc) were the volume leaders of the day. The scripts had exchanged 17.17 million shares, 12.94 million shares and 10.40 million shares respectively.
Millat Tractors Limited (MTL +4.28pc) declared its financial performance for FY19. The company also announced a final cash dividend of Rs40 and bonus shares of 12.50pc, in addition to an interim cash dividend of Rs45 already paid. Sales declined by 19pc YoY, while earnings per share shrank from Rs120.43 in FY18 to Rs82.14.
Matco Foods Limited (MFL -4.57pc) announced an EPS of Rs0.70 along with a final cash dividend of Rs0.70 for FY19, Nimir Resins Limited (NRSL +0.98pc) posed an EPS of Rs0.54 for FY19, while Orix Modaraba (ORXIM +6.92pc) declared an EPS of Rs2.78 along with a cash dividend of Rs2.50 for FY19.