The company has mostly lower-middle and working class customers. It has the most expensive product on the market, and one that is generally worth at least two months' income for most people who buy their product. Yet, its market share is dominant, selling more than the rest of the market combined, including significantly cheaper products from China. How has Atlas Honda managed to completely dominate the Pakistani market for motorcycles?
In the fiscal year ending June 30, 2019, Atlas Honda – a joint venture between Pakistan's Atlas Group and Japan's Honda Motor Company – sold 1.11 million motorcycles, which represents a 62.6% market share among all domestically assembled motorcycles, according to data from the Pakistan Automotive Manufacturers Association. It is approximately 50% of all motorcycles sold in the country, once one combines the sales of imported Chinese motorcycles.
Here is what is even more impressive: it has done so while continuing to have a premium-priced product. Atlas Honda's best-selling motorcycle is the Honda CD-70, a motorcycle with a 70-cubic centimeter (cc) engine, a size that is the most popular in Pakistan. The Honda CD-70 is priced at Rs74,000 while its imported Chinese competitors sell for Rs50,000 or even less. In other words, despite knowing the fact that they can save 32% by buying an imported Chinese motorcycle, the average Pakistani motorcycle buyer still wants a Honda.
In other words, the company's advertising tag line 'Mein te Honda hi lesaan' (I'm definitely buying a Honda) is more that just a good ad: it is actually true.
So how did this happen? More importantly, at a time when Pakistani manufacturers continue to struggle against cheaper imports from China, what is Atlas Honda doing right?
In short, the answer is quality and brand awareness.
Honda's motorcycles tend to last much longer than its Chinese competitors. Most motorcycle buyers that Profit interviewed stated that, in general, the average Honda motorcycle lasts anywhere between seven and 10 years of smooth rides and good performance before finally needing to be replaced. Compared to that, an imported Chinese motorcycle typically needs to be replaced within three years.
There is also the question of resale value. A Chinese motorcycle bought for Rs50,000 will need to be sold off within three years for Rs15,000-20,000, an almost two-thirds drop in value. Compared to that, a new Honda that can be bought for Rs74,000 can be sold after three years for an average of Rs50,000, a drop of around 33% in a comparable period of time, according to data from Pakwheels.com.

In short, Chinese motorcycles last for one third of the time, and depreciate in value twice as fast. The cheaper upfront cost is simply not worth the trade-off, which is why the overwhelming majority of Pakistani motorcycle riders prefer Honda.
In terms of fuel consumption, Chinese motorcycles are comparable to Honda. The 70-cc version of Honda motorcycles typically average between 50 and 70 kilometers per litre. The 125-cc version of Honda motorcycles average between 40 and 45 kilometers per litre. According to experts in the industry, the 70-cc and the 125-cc motorcycles account for about 95% of all motorcycles sold in Pakistan, with the 70-cc accounting for approximately 70% of sales, and the 125-cc accounting for approximately 25% of sales.
There are roughly around 50 companies which are selling Chinese bikes under different names. United, Unique, Super Star, Eagle, Super Power, Hi-Speed and Road Prince are marketing Chinese imports. However, all Chinese bike sellers combined do not come close to Atlas Honda's sales numbers.
The product line of Atlas Honda is more extensive than that, however, and includes a wide range of motorcycles. In the 70-cc category, there is the Honda CD70 and the CD70 Dream. In the mid-range, there is the Prider (100cc), the CG125, the CG125Self, the CB125F, and the CB150F. The biggest motorcycle the company sells is the CB250F. Prices range from Rs73,900 for the CD70 to Rs640,000 for the CB250F.
"Atlas Honda excels in assembling, chrome plating, and producing a higher quality of nuts and bolts, and has a better paint shop," said Sabir Sheikh, the chairman of the Association of Pakistan Motorcycle Assembler (APMA). That is reflected in the price of the spare parts used for the company's products. Sheikh says. "Honda spare parts cost five times more than those used in Chinese bikes."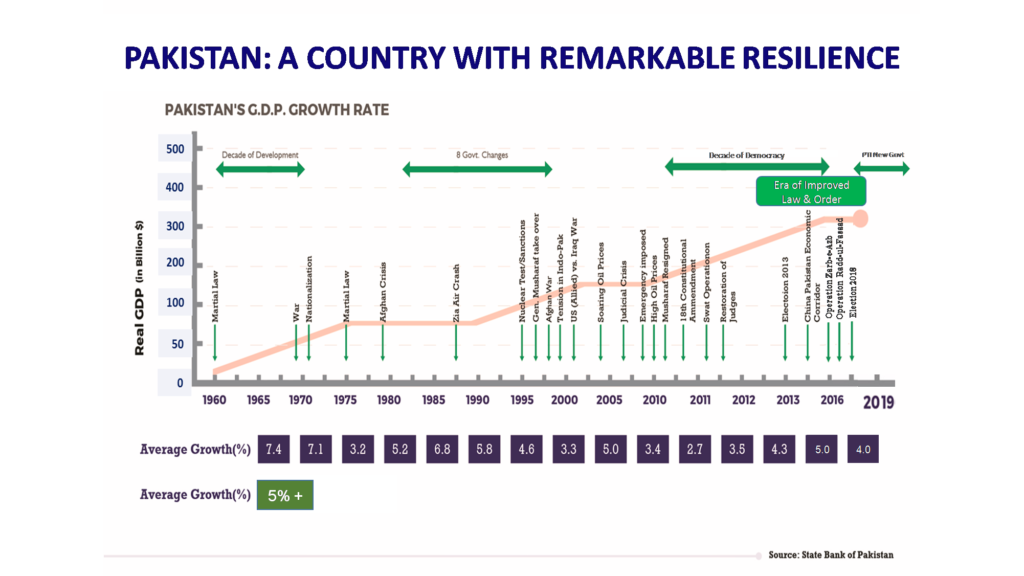 It is also important to note that customers with lower incomes tend to be more brand conscious than wealthier consumers. As many marketing experts have noted, the reason is that lower income consumers have far less financial capacity to experiment with products they buy, particularly high-ticket items like motorcycles. They would much rather buy a tried and true brand name like Honda than experiment with an unknown brand that may or may not work.
It also helps that Honda has been exceptionally good at marketing to its target audience, producing advertising that is focused on the rural and suburban customer, and creating compelling advertising and storylines in vernacular languages that appeal to their customer base.
 Hit by the slowdown
Nonetheless, while Atlas Honda is one of the dominant market place in the Pakistani motorcycle market, it is not immune to the pressures faced by the industry. The company saw the volume of motorcycles it sold in fiscal year 2019 decline by 3.1% compared to the previous year. However, Atlas Honda is still doing better than the industry as a whole, which saw its volumetric sales decline by 7.7% during the same period.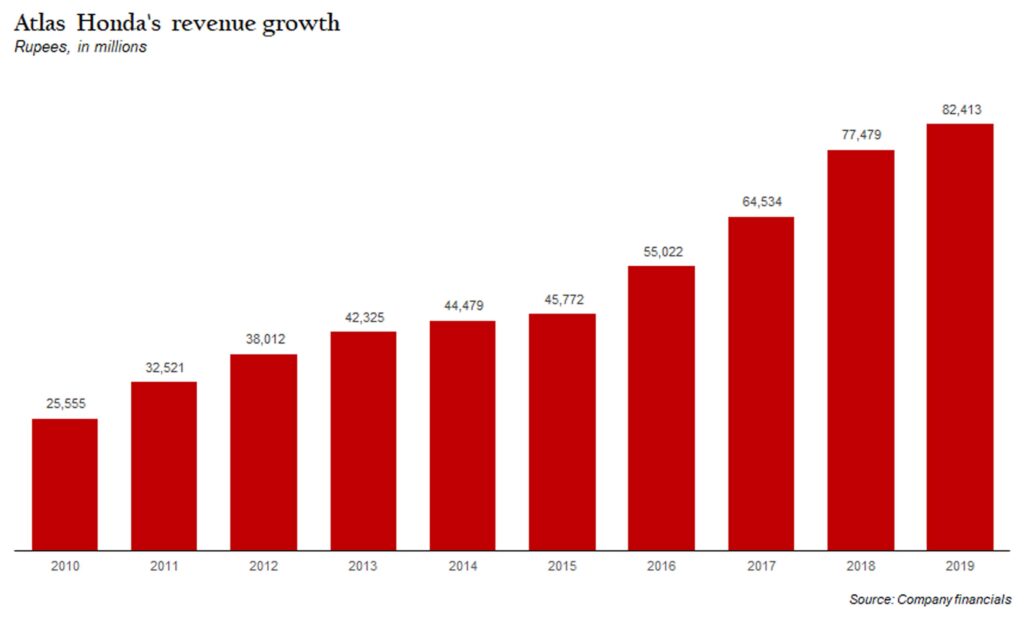 As a result, revenue growth for Atlas Honda stalled, growing at just 6.2% in the financial year ending March 31, 2019 compared to the same period last year, from Rs77.5 billion to Rs82.4 billion. Profits actually declined somewhat, as the company was not able to pass on its rising costs entirely to its customers. Net income fell by 31.2% in fiscal 2019, from Rs4.7 billion to Rs3.2 billion.
And that decline has resulted in further pain at the company. According to one source familiar with the matter, Atlas Honda has laid off as many 150 employees, which represents about 9% of the company's total workforce in Pakistan. The company declined to comment on the reported layoffs when contacted by Profit.
The causes for the decline has nothing to do with the Atlas Honda or even the motorcycle industry as a whole. As Pakistan seeks to correct its macroeconomic imbalances, the currency has depreciated sharply, causing the prices of imported inputs and costs to rise, and resulted in inflation, rising interest rates, and thus lower appetite among both banks and borrowers to buy automobiles of any kind on credit. It has also forced companies to raise prices at a time when consumers are already stretched.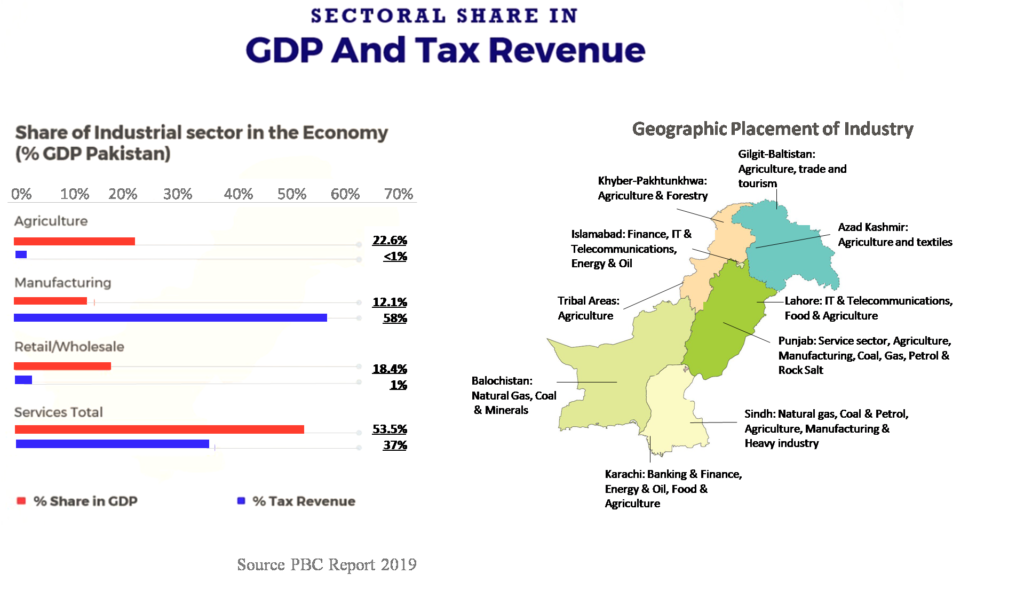 But Atlas Honda CEO Saquib H. Shirazi appears largely unfazed, unlike many other CEOs. "Times are challenging and we are not getting the policy of our choice, but we are getting access to discuss manufacturing policy. We still have hope," he said.
He believes policymakers at the highest level are serious about trying to solve the country's major economic problems, which in turn makes them open to seeking input and advice from key industry players, like Atlas Honda. He added that Prime Minister Imran Khan is apparently trying hard to figure out what the right thing to do is, and he summons the five key economy-related members of his cabinet every Monday for a two-hour meeting to discuss the economic crisis.  
That apparent seriousness of purpose, along with the general pattern of Pakistan's economic history, is what makes Shirazi optimistic about its prospects.
"Pakistan's economy has always shown remarkable resilience," he said.
But Shirazi was critical of how the government's major economic decisions have apparently always been taken on a short-term basis. Economic policy has been made subservient to fiscal crises and need when, in his view, there should have been a national economic strategy in place for with plans looking ahead for the next several decades.

"But every time we have a fiscal [crisis]," Shirazi lamented. 
He tried to strike an optimistic note, and said that the right narrative has finally started  to take hold again, noting that "every general now also says that economic sovereignty is of utmost importance," a reference to the fact that Pakistan's military has always had an outsize role in decision-making in the country, a factor that is particularly ascendant in the current administration.
 The Atlas growth story
Nonetheless, Atlas Honda has been a juggernaut of growth over the time it has been in operation. The number of units sold has risen by an average of 15.6% per year for the past two decades, and 12.3% per year for the past decade. Meanwhile, revenues over the past decade have grown at an average of 13.9% per year.
Atlas Honda is the second largest automobile company in Pakistan after Indus Motor Company, the local subsidiary of Toyota. The Pakistani market for automobiles is dominated by the three major car companies from Japan: Toyota, Honda, and Suzuki. Of these two, Honda and Suzuki manufacture both motorcycles and cars.
However, Suzuki is the only company that manufactures all types of vehicles out of the same company. Honda has two separate joint venture entities in Pakistan, both with the Atlas Group. Honda Atlas Cars manufactures sedans while Atlas Honda manufactures motorcycles.
The year 2018 was the first one that Atlas Honda sold more than 1 million motorcycles and the company has already increased its capacity to build as many as 1.5 million motorcycles per year. It is also one of the few companies that – in addition to not fearing competition from India – is also welcoming of the prospect of free trade with India, since they believe their 70-cc product would be especially popular in the Indian rural customer, who currently faces the choice of either a 125-cc bike, which is more expensive, or a scooter, which is more suited for urban roads than rural ones.
Honda's history in Pakistan is very old, and Atlas Honda has been doing business in Pakistan since 1962. That date of entry into the Pakistani market is made more extraordinary by the fact that Honda itself was founded in Japan in 1948. That means that Honda was less than 15 years old when it first entered the Pakistani market.
Honda came to India in 1995 and brought motorcycles there in 1999. In Pakistan, Honda brought motorcycles in 1962 and cars in 1992.
The Honda Motor Company owns 35% of Atlas Honda, and three of the eight members of the company's board of directors are nominated by the Japanese company. The remainder are owned by the Shirazi family, one of the richest families in Pakistan, as well as local shareholders. The company is also publicly listed on the Pakistan Stock Exchange.
 The looming competition?
But while Atlas Honda has thus far been able to beat back the competition, it still has a long way to go and its competitors are getting stronger and making more inroads into the market. The Chinese bikes, for instance also market themselves as 70-cc bikes, just like Honda's CD70, but the former's engine size is bigger. Their engines are typically 78cc, which means that they run faster than their Honda counterparts and are popular among younger, lower income consumers.
According to a motorcycle mechanic Ahmed Ali, Atlas Honda was losing its share now at least in Karachi as Chinese bikes have better acceleration due to their bigger engine size.
"What I think is that now the youth only wants pickup. And they can also afford easily cheaper Chinese bikes. I have seen that Chinese bikes are now in more demand because they run faster and are cheaper," he said.