There are many images that come to mind when one thinks of Punjab. It is the country's largest province by population and the most influential politically. During the imperial regime, Punjab provided nearly a fourth of the British Indian Army, with many of its natives being typecast as 'warrior castes', a mythical 'theory' of Indian races perpetuated by colonial modernity. Today, the province continues to be a high yielding area for military recruitment. 
But despite the many faces and caricatures of Punjab, its association with the landowning, feudal classes, the political high brass and the elite military cabal, the image most entrenched with this land is that of the farmer. More specifically, it is the Punjabi farmer as seen in fertilizer advertisements. 
It is the happy-go-lucky, mustachioed, farmer walking gaily in his fields, tenderly caressing his crops wearing a dhoti with a bright kurta, inclined to break out in dance at the slightest threat of a dhol being beaten. The image is manufactured and nonreflective of the more bleak reality of farmers. But it is still the representation of the province you see at cultural festivals, in Pakistan Studies textbooks (admittedly a horrible source for literally anything), in images on the internet and yes, in advertising. 
Despite all of its history and symbolism, at the core, Punjab has always been an agrarian province with its talk of five rivers, fertile land and endless green fields. The image still resonates strongly, but with every passing day, it reflects reality less and less. The agricultural area in Punjab is on the shrink, and it is continuing to disappear as housing societies and other real estate projects roll all over the once lush fields at full steam. 
At the center of these changing times and priorities is the ancient city of Lahore, the province's capital, and geographical and cultural heart. There was a time when the road back to Lahore was nestled in the middle of endless green fields that stretched all the way from Kasur and Sheikhupura to the outskirts of Lahore and all the way up to Raiwind, and then some on the other end of the City. This was as recent as a decade ago, such images are now inconceivable, as Lahore has lost its agricultural land to different non-farming ventures such as housing societies, industries, marriage halls, university campuses, cold storages and all manners of ventures imaginable. So much so that even areas that still have 'farm houses' have been renovated by real estate developers and are being sold by these property dealers – farm houses with no ostensible farming. 
The few farms that do remain and  have standing crops are up for sale and are being pawed at by different commercial buyers, if they have not already not been sold for the purposes, Profit has learnt. The few that are not actively up for sale continue to get unwarranted offers.  
Lahore is expanding too far and too fast, losing its semblance as an urban center all the while eating away at the rural and per-urban surroundings that have been so central to Punjab's agrarian economy and history. The government seems to have caught on in so much that they recognise there is a problem. The Prime Minister has launched his plan to counter the rot: ban real estate development and subsidise farming. But is it too little too late? Profit takes a look at the government's plan for action, and just how bad things have really gotten in Lahore, and the Punjab's, transformation from agrarian, to God knows what.
What's the fuss?
The officials at the Agriculture Department were not particularly willing to talk, and none of them was willing to speak to Profit without the benefit of anonymity. Whether this points to complacency, fear or the culture in the department, the officials that did speak to us anonymously are not particularly hopeful with the response that the Prime Minister's plans have seen. 
On March 1, 2019, Prime Minister Imran Khan banned the development of new housing schemes on agricultural land in an effort to stop cities encroaching on agricultural land of the country. The response comes as a result of a problem that was fast becoming endemic.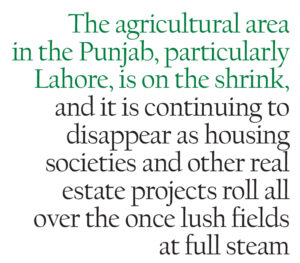 According to a 2016 study carried out by Pakistani academics, in Lahore, nearly 300,000 acres of agricultural land were converted to urban built-up land in the past 42 years, and a substantial part of that land was transformed to support more than 250 housing schemes. With the advent of such giants as Bahria Town, this rate of growth had seen an even sharper rise in the last few years. 
But as stated earlier, banning the development of new housing schemes does not seem to be working, and according to the department, it is a hopeless battle. "Agriculture is not the main occupation for those who are having agricultural land across Lahore," said an official of the Agriculture Department. 
The official builds their assessment on the lacklustre response of farmers to Prime Minister Imran Khan's Agriculture Emergency, under which the agriculture department of Punjab is presently receiving applications from farmers across 36 districts of Punjab for providing equipment and machinery on subsidized rates that will be used for the production of sugarcane.
What is the government offering?
The government is offering equipment to lure these farmers. The machinery that is part of the scheme includes Chisel Plough, Imported Sugarcane Planter, Early Hilup Sugarcane Ridger and Granular Pesticide Applicator. "The farmers/applicants could apply for one or more pieces of equipment/machinery," said the agriculture department official. 
The farmers from 36 districts of Punjab including Sargodha, Bhakkar, Faisalabad, Tob Tek Singh, Jhang, Chiniot, Mandi Bahauddin, Kasur, Muzaffargarh, Layyah, Rajanpur, Bahawalpur, Rahim Yar Khan and others can submit applications to Assistant Director Agriculture in their respective districts till January 15. 
The applications for subsidized equipment and machinery would be scrutinized by 23rd January after which the lucky draw will be conducted on 4th February and the last date to book the equipment will be 20th February. 
"The selected farmers will have to book the equipment with the pre-qualified firm within 15 days of the lucky draw," an agriculture department official said. 
When asked which firms are pre-qualified for supplying equipment to the farmers, the official said, "The names of the firms are sent to the civil secretariat for approval and he can't disclose them at the moment."
Those farmers who have at least 12.5 acres of irrigated land (in which water is supplied to the crops by means of pipes, sprinkles, ditches or streams) or 25 acres of Barani land (rain-fed agricultural land) in possession (as landlord, labour or contractor) and have at least 50 horsepower tractors are eligible to apply. 
As per details, if the agricultural land is jointly owned by a couple of farmers only one of the landlords could apply for this scheme.
What's the problem with the solution? 
The thing is, however, machinery is just not going to cut it anymore. And especially not in Lahore, where the ban is the only thing keeping back the remaining farmers from taking a big payday to let the land developers have at their farms. 
Another well-placed department official, who also did not wish to be named, told Profit that Lahore is receiving the lowest number of applications as compared to other areas of Punjab as landholding is less in Lahore, "Large-area of agricultural land in Lahore is acquired by LDA, DHA, Bahria Town and other housing societies, unfortunately," he said, adding that there are not many farmers in Lahore with land measuring 12.5 acres or more. According to the survey figures shared with Profit, more than 85 per cent of farmers in Lahore have an agricultural landholding of fewer than 5.5 acres. The few larger or middle-sized farm holders are either selling or have sold large parts of their land. 
Bahawal Khan, a farmer from Lahore, who sold his 13 acres of agricultural land to one of the housing societies said, "I sold my agricultural land to one of the housing societies because the land became commercial and they offered me a hefty amount which I cannot earn from farming for decades." 
This was corroborated by people from these housing developers. While commenting on it, one of the general managers at Bahria Town, who did not wish to be named said, "People are selling their agricultural land to us as we offer them more price than what they could not earn from doing agriculture for decades."
Same old same old elsewhere 
While there seems to be no particular hope for Lahore's farming future, the rest of the province, while seeing the initial signs of real estate development, is still looking forward to the boons to be received from the machinery scheme. However, as usual, it seems that the benefits will be for the large farm holders alone, with the small farm owners barely getting the crumbs
Syed Aqeel Haider, a sugarcane farmer from Chiniot, told Profit that he thought it was a great initiative of the Punjab government that would add value to conventional farming. "Chisel Plough is an important tool to prepare land with limited soil disruption. The main benefit of using Chisel Plough is that it helps in loosening, and aerates the soils while leaving the crop residue at the top of the soil. This initiative would motivate and encourage farmers to use machinery for production of sugarcane which they usually do not use for production," he added. 
Agreeing with him, Abbas Khan Leghari, a small farmer from Rahim Yar Khan who owns 2.7 acres of land told Profit that this initiative will only help the large farmland owners and not small farmers like us, "The govt should introduce such scheme for small farmers as well so that they could use modern equipment and technology for the production of sugarcane as well."
Mr. Leghari requested the govt to revise the eligibility criteria to apply for getting the equipment at subsidized rates.