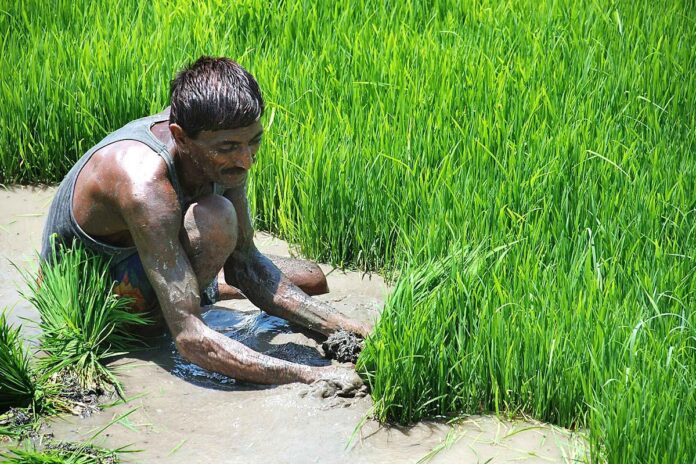 LAHORE: The family of Allah Ditta in Mahmoodkot neighborhood of Atahra Hazari, Jhang, is longing to be lucky enough to win a rice transplanter in the upcoming lucky draw to save themselves from the dreading rice plantation in the upcoming season.
"For generations, we have been doing this bone-breaking work to earn a  livelihood," sighs Allah Ditta while chatting on the phone with this scribe.
The family owns 15 acres, which is waterlogged – fit for rice cultivation.
"I wish I could win the rice planter this time because paddy plantation in hot and humid months of June and July and wadding in knee-high water is an ordeal," he said.
He is going to apply for the tools under the Punjab Agriculture Department's scheme under which the department is presently receiving applications from rice farmers for the provision of machinery on subsidized rates from 18 districts of Punjab. These districts include Gujranwala, Gujrat, Sialkot, Mandi Bahauddin, Narowal, Hafizabad, Lahore, Kasur, Sheikhupura, Nankana Sahib, Faisalabad, Jhang, Chiniot, Bahawalnagar, and Okara.
Rice farmers could collect forms from their district's respective assistant director agriculture, deputy director agriculture and divisional director agriculture offices and submit the applications by January 27.
The applications for machinery on subsidized rates would be scrutinized till February 3, after which the lucky draw will be conducted on 20th February and the last date to book the equipment will be March 7.
The machinery that would be provided to the farmers includes Rice Transplanter (riding type), Rice Transplanter (walk after type), Nursery raising machine with 5000 plastic trays, Rotavator (watertight), Direct Seeding Rice (DSR) drill, Mould Bold Plough/Disc Plough and Knapsack Power sprayer.
Talking to Profit, the Agriculture officer said that we are receiving a large number of applications from Hafizabad and Chiniot districts. The rice farmers could apply for one or all types of machinery depending on their needs.
The eligibility criteria for applying for Disc Plough, Rotavator and other machinery that depend on the tractor would be given to a farmer who has a tractor in possession of a minimum of 50 horsepowers.
The farmers will also have to give the undertaking that they will provide the acquired subsidised machinery and agricultural equipment to other farmers on rent and also create a service point for farmers to ensure the provision of machinery on rent, the agriculture officer said.
"The selected farmers will have to book the equipment with the pre-qualified firm within 15 days of the lucky draw," an agriculture department official said.
When asked which firms are pre-qualified for supplying equipment to the farmers, the official said, "The names of the firms are sent to the civil secretariat for approval and he can't disclose them at the moment."
The agriculture department official said that the main purpose of providing this equipment to farmers on subsidised rates is to encourage them to use technology for improving their per acre yield from rice crops.
He added that farmers would also have to give this undertaking that for machinery worth more than Rs0.3 million they will install a department-approved tracking device.
Talking to Profit, Abdul Razzaq, a rice farmer from Sargodha said that this subsidized equipment would be extremely beneficial for traditional farming of rice. "As it would save the labour cost of a farmer because previously the labourers used to sow each pre-germinated seedlings by hand but now they could use rice transplanters (walk after type and riding type) with minimum labor.
Abbas Maken, a rice farmer from Sargodha told Profit that he is giving about Rs 5,000-6,000 per acre but after the provision of this machinery it will not only save his time but will also reduce his labour cost.