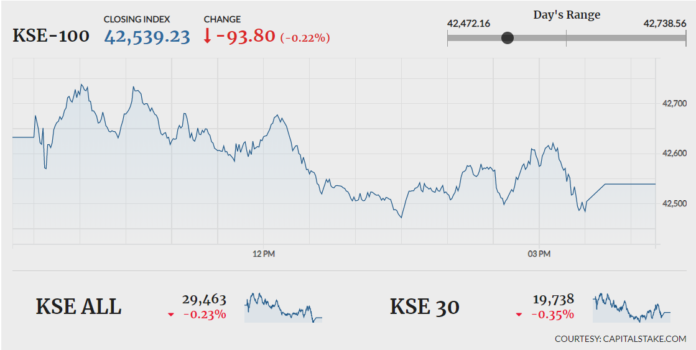 KARACHI: Investors of the Pakistan Stock Exchange (PSX) witnessed a lacklustre start to the trading week, as the indices, after swinging in both directions, ended in the negative zone.
Analysts believe that the investors' confidence remained subdued on Monday as they wait for the State Bank of Pakistan's monetary policy announcement, due on Tuesday (tomorrow). The interest rates had remained unchanged in the last two meetings at 13.25pc.
Gaining 105.53 points, the KSE-100 Index touched its intraday high at 42,738.56 earlier in the day. However, failing to sustain the gains, the index slipped by 160.87 points to reach its intraday low at 42,472.16. It closed lower by 93.80 points at 42,539.23. The KMI-30 Index was down by -424.14 points or -0.62pc to settle at 68,532.62, while the KSE All Share Index fell short by 67.29 points. Out of the total traded scripts, 157 advanced and 153 declined.
The overall market volumes were recorded at 198.48 million. Maple Leaf Cement Factory Limited (MLCF +5.48pc), Pakistan International Bulk Terminal Limited (PIBTL +4.05pc) and Fauji Cement Company Limited (FCCL +2.31pc) emerged as the volume leaders of the day, exchanging 25.96 million, 25.18 million and 12.15 million shares, respectively.
Sectors that drove the index south included oil and gas exploration (-93.05 points), power generation and distribution (-36.56 points) and textile composite (-14.85 points). Among the companies, Oil and Gas Development Company Limited (OGDC -40.67 points), Hub Power Company Limited (HUBC -30.67 points) and Pakistan Oilfields Limited (POL -24.40 points) dented the index the most.
The refinery sector closed the session as the top loser (-2.76pc), with Attock Refinery Limited (ATRL -3.43pc), Byco Petroleum Pakistan Limited (BYCO -2.85pc), Pakistan Refinery Limited (PRL -2.11pc) and National Refinery Limited (NRL -2.02pc) closing in the red zone.
On the market front, Fauji Foods Limited (FFL -5.98pc) announced its financials for the second quarter of FY20. The company's revenue shrunk by 25pc from 2QFY19 to Rs5.74 billion, its gross loss increased by 131pc, while finance cost jumped from Rs674.79 million to Rs1.69 billion. As a result, FFL's earnings per share deteriorated from Rs-5.39 to Rs-10.96.
Meanwhile, JDW Sugar Mills Limited (JDWS +2.95pc) announced its financial performance for the first quarter of FY20. The company's sales increased by 62pc to Rs13.19 billion YoY, which resulted in its gross profit margin surging from 6.59pc to 10.98pc. The company's earnings per share improved from Rs-5.91 in 1QFY19 to Rs2.32 in 1QFY20.