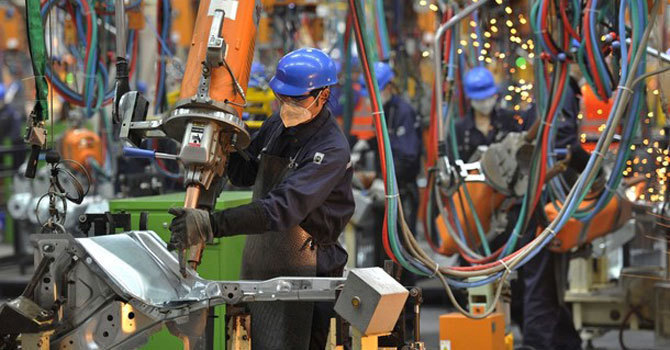 ISLAMABAD: Pakistan's large-scale manufacturing (LSM) shrank by 3.35pc in the first half (July-Dec) of the current financial year (FY20), as compared to the same period of last year.
However, on a month-on-month basis, the LSM index increased by 9.66pc in December 2019 when compared with December 2018, and 16.4pc when compared with November 2019, the Pakistan Bureau of Statistics (PBS) reported on Friday.
During the first half of FY20, production increased in food, beverages & tobacco, non-metallic mineral products, fertilizers, paper & board and leather products, whereas it significantly decreased in petroleum, pharmaceuticals, automobiles, iron & steel and electronic products.
The sector-wise production of 11 items under the Oil Companies Advisory Committee edged lower by 0.66pc, 36 under the Ministry of Industries and Production shrank by 1.78pc and 65 reported by the Provincial Bureaus of Statistics dipped 0.34pc.
Major growth during the six-month period was witnessed in wooden products (+46pc) while leather products were second in line with 11.02pc increase. Food, beverages and tobacco products witnessed a growth of 4pc in six months.
It is pertinent to mention that LSM constitutes 80pc of the country's total manufacturing and accounts for nearly 10.7pc of the overall national output. In comparison, small-scale manufacturing accounts for just 1.8pc of GDP and 13.7pc in manufacturing.
The lacklustre performance in the industrial sector reflects overall economic slowdown in the ongoing fiscal year. The State Bank of Pakistan estimates the economy to grow by 3.5pc in 2019-20.