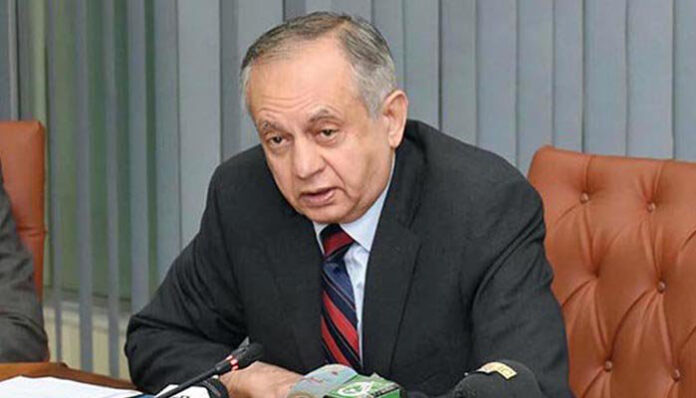 ISLAMABAD: Adviser to the Prime Minister on Commerce, Industry and Investment Abdul Razak Dawood on Monday said a 13.61 per cent surge in the country's exports was witnessed in February 2020 as compared to the corresponding month last year.
Sharing the exports figure on his Twitter account, the PM's adviser claimed that the country's exports had witnessed a 3.62 per cent increase during the current fiscal year as compared to the previous year. Exports worth $2.137 billion had been recorded in February this year as compared to $1.88 billion during the same period last year, he added.
"The year-on-year exports for February 2020 have increased by 13.61pc, while YoY increase in exports in CFY so far is at +3.62pc, which is commendable when compared to the export trend of our competitors. This is just the beginning, the future holds much more," the adviser tweeted.
As per the figures shared by Commerce Secretary Ahmed Nawaz Sukhera, the imports in February 2020 had also shown a decline of 4.6 per cent as compared to the imports registered in the same month last year. The imports registered in February this year were $3.954 billion as compared $4.143 billion imports recorded in February 2019.
According to the fresh data, Pakistan's trade deficit has also reduced by 19.67 per cent as trade balance recorded a reduction in deficit of $1.817 billion in February 2020, compared with a deficit of $2.2 billion in the same month last year.
Separately, in a series of tweets, Federal Minister for Economic Affairs Hammad Azhar, said that Pakistan's exports had witnessed a double digit growth in the month of February, whereas imports showed a significant decline.
"The YoY exports in the month of February have increased by 13.6 per cent, whereas imports have declined by 4 per cent," he tweeted.
"Pakistan's exports are growing at a time when many developing countries, including in our region, are witnessing negative growth," he further tweeted.
Interestingly, when the exports showed a negative growth last month, no government official had shared the data via tweets.
On the other hand, Pakistan's export of merchandise had posted a negative growth in December 2019 and January 2020, despite payment of cash subsidies and multiple currency depreciation.
The drop in exports' proceeds had begun since December 2019 when they fell by 3.8 per cent, while a similar quantum of decline was seen in January 2020, data released by the Pakistan Bureau of Statistics (PBS) stated.
There was no official word from the commerce adviser to explain the reason behind a decline in exports proceeds.
Contrary to the expectations, the exports entered in negative growth of 3.17 per cent to $1.97 billion in January 2020 against $2.03 billion over the corresponding month last year.
Between July 2019 and January 2020, the export proceeds' growth lowered by 2.14pc as it stood at $13.49 billion against $13.21 billion over the corresponding months last year.
However, the country's trade deficit came down by 28.4 per cent in the first seven months of the current fiscal from a year ago.
The decline is mainly due to a double-digit fall in imports and corrective measures of the government to slow down imports to reduce pressures on foreign exchange reserves and slump in overall demand.