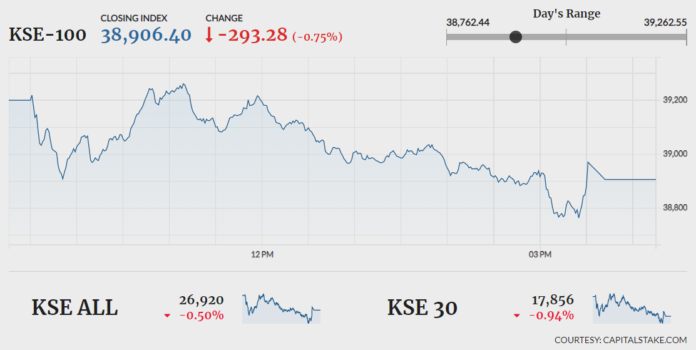 KARACHI: Bearish trend continued at the Pakistan Stock Exchange (PSX) on Wednesday, as the indices remained in the negative zone for most part of the day amid lack of triggers.
Major positivity was witnessed in the cement sector following the announcement of statistics regarding cement dispatch in February 2020.
According to media reports, domestic cement sales witnessed an increase of 31.69pc YoY while exports surged by 47pc. On a month-on-month basis, domestic sales appreciated by 14.5pc whereas exports fell by 7.18pc.
Losing 437.24 points, the KSE-100 Index touched its intraday low at 38,762.44. It settled lower by 293.28 points at 38,906.40. Among other indices, the KMI-30 Index lost 1,001.36 points to end at 60,923.33, while the KSE All Share Index depleted 135.10 points, closing at 26,919.79. Out of the total traded shares, 112 advanced and 187 declined.
The overall market volumes declined from 225.28 million in the previous session to 186.99 million. Maple Leaf Cement Factory Limited (MLCF +0.80pc), Hascol Petroleum Limited (HASCOL -1.01pc) and The Bank of Punjab (BOP -1.03pc) topped the volume chart, exchanging 23.36 million, 19.24 million and 15.94 million shares, respectively.
Sectors that drove the KSE-100 Index south included oil & gas exploration (-107.42 points), power generation & distribution (-53.18 points) and fertiliser (-44.72 points). Among the companies, Engro Corporation Limited (ENGRO -46.16 points), Hub Power Company Limited (HUBC -45.11 points) and Oil & Gas Development Company Limited (OGDC -43.04 points) dented the index the most.
Despite the overall negative trend in the market, the cement sector gained 1.74pc in its cumulative market capitalization, with Lucky Cement Limited (LUCK +0.39pc), Bestway Cement Limited (BWCL +2.96pc) and Fauji Cement Company Limited (FCCL +2.38pc) closing in the green.
On the financial side, Shell Pakistan Limited (SHEL -6.09pc) announced its financials for FY19. The company's revenue increased by 7.26pc YoY while its cost of sales surged by 8.11pc. This resulted in a decline in gross profit margin from 8.28pc in FY18 to 7.56pc in FY19. The company's earnings per share deteriorated further from Rs-10.30 in FY18 to Rs-13.88 in FY19.