KARACHI: As per a video posted by Pakwheels on their Facebook account, a KIA Sportage vehicle caught fire on Multan Road, Lahore. The fire was restricted to the engine area only.
The car is said to be brand new, and based on information obtained, it has been under the customer's possession for roughly a month. The car was roughly driven 1,500km.
When Profit contacted Kia for a statement on Monday, Kia suggested that the reason behind the fire is likely to be the tracker installed in the car. Kia further commented that the car was in their custody and that their team was checking the reasons.
On Tuesday, Kia issued an official statement on their social media whereby they listed the findings of their technical team. This press release, however, did not give a definite answer as to the reason behind the engine catching fire. It does, however, hint to possible causes such as the aftermarket installation.
Article continues after this advertisement
Kia, having already made two exits from the local market in the past, has released a preliminary statement in order to be more transparent with its consumers.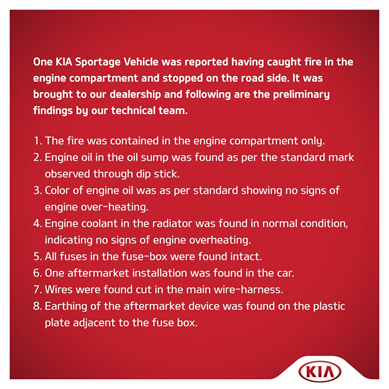 The statement read, "The aftermarket installation is likely to be a car tracker installed due to insurance or leasing requirements by financial institutions."
With the harness wire cut, the warranty of the car is void. However, experts question Kia's technical team findings and call for a third-party investigation citing that Kia Sportage has had problems around the world.
Internationally, Kia has recalled more than 600,000 vehicles due to a manufacturing flaw whereby production debris interrupted smooth oil flow to rod bearings. This hazard could likely result in the combustion of the engine. As a result, in October 2019, Kia had to pay $760 million in settlement to the authorities in the USA after the US National Highway Traffic Safety Administration looked into the production flaw.
In Seol alone, Kia has recalled 19,785 units of Sportage 2.0 to replace the defective parts free of charge.
While speaking to Profit, the COO of KIA commented that the recalled Kia Sportage vehicles were of a different generation.
Kia launched Sportage in Pakistan in August with variants priced at an upward of Rs 48.99 lakh. The car has managed to break into the market and cut down on Toyota Fortuner sales. However, the sales of Sportage have not been released as KIA is not a member of PAMA.