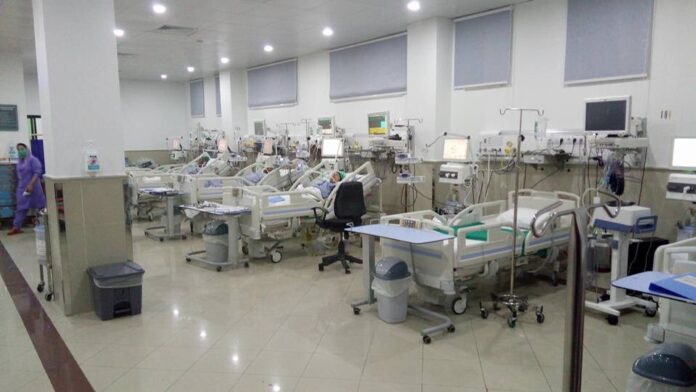 –Official says body on coronavirus will soon test drugs that are believed to be useful in curing the disease
–Says developers have been asked to submit ventilator prototypes so they could be evaluated for mass production
LAHORE: Amidst the outbreak of coronavirus in the country, the Prime Minister's Task Force on Knowledge Economy had recently asked the developers to submit before March 26th (tomorrow) the prototypes of their indigenously-designed ventilators. 
As per details, the total number of ventilators across the country for critically-ill COVID-19 patients stand at 1,700, which are significantly less keeping in mind the sensitivity of the outbreak as well as the global shortage of ventilators. 
Talking to this scribe, PM's Task Force on Knowledge Economy Deputy Chair Dr Attaur Rehman said that they are currently working on the local manufacturing of ventilators and for this purpose, local developers have been asked to come up with their prototypes (submit one page product specification by March 26th). 
"These prototypes will be evaluated for mass production of ventilators to meet the national requirement."
On a query, he said that once the prototypes are ready, the details would be shared with the health ministry and other relevant departments, following which a final decision regarding the manufacturing of ventilators in Pakistan would be made. 
Dr Rehman, who is also heading the Ministry of Science and Technology's Task Force on Coronavirus (Covid-19), further informed that they will start "clinical trials of some drugs from next week" at the University of Health Sciences, adding that the drugs are "likely to help cure the patients of COVID-19". 
Lauding the initiative, Dr Sehar Raza, an anesthesiologist at Ganga Ram Hospital, said, "It will be a great achievement if we manage to develop and manufacture expensive devices like ventilators in Pakistan."
She explained, "Ventilators are mechanical breathing machines which are essential for critical patients of COVID-19 — a disease that directly affects the patient's lungs. In severe cases, the patients develop pneumonia that can fill the lower lungs with fluid and cause difficulty in breathing; the condition can lead to a critical deficiency of oxygen [in a patient's body]. A ventilator thus provides life-saving oxygenation when the patient is not able to do it on his/her own." 
Commenting on the development, Amir Zafar Durrani, a development sector expert, said the retooling of existing industries to produce emergency equipment happens worldwide and this should be taken seriously without compromising internal competition and standards. 
Agreeing with him, technology enthusiast Malik Ahsan Raza said it is important, especially under the prevailing circumstances, to tap the untapped potential of Pakistani entrepreneurs. 
"Hopefully, many wonderful prototypes will be pitched. Pakistan has long been ignoring the potential of startups. This time, I hope, the skilled youth will come up with great ideas," Raza said.
He, however, said the government needs to speed up the process and make it free from bureaucratic hurdles. 
On the other hand, economist Dr Farida Faisal was of the opinion that designs of prototypes are readily available while their testing results have more or less been satisfactory. 
"But commercialisation is far more important from a practical viewpoint," she maintained.