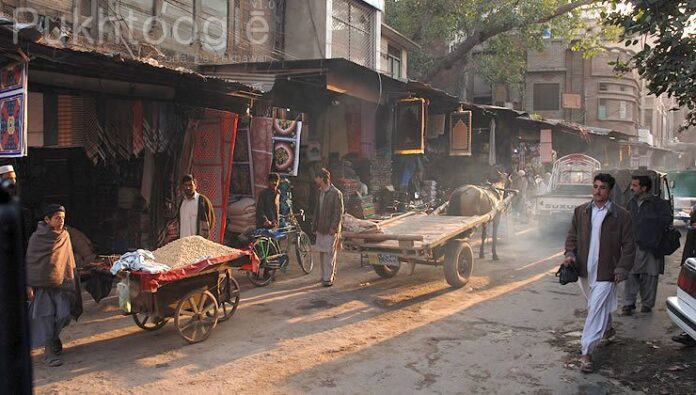 PESHAWAR: Peepal Mandi, the largest wholesale market in Khyber Pakhtunkhwa, is giving a deserted look these days owing to the impact of coronavirus outbreak.
The traders, whose businesses were already hit from the virus outbreak, are now facing closures since Saudi Arabia has imposed a ban on Umrah.
The historical Peepal Mandi, which has more than 2,000 shops, supplies goods to all markets of the province. Beside other items, the wholesale market has been famous for prayer mats, handkerchiefs, artificial jewellery, water bottles, Ihram, soaps, shampoos and prayer beads.
Although the area was witness to terrorist activities in the past, business activities had never stopped there. However, the growing fear of coronavirus and ban imposed by the Saudi government has made it almost immposible for the traders to sustain.
Traders complain that on the one hand, businesses have closed down due to the Covid-19 fear, while on the other, the Chinese government has shut its border due to which the market is unable to replenish goods and is dependent only on locally manufactured goods.
They said an increase in property and other taxes are also harming their businesses.
Peepal Mandi Vice President Haji Maqsood said there is a downturn in businesses and traders are facing huge losses.
He informed that Umrah pilgrims usually purchased all essential items from the wholesale market, but all prayer-related items have now been shifted to other districts of the province.
Naseer, a shopkeeper of the area, told this scribe that for Umrah purposes, an average person used to purchase thousands of rupees worth products from this market. "Due to the virus crisis, there is 90 per cent reduction in sales of Umrah related products," he added.
Another shopkeeper Mohammad Pervez said local traders, who were already affected by terrorism and failed to get any financial relief in the past, have come across the virus that has halted the entire market operations.
"Now that the provincial government has locked down the entire province – asking people not to buy stuff for religious purposes – the government should announce a special relief package for traders and shopkeepers of Peepal Mandi and withdraw the property tax and increase in electricity bills.