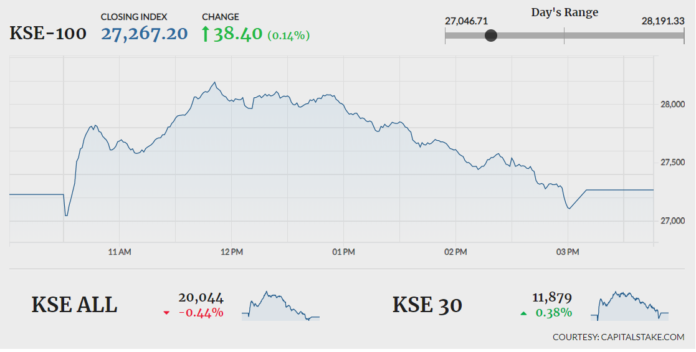 KARACHI: The Pakistan Stock Exchange (PSX) witnissed a highly volatile session on Thursday, as the benchmark KSE-100 Index failed to sustain gains accumulated earlier in the day and closed flat.
"The International Monetary Fund and World Bank's joint statement on suspension/forbearance of outstanding debt for IDA countries (including Pakistan) contributed to the improvement in investor sentiment, besides regulatory measures introduced by the government on account of elimination of CVT on capital market transactions, easing liquidity of AMCs and ban on short selling," an alalyst at Arif Habib Limited noted.
According to media reports, the State Bank of Pakistan has said that it was considering measures to support the virus-hit market. On the other hand, Pakistani Rupee continued with its losing streak on Thursday, with the US Dollar crossing Rs166-mark (a record) intraday.
Adding 962.53 points, the KSE-100 Index recorded its intraday high at 28,191.33. However, after remaining upbeat for most part of the day, the index crumbled in the final hour and closed higher by a mere 38.40 points at 27,267.20.
Among other indices, the KMI-30 Index ended flat (-6.24 points) at 41,364.54, while the KSE All Share Index lost 87.98 points, settling at 20,043.89. Out of the total traded shares, 138 advanced and 164 declined.
The overall market volumes improved from 144.88 million in the last session to 186.70 million, with K-Electric Limited (KEL -1.08pc), Unity Foods Limited (UNITY +2.82pc) and TRG Pakistan Limited (TRG -7.69pc) topping the volume chart. The scripts had exchanged 21.63 million, 15.14 million and 13.28 million shares, respectively.
Sectors that drove the KSE-100 Index south included cement (-65.86 points), oil & gas exploration (-31.05 points) and oil & gas marketing (-27.65 points). On the other hand, banking (+97.23 points), fertilizer (+77.42 points) and power generation & distribution (+28.20 points) rescued the index from landing in the red.
The cement sector lost -2.23pc from its cumulative market capitalization, with D G Khan Cement Company Limited (DGKC -7.35pc), Lucky Cement Limited (LUCK -2.70pc), Maple Leaf Cement Factory Limited (MLCF -3.29pc) and Kohat Cement Company Limited (KOHC -7.50pc) taking a substantial hit.
Systems Limited (SYS +7.49pc) announced its financial performance for FY19. The company's revenue increased by 42.21pc from the previous year, while its gross profit grew by 50.73pc. The company's earnings per share improved by 35pc YoY. A final cash dividend of Rs2.25 was declared.
In their notifications to the exchange, Loads Limited (LOADS +1.74pc) and D G Khan Cement Company Limited (DGKC -7.35pc) have announced temporary suspension of their operations due to the ongoing lockdown by authorities.