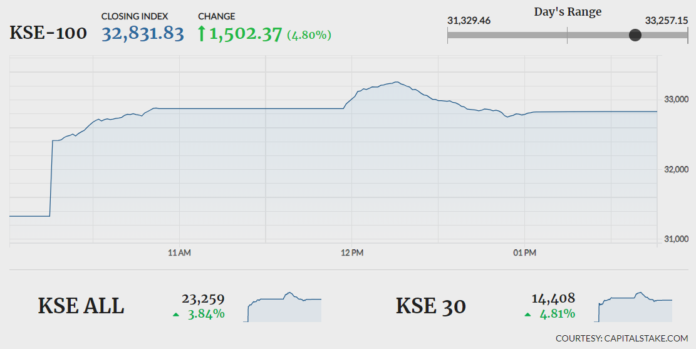 KARACHI: Bulls took charge of the Pakistan Stock Exchange (PSX) on Friday, with the benchmark KSE-100 Index accumulating almost 2,000 points intraday.
Following an unprecedented surge in early trade, the KSE-30 Index hit its upper level for the first time, causing a 60-minute market halt at 10:52am.
According to analysts, optimism prevailed at the bourse following a slash in interest rates by the State Bank of Pakistan. The SBP's Monetary Policy Committee had lowered key interest rate from 11pc to 9pc.
"A host of factors resulted in changing the market mood, including a surprise rate cut by the SBP, deferment of G20 debt payments, and the IMF providing COVID-19 relief fund to Pakistan," said an analyst at Arif Habib Ltd.
The benchmark KSE-100 Index touched its intraday high at 33,257.15 after gaining 1,927.69 points (second biggest single-day gain since 2010). It settled higher by 1,502.37 points or +4.8pc at 32,831.83. Among other indices, the KMI-30 Index surged by 3,157.92 points to end at 52,582.10, while the KSE All Share Index swelled by 861.04 points, closing at 23,259.22.
The overall trading volumes jumped from 118.92 million in the previous session to 302.31 million, with K-Electric Limited (KEL +6.92pc), Hascol Petroleum Limited (HASCOL +7.44pc) and The Bank of Punjab (BOP +12.12pc) topping the volume chart. The scrips had exchanged 23.24 million, 21.34 million and 19.62 million shares, respectively.
Sectors that drove the index north included fertiliser (+322.71 points), cement (+186.81 points) and oil & gas exploration (+170.84 points). Among the companies, Engro Corporation Limited (ENGRO +143.98 points), Hub Power Company Limited (HUBC +115.72 points) and Fauji Fertilizer Company Limited (FFC +112.17 points) remained the top contributors to the index.
Meanwhile, International Industries Limited (INIL +7.49pc) announced its financial performance for the third quarter of FY20. The company reported a 39pc YoY decline in sales and a 99pc YoY drop in 'other income'. As the company's finance cost almost doubled during the period under review, its earnings per share dropped from Rs3.31 in 3QFY19 to Rs-2.57.