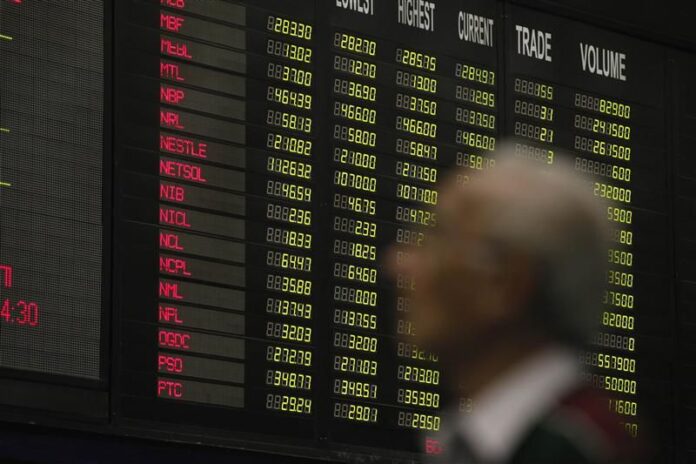 KARACHI: Stocks were back on track on Friday, with bulls taking control of the bourse after a day of consolidation. 
Foreign investors closed the previous session (Thursday) as net sellers, registering a net outflow of $0.985 million. 
Global equity markets also showed a positive trend on Friday, with oil prices moving north from the previous close. The price of WTI Crude oil appreciated by 1.15pc to $37.84, while that of Brent Crude oil appreciated by 1.68pc to $40.66.
"The market traded range-bound for almost the entire session except for the closing hour, during which the benchmark index saw a surge in volumes as well as points," a report issued by Arif Habib Ltd stated. "Cement, fertiliser and pharma stocks showed signs of recovery, with some scripts in the Pharma sector even hitting the upper circuit. Banking stocks, however, showed selling pressure amid low volumes."
The benchmark KSE-100 Index remained in the green zone for the most part of the session, recording its intraday high at 34,367.74 after gaining 248.35 points. It settled higher by 231.03 points at 34,350.42. 
Among other indices, the KMI-30 Index accumulated 528.82 points to close at 55,175.14, while the KSE All Share Index gathered 144.47 points, ending at 24,614.02. Of the total traded shares, 166 advanced and 97 declined.
The overall market volumes plunged from 143.59 million shares in the previous session to 89.07 million shares (-38pc). Average traded value also declined by 29pc, from $33.9 million to $24.3 million. Maple Leaf Cement Factory Limited (MLCF +2.53pc), Jahangir Siddiqui & Company Limited (JSCL -0.62pc) and TRG Pakistan Limited (TRG +0.29pc) led the volume chart, exchanging 6.64 million, 5.21 million and 4.35 million shares, respectively.
Sectors that painted the index green included cement (+54.36 points), oil & gas exploration (+48.57 points) and fertiliser (+45.43 points). Among the companies, Engro Corporation Limited (ENGRO +39.92 points), Pakistan Oilfields Limited (POL +20.62 points) and Lucky Cement Limited (LUCK +16.30 points) remained the top contributors to the index.
Adding 3.53pc in its cumulative market capitalisation, the pharmaceutical sector emerged as the top gainer of the session, with GlaxoSmithKline (Pakistan) Limited (GLAXO +2.93pc), Ferozsons Laboratories Limited (FEROZ +7.50pc), The Searle Company Limited (SEARL +3.34pc) and Abbot Laboratories (Pakistan) Limited (ABOT +4.61pc) accumulating decent gains.