As the coronavirus pandemic spread in Pakistan, and the government oscillated between different levels of lockdown, different industries came to the government for help. This was fair enough: when disastrous, unforeseen circumstances arise,  it is the job of the government to look after the people it governs. 
The ongoing pandemic is one of those situations, and the government has to both look after the average citizen industries. Pakistan has tried to do both, disbursing cash through the Ehsaas programme and giving stimulus packages, tax breaks, and incentives to different industries.
However, one of the industries that has gone largely starved of government attention has been retail, also one of the industries hit hardest by the pandemic. Instead of getting breaks like rent cancellation, both retailers and the government landed on the idea that reopening stores would be the best way to go. 
The results, disastrous as they have been to public health given the post-Eid spike in coronavirus cases, have also not been much better for the retail sector. Promises of following social distancing protocols have just not been enough to convince a large enough amount of customers to return to their stores. And with the higher expenses of staying open with social distancing measures, retailers are finding themselves in the last throes of a sinking ship.
According to a recent joint report by Dun & Bradstreet (D&B) Pakistan and Gallup Pakistan, more than half of the working-class has either taken a pay cut or lost a job because of the Covid-19 outbreak, while others' confidence remains downbeat on fears of unemployment prospects in the near future.
Because of this, during the month of June, consumer spending on entertainment and education declined severely, with spending on medicines and household cleaning items increased. Even high-income consumers recorded a sharp decline in expenditure on luxury items. The report noted that there was a 53% decline in travelling, 51% on apparel and footwear and 49% on outdoor entertainment. 
Article continues after this advertisement
Malls have been opened, and retail stores have been allowed to operate, but shaky job security, and economic uncertainty have the retail sector reeling. As the pandemic continues to lag on, the crisis is proving to be more devastating for retail than previously estimated, and in the coming months the sector foresees a further deterioration in the financial position of the industry.
One thing is clear, by the time this blows over, the world will be a different place. Retail is no different, it will change, the only question that remains unanswered is just how bad this change will be.
What exactly has happened to retail
Retail stores and businesses are measured through a few key parameters. The most important ones include customer traffic and what percentage of this traffic end of buying products. The other metrics are then things like how much money a single customer is spending on average at the retail store and what number of transactions each customer is making. 
A single chink in any of these factors often spells disaster for retailers. However, at the core of the entire business model is customer traffic, if no customers come in, none of these measurements can be made or fixed. The pandemic has thus knocked out the core of the retail industry, with footfall decreasing and retailers quickly losing space to e-commerce. 
"As an apparel retailer, we have lost our main sales season due to the Covid-19 virus lockdown, and the next six months are going to be extremely difficult," says Nabeel Abdullah, CEO of Sapphire Retail, who says that the retail industry is going through a major crisis at the moment.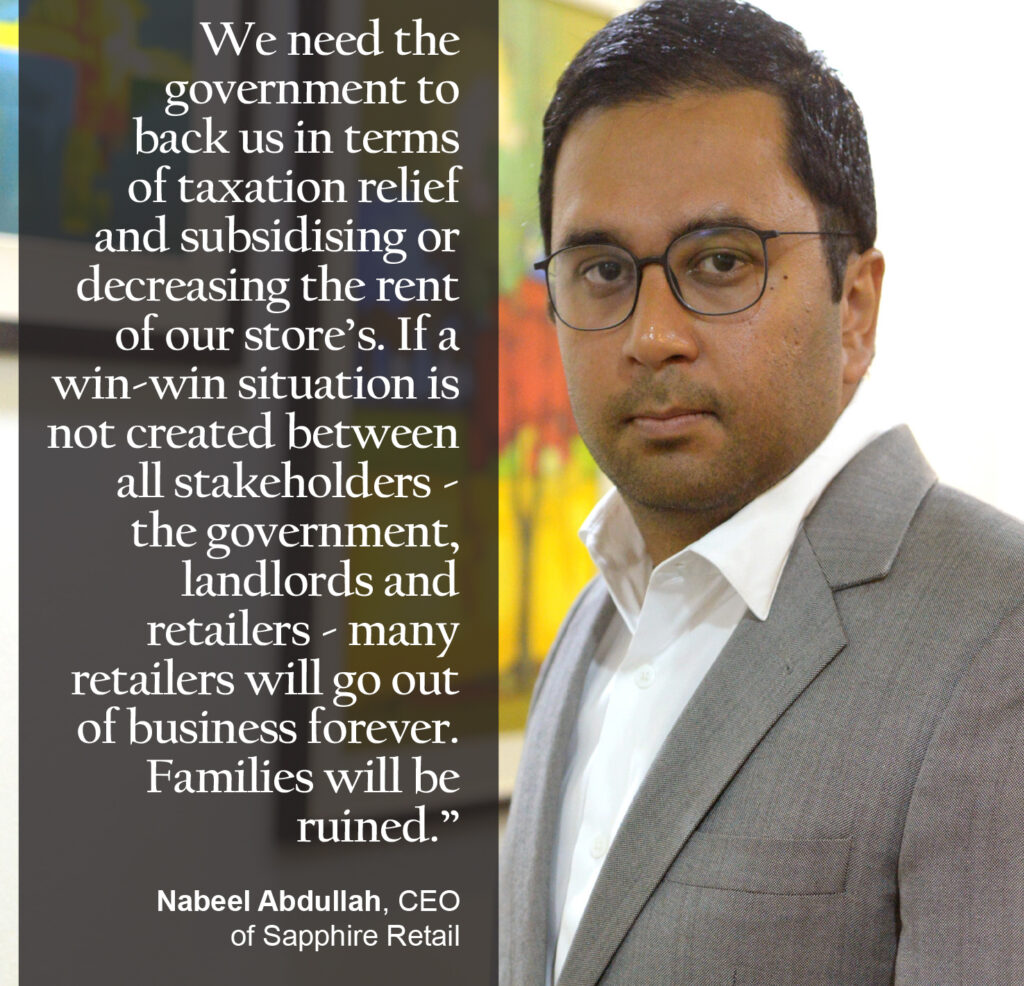 "We need complete support from the government if we are to survive," he says. "We need the government to back us in terms of taxation relief and subsidising or decreasing the rent of our stores. If a win-win situation is not created between all stakeholders – the government, landlords and retailers – many retailers will go out of business forever. Families will be ruined."
In Punjab, it took the foolhardiness of the Buzdar government in Punjab and the typical shenanigans of Pakistan's highest court to re-open malls and retail stores in the midst of the pandemic. The jury is still out on how smart that decision was from a public health point of view, and while it was a big win for retailers and mall owners, the results have been less than encouraging.    
After the reopening of malls, a 70-80%  reduction in footfall has been recorded in malls across the country, while footfall has fallen by more than 60% in stand alone retailers, according to a report of the Chainstore Association of Pakistan (CAP). 
This drastic fall has happened despite the Eid shopping season falling right in the middle of this period. And with the implementation of smart lockdowns in different parts of different cities all over the country, the footfall is expected to fall further.
Even worse-hit was the restaurant sector, particularly with the prohibition on dine-in facilities. "Dine-in concepts have been damaged to such an extent that we now fear that half the food and beverage sector might not even open back up once the 'smart lockdown' is over," said Asim A Majeed, managing director and master franchisee of Second Cup, a Canada-based coffee chain,  in Pakistan. 
Challenges of retail with social distancing
The condition that the government, and even the courts, set for the reopening of retail stores was the following of government issued standard operating procedures (SOPs) for social distancing. The retailers agreed, and businesses were opened. However, running a retail store with social distancing protocols is not easy. 
For starters, traffic in and out of the stores was already low, and on top of that social distancing SOPs direct that stores not allow people in after they have reached 30% capacity. The possibility of having to wait outside stores has also kept customers away.
In addition to this, the current timings for malls is 9am to 7pm, with the weekend off. These timings are the same for non-mall retailers as well. This has effectively reduced shopping hours by 45%. It is worse when one considers that footfall between 9am to 12pm is nearly zero, with most stores not even opening until 12pm under normal circumstances. 
The fact that weekends have been taken away from retailers is also hurting them, since up to 60% retail sales were generated over the weekend in regular times. These factors have led to a precipitous fall in retail sales of up to 90% for some, with most averaging a 70% fall in sales for all brands. 
Why malls have been hit the worst
Malls across the country had been reopened after a bit of a scuffle and some back and forth in the courts. But once they did, mall owners and mall retail store owners will have been hoping people desperate for entertainment would flood their stores. What happened was the opposite, and has made keeping these malls operational with such low traffic difficult.  
The phenomena that gives mall outlets a crucial edge in sales compared to non-mall locations, was the combination of family activities, cinemas, food-courts and promotional activities by brands. With no families allowed in malls, food courts and cinemas closed, the mall as an outing for the family has died for now. 
Leisure shopping has been replaced by a targeted method of buying, for which malls are not ideal. This goes back to the earlier mentioned figure that malls had seen a 70-80% fall in foot traffic while stand-alone retailers have seen a still catastrophic but less terrible 60% fall. 
Also, most mall customers, particularly the big ones like Emporium or Packages in Lahore for example, cater to the upper middle class, a relatively better educated segment of society that has a greater level of awareness and are thus more cautious about the Covid-19 pandemic. They also have the resources to look elsewhere for retail shopping, such as online or in smaller stores, and have chosen to do that. With all this, there is little sense in keeping malls operational from a business perspective. 
One only has to look at the condition of fashion retail, which was quick to jump on the e-commerce side of things, but whose retail side can see no light at the end of the tunnel. Consumer spending is down due to the economic meltdown coupled with reduced social activities. 
Meanwhile, fixed costs such as rental and salaries continue to need to be paid, and, according to most retailers, are vastly outpacing revenues. Under such circumstances, inventories are piling up as the reduced hours for both days and hours of operation make it even more difficult for consumers to access stores. 
According to the earlier mentioned report by CAP, mall footfall has been down by 75-80% across Pakistan, while standalone footfall is down by 60%. These figures were collected from Dolmen Mall Clifton, Dolmen Mall of Tariq Road, Dolmen Mall in Hyderi all in Karachi and Giga Mall Rawalpindi.

Because of this, the confidence of the retailers has been deeply shaken. A CAP survey shows that "89.3% of retailers expect their overall sales revenue to drop by 30% or more over the next 3-6 months, out of which 54.8% expect a drop of 40% or more."  The survey states cash or liquidity is the biggest issue of concern for retailers, rentals is the second biggest issue, and payroll cost is the third biggest and profitability is very low priority.
According to the survey, only 13.7% of retailers foresee that they will be able to keep their complete workforce for the next 3 months and only 5.3% of retailers foresee that they will be able to keep their complete workforce for the next six months.
What do the retailers propose now? 
The problem is with the situation is that this is exactly what the retailers wanted: for their stores to be open again. One can see why they would want this, but with people just not showing up, the cost of keeping their stores open, and that too with social distancing SOPs, is just bleeding these retailers dry, and perhaps starting to dig into the savings of the owners. 
With all this, a number of retailers have hope in an unlikely hero: The Federal Board of Revenue (FBR). 
"There is a need for stability in FBR rules and regulations," says Asad Shafi, CEO of Cross Stitch. "The government needs to focus on economic expansion and to increase the tax net. Taxation is a by-product of economic growth and activity, not a penalty for being compliant. Compliance needs to be encouraged with a stick-and-carrot  approach. The GST [general sales tax] rate needs to be reduced to single digits to encourage retailers to integrate, to stimulate demand and to loosen the belt on existing tax complaint retailers," he says.  
Other than FBR rules, the retailers want a change in the allowed timings, and claim that this factor alone can cause a turnaround in the sales figures. This makes a little sense, and would perhaps even be better from a public health perspective, since longer shopping hours mean a more thinly spread out amount of customers in stores at one time.
"If there is only one thing that the government can do to save jobs in the retail sector, it is to immediately allow all shops to open on weekends and till 10pm daily," says Asfandyar Farrukh, CEO of Hub Leather. "Throughout the globe, the retail sector has been re-opened with health and safety SOPs in place but without any such ad-hoc restrictions on timings or days," he says. 
"The short operational hours and closure on Saturday & Sunday have resulted in empty shops while the burden of rents, payroll costs, etc. is being piled on. The reality is that most customers do not visit during the weekdays due to work commitments or the harsh weather."  
Altaf Hashwani, Director of Sana Safinaz, says the retail networks of brick and mortar shops is a major challenge with the lockdowns. "For the vast majority of brands, these shops provide up to 95% of total sales of the business. Limited operating hours and restrictions on children and over 55 years adults along with strict SOPs are only being enforced in Tier-1 tax-paying outlets," he said.
Of course, that is exactly what the retailers had been saying about the lockdowns. Just let us open, they said, and you will not need to bail us out. We will be able to fend for ourselves. What the retail sector has yet to grasp is that, even though the Prime Minister seems unconvinced that the pandemic is a public health risk that needs to be taken seriously, the public continues to do so, and are staying at home, by and large.
That this pandemic has hit four years after most of Pakistan acquired access to a broadband internet connection through their mobile phones, and the challenge to physical retail from e-commerce has been greater than ever before.
In the prevailing situation of fear, uncertainty and lack of disposable income, the retail sector in Pakistan will see a very slow second half of the year with focus on online business. However, this increase will not be able to compensate for the loss from bricks and mortar outlets.
Rent relief at last?
Some landlords have already started to heed the call for rent relief: Dolmen City, Pakistan's only publicly listed real estate investment trust (REIT), which owns Dolmen City Clifton in Karachi, one of the country's largest malls, has announced that it is already providing rent relief to as many as 45% of its tenants for the month of July. 
Combined with the Harbour Front office building, housed in the same complex and whose tenants will also see some reduction in rents, Dolmen City in Clifton collected Rs3,429 million in rent in 2019, or Rs286 million per month. That such rent relief is necessary in a mall complex that used to see over 1 million visitors every month before the pandemic is extraordinary.
It is unclear exactly how long Dolmen can continue its rent relief, and whether or not other landlords have the willingness or even the capacity to offer similar relief. Even if they do, most will demand some form of government assistance for doing so, which is likely to be difficult to proffer given the famously undocumented nature of the vast majority of the retail sector, including the larger parts of the commercial real estate sector in the country.
As in most parts of the world, Covid-19 has exposed underbellies most societies and economies were happy to have left hidden.