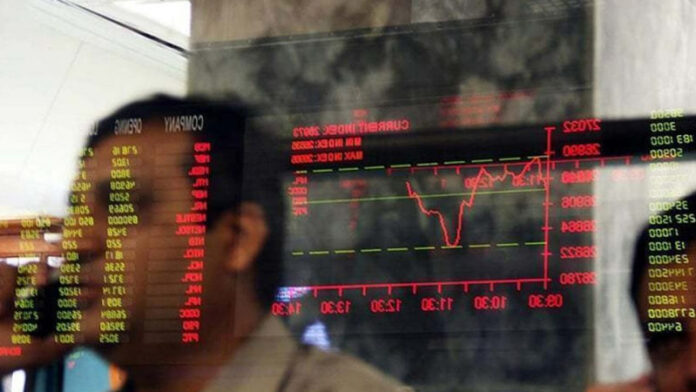 KARACHI: Indices of the Pakistan Stock Exchange succumbed to bearish momentum on Tuesday, with the benchmark index closing in the red despite early gains.
Equity markets around the world also displayed a negative trend, whereas global crude oil prices dipped further from the previous close; WTI crude price declining 4.78pc to $37.87 and Brent crude oil price falling 2.64pc to $40.91.
"The stock market opened a positive note today, gaining over 200 points during the initial trading hour, mainly on the back of a rally in refinery cement, OMCs and chemical sectors," said a report issued by AHL Ltd. "However, selling pressure during the closing hours, which was caused by the closing of leveraged positions by retail investors, brought the index down to the negative zone."
MARKET SUMMARY
The benchmark KSE-100 Index witnessed volatile activity on Tuesday, touching its intraday high at 42,528.49 (+232.74 points)and intraday low at 41,912.60 (-383.15 points). It ended lower by 310.56 points at 41,985.19. 
Among other indices, the KMI-30 Index depreciated by 307.44 points to close at 67,729.13, while the KSE All Share Index lost 166.52 points, settling at 29,796.30.
The overall market volumes crossed the 800 million mark and were recorded at 884.36 million (+18.09pc). Hascol Petroleum Ltd (HASCOL -7.47pc), Pakistan International Bulk Terminal Ltd (PIBTL -1.66pc) and Power Cement Ltd (POWER -5.16pc) led the volume chart, exchanging 133.99 million, 66.00 million and 57.96 million shares, respectively.
Sectors that painted the benchmark index red included banking (-79.47pts), oil & gas marketing (-35.80pts) and chemical (-35.17pts). Among the companies, TRG Pakistan Ltd (TRG -33.24pts), Habib Bank Ltd (HBL -27.79pts) and MCB Bank Ltd (MCB 25.35pts) dented the index the most.
Lost 1.54pc from its total market capitalization, the pharmaceutical sector ended as the session's top loser, with  GlaxoSmithKline (Pakistan) Ltd (GLAXO 2.51pc), The Searle Company Ltd (SEARL 1.97pc) and Ferozsons Laboratories Ltd (FEROZ 3.71pc) closing in the negative territory.