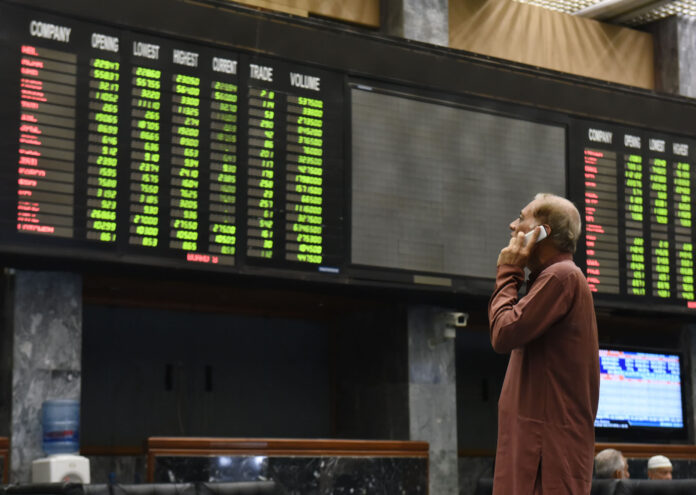 KARACHI: The Pakistan Stock Exchange (PSX) witnessed a volatile session on Wednesday, with the indices swaying in both directions before closing marginally positive. 
Global equity markets also displayed a mixed performance; whereas crude oil prices changed its course and moved north on Wednesday; WTI crude oil price inching up 0.84pc to $37.06 while Brent crude price appreciating 0.23pc to $39.87.
"The PSX started the day on a negative note, shedding over 350 points in early trade mainly due to a sell-off observed overnight in US markets," said a report issued by AHL Ltd. "Although the market managed to recover all losses, selling pressure in exploration & production, oil & gas marketing and cement sectors kept the index in check."
MARKET SUMMARY
The benchmark KSE-100 Index searched for a clear direction throughout the day, registering its intraday low at 41,610.73 (-374.46 points) and intraday high at 42,196.17 (+210.98 points). It finally settled higher by 37.06 points at 42,022.25.
Among other indices, the KMI-30 Index lost 312.86 points to end at 67,416.27, while the KSE All Share Index gathered 66.26 points, closing at 29,862.56.
The overall market volumes contracted from 884.36 million shares in the previous session to 707.01 million shares (-20pc). Average traded value also declined by 24pc, from $167.7 million to $128.0 million. Hascol Petroleum Ltd (HASCOL -1.21pc), Pakistan Telecom Company Ltd (PTC +9.21pc) and Pakistan International Bulk Terminal Ltd (PIBTL +1.15pc) led the volume chart, exchanging 75.62 million, 63.04 million and 57.24 million shares, respectively.
Sectors that helped the benchmark index recover its losses included banking (+48.40pts), technology and communication (+39.53pts) and insurance (+26.33pts). Among the companies, Habib Bank Ltd (HBL +36.72pts), TRG Pak Ltd (TRG +23.52pts) and National Foods Ltd (NATF +20.89pts) remained the top contributors.
Adding 6.70pc to its total market capitalisation, the refinery sector closed the session as its top gainer, with Byco Petroleum Ltd (BYCO +10.01pc), Pakistan Refinery Ltd (PRL +3.37pc), National Refinery Ltd (NRL +4.60pc) and Attock Refinery Ltd (ATRL +1.70pc) posting decent gains.
In a notification to the exchange, Pakistan Refinery Ltd informed that after completing the necessary repair work, crude oil connectivity between Keamari terminal and the refinery has been restored through a temporary arrangement.
Meanwhile, Sazgar Engineering Works Ltd (SAZEW -0.25pc) announced its production and sales figures for August 2020. The company produced 1,349 units during the month, of which 1,222 units were sold.