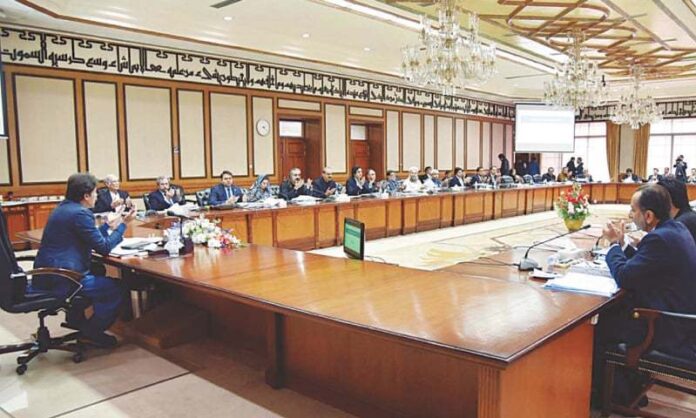 ISLAMABAD: In an apparent bid to meet one of the targets set under the International Monetary Fund's extended fund facility programme, the federal cabinet has ratified the decision taken by the Cabinet Committee on State-Owned Enterprises (CCoSOEs) to frame an SOE law.
According to sources, the Cabinet Division had asked the federal cabinet to ratify the decisions taken by CCoSOEs so that governance reforms could be introduced in SOEs.
The draft SOE law, namely State Owned Enterprises (Governance and Operations) Act, 2020, covers: a) Prudent and efficient management according to which commercial SOE must be commercially successful and non-commercial SOE must be efficient (b) Measurable performance according to which a state-owned enterprise must identify its business goals (c) Responsible management according to which the management of a state-owned enterprise must be competent, honest and accountable (d) Transparent performance must be ensured.
Under the proposed law, a state-owned enterprise would have to report its performance in a transparent and timely manner. The law would also provide selection criteria for a director, besides encompassing the corporate governance mechanism framework.
Earlier, the Finance Division had proposed CCoSOEs to grant an in-principle approval to the proposed draft law in terms of Rules 17 (91) (C) of the Rules of Business, 1973. Subsequently, the CCoSOEs accorded an in-principle approval to the outline of the draft SOE law.
It had also directed the Finance Division to process the draft SOE law for vetting of the Law and Justice Division after necessary incorporation of the view of line ministries/division.
In pursuance of rule 17 (1) (c) of the Rules of Business, 1973, the decisions taken by CCoSOEs in its meeting held on 24-06-2020 and 31-08-2020 under the chairmanship of the adviser to the prime minister on finance and revenue were submitted to the federal cabinet for ratification.
Sources said that the Finance Division had informed CCoSOEs that one of the benchmarks under the IMF's Extended Fund Facility programme was to frame a law that could ensure governance reforms in SOEs. In this connection, a detailed diagnostic study was also carried out by a technical mission of IMF which identified key governance issues in the management of SOEs in Pakistan.
Similarly, a legal drafting team was engaged with the technical support of Asian Development Bank (ADB), while due consultations were also being held with Securities Exchange Commission of Pakistan (SECP), Privatization Commission, World Bank and IMF along with independent sectoral experts in the task force constituted for this purpose.
Sources said that the process of sharing draft SOE law with the relevant line ministries/divisions has been initiated for feedback. Upon receipt of views/comments by the line ministries/divisions, the same will be incorporated and the draft law will be sent to the Law and Justice Division for further action.