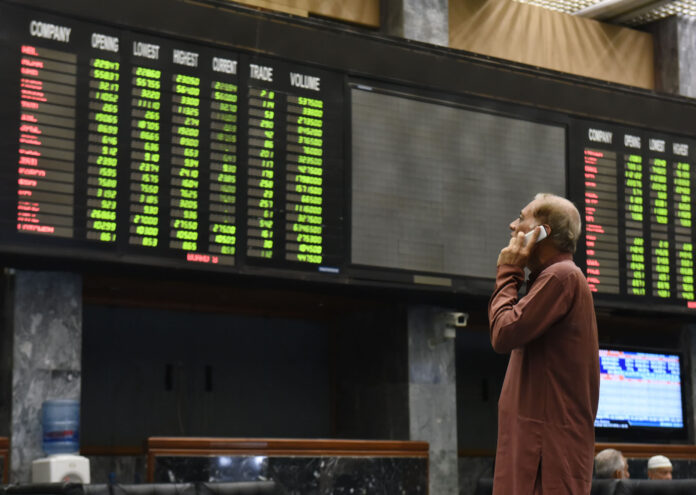 KARACHI: Bulls ruled the Pakistan Stock Exchange (PSX) on the last session of the week, with the indices recovering losses accumulated in early trade and closing in the green.
Equity markets around the world showed a mixed pattern, whereas crude oil prices declined from the previous close; WTI crude price falling 0.83pc to $40.67 and Brent crude price dropping 0.85pc to $42.93.
"Right before the announcement of Monetary Policy (scheduled for Monday, September 21st) and rebalancing of FTSE, market responded positively with OGDC, PSO, ENGRO and UBL contributing positively to the index," said a report issued by AHL Ltd.
MARKET SUMMARY
The benchmark KSE-100 Index once again saw volatile movement, registering its intraday low at 42,234.59 (-100.17 points) and intraday high at 42,554.84 (+220.08 points). It closed higher by 170 points at 42,504.76.
Among other indices, the KMI-30 Index appreciated 433.92 points to settle at 68,332.95, while the KSE All Share Index added 101.78 points, ending at 30,167.00.
The overall market volumes improved from 508.69 million shares in the previous session to 516.09 million shares (+1pc). Average traded value, however, dropped by 10pc, from to reach $81.9 million from $90.8 million Pakistan International Bulk Terminal Ltd (PIBTL +4.72pc), Unity Foods Ltd (UNITY +7.49pc) and Fauji Foods Ltd (FFL +4.55pc) led the volume chart, exchanging 75.51 million, 45.28 million and 38.86 million shares, respectively.
Sectors that painted the benchmark index green included oil & gas exploration (74.68 points), banking (71.57 points) and fertilizer (34.34 points). Among the companies, Oil and Gas Development Company Ltd (OGDC 43.12 points), Fauji Fertilizer Company Ltd (FFC 27.90 points) and United Bank Ltd (UBL 27.07 points) remained the top contributors.
Adding 1.66pc to its cumulative market capitalization, the oil & gas exploration sector emerged as the session's top gainer, with Oil and Gas Development Company Ltd (OGDC 2.70pc), Pakistan Oilfields Ltd (POL 1.18pc) and Pak Petroleum Ltd (PPL 0.60pc) posting decent gains.
On the financial side, Pakistan International Bulk Terminal Ltd (PIBTL +4.72pc) announced earnings per share of Rs0.64 for FY20 (Rs-1.37 in FY19), Kot Addu Power Company Ltd (KAPCO -6.24pc) declared an EPS of Rs26.83 for FY20 (Rs14.90 in FY19), Dolmen City REIT (DCR +0.27pc) published an EPS of Rs3.65 for FY20 (Rs3.09 in FY19), while Nishat Mills Limited (NML +1.33pc) posted an EPS of Rs9.97 in FY20 (Rs16.66 in FY19).