In September 2014, sisters Mahlaqa Shaukat and Noor Shaukat returned to Pakistan from the UK to conceive a fitness movement, led by women, for women. Their movement materialized in the form of Aimfit, a leading platform that, presently, provides fitness classes to females belonging to the well-off segments of Lahore and Islamabad's population. 
But that is only what it started off as. Over the past six year, Aimfit has gained serious momentum, and now its founders have secured $1 million in seed investment. Where did the money come from? The oversubscribed round was led by Indus Valley Capital, a Pakistan-focused fund started by LinkedIn's former VP of Growth, Aatif Awan.  
With an increasing base and a million dollars to play with, Aimfit has become the first VC backed fitness startup out of Pakistan. But the beginnings of Aimfit were not as grand as its current position, and the sisters think Aimfit has what it takes to be bigger than a regular startup. Their vision sees Aimfit not as a startup, but as a prospective nationwide fitness movement that could possibly be a lucrative business at the same time. 
The need for Aimfit 
For anyone with the bare basic cognitive skills, regardless of gender, it is obvious that Pakistan has a problem giving any kind of attention to women when it comes to social activities like fitness.If you're returning from a  more developed country, where gyms, yoga studios, pilates, and jogging lanes are everywhere and not a luxury, the contrast will be even more stark for you. 
There are certainly no dedicated spaces for women to achieve their fitness goals. That is, of course, an opportunity with the trends towards fitness favourable globally. It wasn't, therefore, unlikely for two Oxford University-graduated women with a passion for fitness to do something about it and cash-in on the opportunity. 
For countries like Pakistan, thinking about physical fitness is expensive, and thus usually an upper class endeavour. The seedy gyms that do exist in the underbelly with iron cast dumbbells and tin cans filled with concrete as weights are not usually places welcoming to women. But even in the upper classes, the opportunities for women are limited. 
Aimfit's presence is currently in Lahore and Islamabad only. They have three fitness studios in Lahore, two in DHA and the other in Garden Town – both posh neighbourhoods, and one fitness studio located in Bahria Town in Islamabad. The platform boasts over 5,000 active members across these four locations in two cities. And this entire time they have been bootstrapping – meaning they have only used existing resources and made no outside investment since 2014. 
With $1 million in seed investments, Aimfit was set to expand and become bigger than ever. But as with so many stories these days, just as things were looking towards infinity and beyond for the fitness organization, the pandemic came, meaning suddenly all four of their locations were closed and classes cancelled. 
The sisters responded, like every other business, to the online model, providing fitness classes online, to keep the revenues coming in. And like every other business, Aimfit too believes that online is the way to go, with the Covid-19 pandemic providing the impetus to expedite the plans. 
Mahlaqa, the co-founder and CEO of the fitness startup says that Aimfit was offering online training sessions pre-Covid as well, and with the $1 million in seed investment, plans are to double down on the online model, along with increasing the physical studio footprint.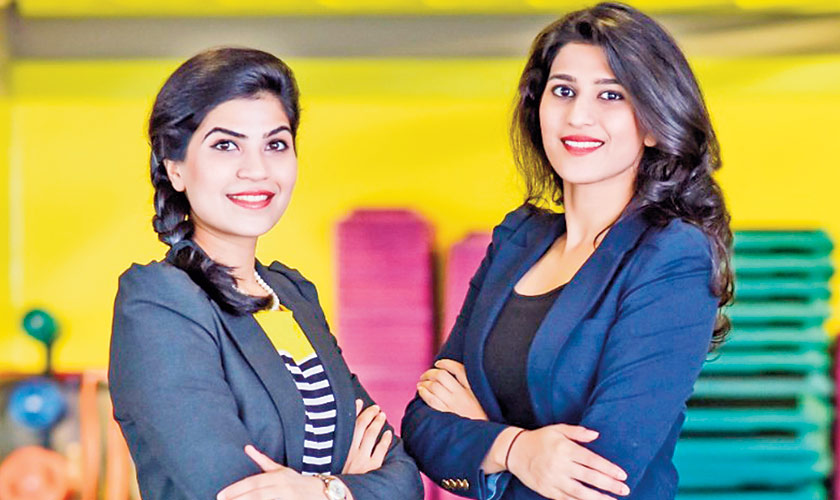 Aimfit founders and sister, Noor and Mahlaqa Shaukat 
This is particularly important because Aimfit is not without competition. While Pakistan ranks 149 out of 150 countries for recreational physical activity by participation in 2018 measured by the Global Wellness Institute, the market for fitness institutions is picking up pace, and Aimfit is not the only organization looking to cash in. 
As co-founder and COO of Aimfit, Noor Shaukat, admits, the last five years have seen a boom in the fitness industry in Pakistan. This is also why the online model is important. "We are proud of the role AimFit has played in enabling this ecosystem of independent fitness studios. While there isn't a direct online competitor focusing on a scaled, online fitness solution for women, there are multiple individuals and brands in the market," says Noor. 
"We are excited to see this growth since the biggest challenge is to encourage more people to take up a healthier lifestyle. The more players there are in the market, the more our target market is educated on the need for our product." On this level, Aimfit is well supported by Indus Valley Capital as well, which agrees with Aimfit's methods and goals. 
""At Indus Valley Capital, our mission is to help founders build the most transformational companies in Pakistan. We believe that AimFit will transform the country in an incredible way by bringing fitness to millions of women in their homes," says Aatif Awan. "Being able to achieve fitness goals as part of a community is truly empowering and has a spill over effect into improving other aspects of life, including family, work and mental health. We're thrilled to partner with AimFit in revolutionizing female fitness in Pakistan."
Changing targets
For any consumer-facing business, growth and scale cannot be achieved unless the product or service is targeting the mass market, which in this case can potentially be 101 million females, or 49% of the total population of Pakistan, according to the Pakistan Bureau of Statistics (PBS) data of the latest census.
Compared to that, 5,000 members is not a large number. It is, in fact, a tiny number. But Aimfit has not really planned to reach out to the mass market, until recently. Since its existence, Aimfit has been targeting women from the wealthy upper-middle and elite classes of Lahore and Islamabad (as evident by the locations of their studios). These women can afford to pay Rs8,000-16,000 per month based on what one is looking for from the wide assortment range in the fitness menu, and has always remained oversubscribed, as they claim. This means that the demand shot through the roof but they did not have enough capacity to serve that demand. Hence the plans for expansion.
"A user can get an unlimited pass, which is a little bit of a more expensive box. If you're going for 10 classes or eight, it will be cheaper. If you get a membership, you come as many times as you want in the month, but you have to book classes in advance online. Others can come and pay per class. We do not think that we are super expensive or catering to the elite only. We have different prices to cater to a wide market," Mahlaqa Shaukat told Profit in an interview. 
Rs8,000-16,000 is a little expensive in a country where the average monthly household income is only slightly above Rs40,000. This price and income equation is perhaps what drives Aimfit's focus towards an online-to-offline (O2O) model, where a low-income consumer can subscribe to Aimfit's service online for as low as Rs1,000 or even Rs800 per month, with offline services available to those who can afford the Aimfit experience at the physical studios. 
"We're trying to position ourselves to think of our studios as experience centres. The idea is to have anchor studios across major cities, eventually even in tier two cities, where people have these experience centres to come and get a taste of the brand," says Mahlaqa. "For that, you really have to establish the tone and the personality of your brands for these centres. But then we have to reach the mass market through some home workout solution, which is possible only online and also which obviously has a much higher distribution."
It is perhaps the community experience more than fitness that Aimfit's customers pay for, indulging with people who share the same ideology, women empowerment and fitness in that. From the get-go, Mahlaqa explains that women in Pakistan have always felt that Aimfit was like a space that was exclusively catering to them. Aimfit provided them a unique fitness experience, making it their 'happy place'. And it is perhaps because of this community experience that Aimfit caters exclusively to females, providing them with a niche that has remained unserved for a long time.  
Concepts like 'community experience' may sound like so much mumbo jumbo on the surface, but they have a real world impact on businesses and people. In a recent study by Business Insider, reporter Irene Jiang went inside an "urban sweat lodge" – a prison-style workout taught by former convicts, and full-body cryotherapy. Her takeaway? "I'm not sold on the idea of sweating or freezing my way to a better body… but it quickly became clear that what they really had to offer its customers was a sense of community. They also focused on self-improvement and reaching personal fitness goals rather than exercising to attain a certain body type," read her report. 
In another example that shows how fostering community has increasingly become a selling point for fitness studios and gyms, and how consumers are aligning their fitness venues of choice with their personal identities more than ever before, consumers of US-based fitness companies SoulCycle and Equinox decided to sever ties with the company when they learned of the owner of both companies, Stephen Ross' ties to President Donald Trump and the fundraiser he had announced for the president. The values of the community simply did not align with that decision. 
Aimfit follows the same community model as SoulCycle. So if any decision of the company is against the ideology of the community that the company caters to, it risks losing all these consumers that form this community. That is also why Aimfit has never turned towards catering to the male segment of the population and does not plan to do it in the future either.
"We actually started off with classes for men as well. Even though the focus was on bringing this service to women. However, our community grew and bonded very quickly, and started defining what our values are for us," Mahlaqa tells us. "And now we actually hear all these women referring to AimFit as their 'happy place'. So we have really evolved to become that and strive to be that for as many women as possible.And we really embrace that personality trait." 
But with the seed money and their new goals to expand fresh, does Aimfit have a plan to scale to the mass market and still make money? Aimfit's packages have already been discussed above and the management of the company did not disclose revenue or profit numbers. 
Based on the information disclosed to Profit, for 5000 members paying between Rs8,000-16,000 per month would yield Rs40-80 million in monthly revenue, and Rs480-960 million in annual revenue. The management further disclosed that from the four studios, the EBITDA margin is 40%. 
Talking about the healthy margins, Mahlaqa said that is what has actually driven the organic growth of the company so far. What makes these margins possible? "You have to deliver a certain quality in the studios when you have to create an experience. But because our fitness themes do not require gym machinery, we have very lean equipment so our studio CAPEX (capital expenditure) is low. This (margin) number is we are really proud of. Our studios make money. Now we have an opportunity online for us."
How is it going to work online? 
To reiterate, Aimfit is not a gym. The founders like to call it a fitness facility, providing a broad range of fitness programmes, which incur research and development expenses to create those programmes scientifically to improve fitness, all done by a team dedicated for that purpose. 
"From dance to yoga to pilates and really anything that is suitable for women, we develop programmes accordingly. We develop choreographies, in-house programmes, just like the curriculum at schools. We call this our fitness curriculum that how our instructors are going to do this, feedback, monitoring and quality control," she says. We also have a fitness academy because fitness is not that widespread that you can just go out and hire people. There is a lack of depth in fitness training all around. We feel that is essential for our clients. We from the very start, we train our instructors and that is what differentiates us actually. Now our fitness academy trains even people from the outside." 
Now because online is largely a different segment where the startup will be serving lower economic classes with low incomes, the model is going to look completely different. The programmes that are being or will be developed according to fitness goals of individuals will be scientifically crafted and then be made available to masses online on the Aimfit application for a low monthly subscription of, say Rs1,000. The model is similar to that of popular fitness training application Freeletics that has custom programmes for users with varying fitness goals. Various fitness programmes are available on the app for a little over Rs1,000 per month, charged on a quarterly basis. The application is online only and because there are no fixed costs associated with physical studios, the overall cost of customer acquisition is low and hence the low price. 
Aimfit would perhaps be following the same model, with custom programmes designed for a different segment with different fitness goals. And because the expenditures would be incurred once on creating these programmes, they could be made available on a low rate to low-income demographics in Pakistan. 
"We are looking at a market size of $5.5 billion. It is largely because we would be targeting a larger wallet share that includes healthy meals, outfits etc. But that comes later. Right now the business case in front of us is going online," says Mahlaqa. 
For the purpose of growing further, Aimfit has raised $1 million in a seed round led by Silicon Valley-based Pakistan-focused Indus Valley Capital. 
With the funding round, the management identified opening up new anchor studios, programme development and growing programme development team as focus areas for future expenditures.
"There are three things that the money will be deployed towards. One is the product build for the online workouts. We want to obviously have a really good product out. The second is, you know, we have, like I was saying, we have a really strong programme team that serves the studios that is going to serve the online workouts. And it's like all about the content that we are putting out there," the sisters tell us.
"So  there's going to be expenditure on growing the programme team. That's what we really feel like is our IP. We actually do research and development on which workouts are burning how many calories and all of that. The third is establishing two anchor studios." 
The company provided an estimated timeline of one year for utilization of these funds, with eventual plans of going for a larger round in a year's time.