On September 30, at Islamabad's high-end Serena Hotel, dignitaries from the government and the who's who of Pakistan's tech scene gathered to announce a milestone reached by one of the most well known startups in Pakistan. Bykea had just raised $13 million in Series B round. 
The high profile event had Planning Minister Asad Umar, IT minister Syed Amin ul Haq, Ali Jahangi Siddiqui and the former chief of Digital Pakistan, Tania Aidrus, rubbing shoulders with the CEOs of large technology companies in Pakistan such as Zia Chishti, the CEO of The Resource Group (TRG). 
Bykea's Series B plunder is a big splash, but it isn't the first time a Pakistani startup has raised this kind of investment.  Airlift had recently announced raising $10 million in its extended Series A round. It has earlier raised $12 million in Series-A round. Besides Airlift, other startups have also raised significant rounds, but no investment created more buzz as the round raised by Bykea.
Part of the reason for the buzz is where the money is coming from. Out of the $13 million raised, $10 million have been put in by Prosus Ventures – the venture capital arm of Netherlands-based Prosus. While that may not ring any bells, Prosus is a spin-off company created by South Africa-based Naspers that manages Naspers investments in internet businesses across the globe. 
And when Naspers commits to an investment, it means there is something to it. Perhaps even more importantly, Naspers has made the investment at a time when the coronavirus pandemic is continuing to rage, because of which Bykea's revenues also came to a grinding halt and looming uncertainty made even the best in business become cautious about proceeding with investments.
But Bykea has maintained a sustainable business model from the very beginning, and the successful round is testament to the ability of the CEO and founder of the company, Muneeb Maayr. 
Article continues after this advertisement
But while the Naspers' name brings with it good news usually, it also comes with its baggage. The company has a history of high-stake mergers and investments that eventually end in the founders of the companies they merge with exiting completely. This was even the subject of an earlier cover of Profit. 
And according to sources close to the deal, the investment did not come very easily. Profit has reliably learnt that Bykea had to go through gruelling rounds of negotiations, and renegotiations to successfully close the round. 
Which is why the event at Serena was doubly important. For the government, an international investor like Naspers investing in Pakistan reinforces their narrative of increasing confidence on foreign investors in Pakistan. For Bykea, the hefty round is another lifeline to becoming the super-app it has always intended to be.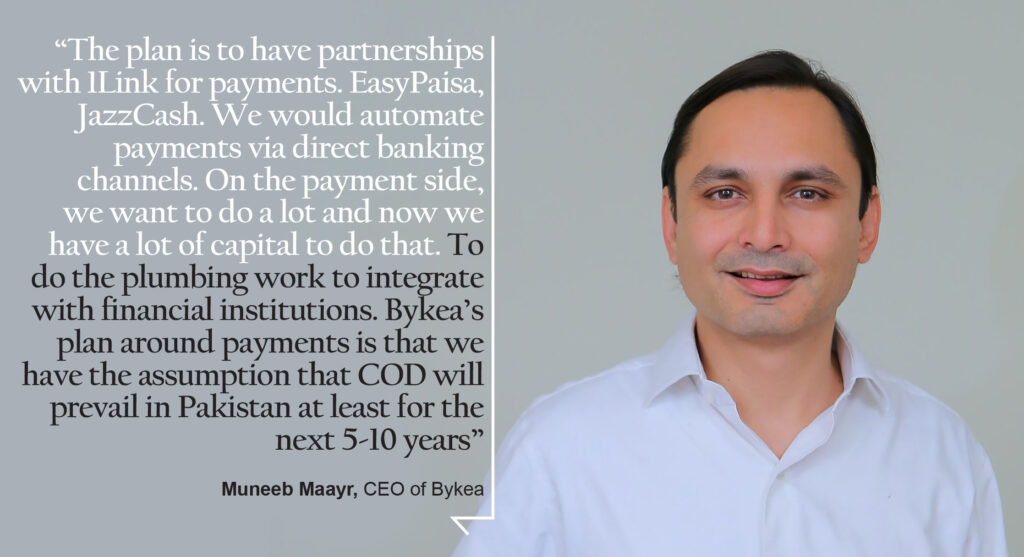 In total, the startup has thus far raised $22 million in total funding, making it one of the most well-funded startups in Pakistan. Though the valuation remains undisclosed, Profit learnt from a source that the Bykea's valuation after the Series B round with Naspers is slightly above $50 million. 
Bykea's natural competition in the super-app space is Careem. Both the companies have ride-hailing as their core business. One is headquartered in Islamabad, the other in Karachi. And things are about to get heated after Bykea's recent round.
Laying the foundation 
There has been much made of the possibility of a Pakistani super-app. There was the official attempt by Jazz to build Veon into a Pakistani WeChat. Then came Careem, which has recently reached out and turned into more than a ride hailing app, and is hoping to make digital payments easier and more common in Pakistan. But this does not mean Bykea is jumping onto a bandwagon, because they have had the idea to turn into a super-app for Pakistan from the very beginning. 
Bykea has aspired to become a super-app inspired by Indonesia-based Gojek that is currently valued at close to $10 billion. From the get-go, Bykea has ideated to become a platform for multiple services. Meaning that instead of being a single service, Bykea's app would have multiple other services enabled by one core of the business. Like Gojek, the core business for Bykea is ride-hailing. 
For those most familiar with ride-hailing, Careem and Uber are the go-to services. But both Careem and Uber have made their bets on cars. Whereas Bykea's infrastructure is primarily based on ride-hailing via bikes that it wants to leverage to introduce other services.
On June 15, 2020, Careem also moved onto creating a super-app. But did it always intend to? The answer to that would be not as simple. Careem's business has predominantly remained in the ride-hailing category ever since its creation and the platform play has been a recent step for the company after its merger with Uber. The merger materialised in January this year. Careem founder Mudassir Sheikha had been vocal about launching a super-app publicly since at least early 2019, with the eventual launch in June this year.
Once again, and we cannot empathize this enough, the key to a super-app being successful is people trusting digital payments, which Pakistanis have been stubborn in doing. But with Careem becoming widely popular, and having a digital payments option, they already had the infrastructure in place. 
This means payments made through the app, either through payment information stored in the app – such as a debit or credit card – or through credit that they have added into their Careem wallets by paying cash to the drivers (known as "captains" in Careem parlance). Why not use that infrastructure – both the app and the payment mechanism – to get people to pay for other goods and services that they may currently be buying through other apps?
But where Careem might not have really intended to be a super-app, and has become a make-shift one, Bykea has always identified itself as a local super-app that started off laying its infrastructure using bike taxis. Which is why their trajectory may be smoother than Careem's.  
According to Bykea CEO Muneeb Maayr, platform play has always been the aim for the company for one reason: the traditional single-service model of constantly burning cash via car taxis is unsustainable in the long run. The bet is on bikes because the unit economics for cars does not make sense.
"Bykea made the bet on motorbikes. It's not because we did not have the technology to start the car category. We can start the car category in like three days from now. From a unit-economics perspective, bikes make more sense," Muneeb told Profit in an interview. 
It makes some sense that if you truly want to create a hyper-local platform that can truly be a super-app for the masses, you need to be able to reach out to the masses using price-points that look affordable. Think of it this way: An average Careem ride costs somewhere between Rs200-300. That is when companies like Careem and Uber subsidise rides using venture capital or private equity money. For a customer, that's a win win. For the driver, it only makes sense as long as they receive weekly bonuses, and that requires even quicker cash burn.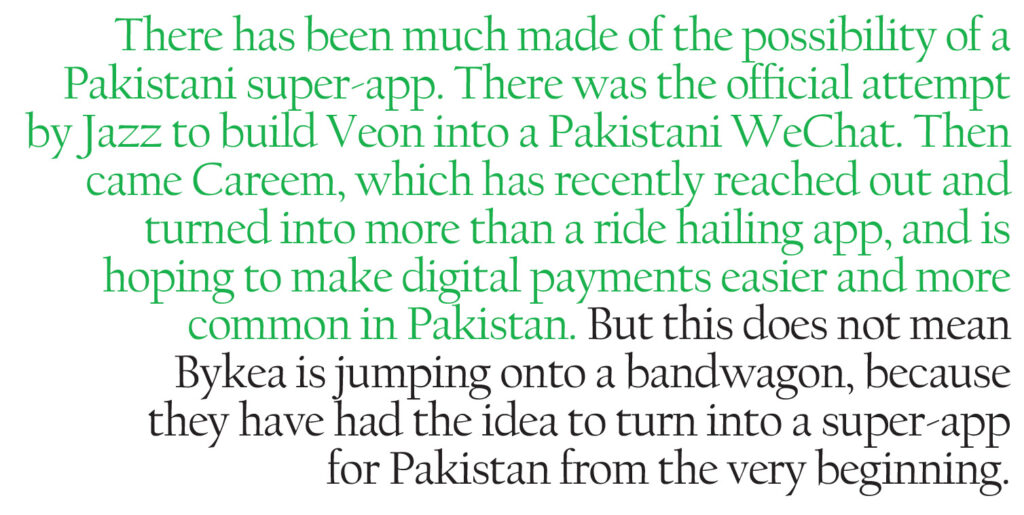 Fundamentally, from a unit economics perspective, it makes little sense in the long run in a country like Pakistan. It makes sense when the average fare goes up to approximately Rs500 but then the demand would fall. It is fortunate for Careem that it is not operating in Pakistan only. A bulk of its operations are in the Middle East where the disposable income is higher and therefore the dream of becoming a super-app has greater chances of materialising. 
Careem's super-app might make it in Dubai where the disposable income is higher to deliver pizza in a car. Economics around making deliveries in luxury cars is not feasible unless people are willing to pay for that. In places like Dubai, like Jeddah, it is absolutely possible. In Pakistan, it is not possible. It is, however, possible in the motorbike category. For a country that has low average disposable income, users can afford paying Rs150 per ride or deliveries.
Bykea's fleet of monthly active bike drivers in February, pre-pandemic, was around 33,000 monthly active drivers, with post-Covid lockdown number of riders reaching 20,000 monthly active drivers. The number understandably fell because of the lockdown and a ban on pillion riding. 
In Bykea, the driver is predominantly a part timer and Bykea plans to focus on how to effectively utilise the rider's hours so that he is able to make more per hour.
The road to super-app
"When people are talking about super-app, they are essentially talking about a payment app. Super-app is an evolution of the marketplace. The concept is that right now you are doing one thing but moving onwards, it would be four more things you would be doing," says Muneeb. "Essentially, we have always wanted to do multiple things. Going forward we would have the funds to allocate to businesses apart from bike taxis in different verticals."  
While it may have been planning to enter this space since the very beginning, Bykea does not want to rush things and is in no hurry. Their road to super-app is a cautious one. It does not want to pick a fight with anyone in the verticals they plan to move to as part of their plans to become a super-app. This plays along with the company's philosophy of controlling unnecessary cash burn. With the $13 million in funding, Muneeb says they should be able to spend it over three years if they remain frugal in expenses – a strategy completely different from Careem.  
Essentially, Bykea wants to create partners instead of competitors, and has surprisingly elaborate plans to make inroads deep into Pakistan; the streets of villages and towns untouched by technology. Important partners in this endeavour are telcos. But before we go into that, let's first take a look at which other verticals Bykea wants to increase its footprints in.
As mentioned earlier, Bykea has always wanted to be a super-app. It just started off with ride-hailing. And it would have continued on the same path had the pandemic not busted the economy and the businesses. The process of raising funds, that had started pre-pandemic, was meant to achieve efficient allocation of resources and grow towards other verticals that Bykea wants to consolidate its presence in. With the funds now finally secured, the plan is to continue along the same levers. 
Payments, food delivery, advertising and mart: these are the core focus areas of Bykea for its expansion towards the super-app model. "We are going to be super-focused on payments," says Muneeb. By payments, Bykea does not mean that it is going to be a wallet. In payments, it wants to focus on automation of micro-level cash payments, automation of cash-on-delivery payments for deliveries being made within the city. 
As a logistics company that has consolidated its presence in the bike ride-hailing market, Bykea is already into making deliveries within the cities it operates. Muneeb breaks it down for us that the majority of the deliveries that Bykea does are B2B single parcel deliveries between micro-sellers and customers. These are small transactions between sellers and buyers that Bykea wants to automate payments for. 
What Bykea would do is it would make the deliveries and collect cash against the delivery and electronically deposit it in the vendors' banking accounts via digital channels. This is where partnerships come in. 
Bykea is a closed-loop wallet. Meaning that payments within Bykea app can be transferred from one user to another Bykea user. But since the majority of its deliveries and payments focus on cash, it plans to integrate with all possible players in the payments space to automate such payments. 
"The plan is to have partnerships with 1Link for payments. EasyPaisa, JazzCash. We would automate payments via direct banking channels," Muneeb elaborates, reiterating again that Bykea's focus will always remain to be cost-efficient and therefore partnerships. Whereas competition would require cash-burn, that they want to avoid. 

In turn, they will not be holding any sort of cash that traditional wallets do.
In payments, it is not just cash-on-delivery. It is cash disbursement as well where if a user wants to withdraw money from his or her account, it can do that on his respective banking application and the money in cash will be delivered to the respective bank user by a Bykea rider against a fee for the service. 
"On the payment side, we want to do a lot and now we have a lot of capital to do that. To do the plumbing work to integrate with financial institutions. Bykea's plan around payments is that we have the assumption that COD will prevail in Pakistan at least for the next 5-10 years," Muneeb says. 
For couriers, ecommerce players, distributors or brands, if you are collecting cash from somewhere, how can you collect that money for financial institutions faster is what Bykea would be trying to crack with its payments model. 
"K-Electric's official last mile cash collection is being done by Bykea right now. There are about 8 million households that are a potential addressable market. We are not doing it as competition with anyone. We are doing it as a B2B service provider for K-Electric," the Bykea CEO says.  
All of these plans are focused around the bike-taxi business, that is the core of the business and will remain the core of the business that would give sufficient infrastructure to enable other services, one that also increases overall utilisation of the fleet and enables riders to earn more. 
"Secondly, by the end of the year, we want to come into food delivery. Again, we don't want to get into a fight with existing food delivery players. What we are thinking about is how we give our software to restaurants or to cloud kitchens or even marts for that matter to enable them to use Bykea to make effective deliveries," says Muneeb "They would even be able to integrate their own fleet on our software and make deliveries using that. Where they do not have their own fleet, they can use Bykea."
Though Bykea has other segments that it wants to move into, its current focus will remain on increasing footprint in payments and food delivery, with a concomitant focus on expanding into smaller cities and towns.
The 'hyper-local' expansion
This is Bykea's angle. Since they are a local born and raised startup, they want to become 'hyper-local,' as their management likes to call it. This means expanding to areas that have not been penetrated by logistics companies, which have therefore have failed to scale their super-app. 
And in this they are pointing a subtle finger towards their main competitor, Careem, which is predominantly operational in large cities of Pakistan besides very few second tier cities. With limited internet coverage and even lower income levels, only telecommunication companies have been able to spread their networks into these areas on the back of increasing cell phone penetration and non-internet-based channels such as USSD codes. 
For a truly local super-app that Bykea claims it wants to be, it says that it understands the challenges of spreading footprints into these areas, that is only possible through telcos through their already dominant infrastructure. Bykea's philosophy of partnerships plays out here as well. It wants to make telcos its partners and leverage their infrastructure to make Bykea services available even where there is no internet connection. 
Muneeb candidly says that if they have to take the bike taxi business and start getting into smaller cities, which they plan to do after the recent round, it would not be possible without telcos because of the penetration they have in villages and small cities. 
The major telcos all have their wallets with the very rural segments of the population forming their user base. For the reason that Bykea plans to partner with telco-backed wallets like EasyPaisa and JazzCash, it would be able to leverage their user base as well as other infrastructure to enable taxi services in these areas. 
"Q1 next year, we'd be moving into smaller towns. That requires a big franchise push. Our major capital allocation will be towards franchise push. For that we'd be focusing more on offline marketing as compared to marketing on online channels," says Muneeb. 
Bykea's plans sound substantial. But it's the execution that is going to matter. Candidly, $13 million from Naspers is a very small amount. It is frankly a small ticket size for the sort of investments Naspers usually makes. That is because it considers Pakistan to be a risky market. Therefore Bykea investment is going to be a litmus test for Naspers in Pakistan. If it turns sour, it will divert other future investors with big pockets away from Pakistan. 
Muneeb, however, understands the challenge and remains committed to execute. Even though rumors in the market are that the founder of the company may not have a substantial shareholding in the company. An exit could have been made easily but the founder chose to stick. It's therefore a testament to Muneeb's commitment to the cause of building something substantial without the charm of seeking lucrative returns. It remains to be seen how Bykea performs.