A Chinese revolution was supposed to take place in Pakistan's auto industry. The hope was that brands like Changan, backed by Master Motors, along with South Korean companies like Kia and Hyundai would come in and help disrupt the triopoly of the Big Three Japanese car manufacturers in Pakistan – Suzuki, Honda, and Toyota.
That has not quite happened, and far from becoming a legitimate family car company, Changan has had to change focus and concentrate on a different segment of the automotive industry. Their latest introduction has been the Karvaan, one of their newly launched vans, that provides the comfort of a sedan in the form of a van cheaper than the Suzuki Alto.
The utility of a minivan is very different in Pakistan from what we see in Hollywood movies. Vans typified by soccer moms are family cars – they are prudent decisions and reliable vehicles with lots of space. In Pakistan, mostly because of the Suzuki Bolan better known as the 'dabba,' minivans have instead become vehicles for transporting school kids, furniture, livestock and anything you can git in them. 
The Karavan is not shaped or designed or decked out like a soccer mom minivan – it is very much a dabba. It has to be, because it isn't designed to be just a family car, but also a carrier car. But by dabba standards, it is good looking competition for the traditional Suzuki model.
Indeed, the dabba status is something that Master Motors, the Pakistani manufacturer of the Changan brand of vehicles, makes no attempt to deny whatsoever. Changan CEO Danial Malik says: "We have the most beautiful dabba that exists in the world."
Unusually in Pakistan, with its normal dearth of choices, the Karvaan is the only one available on the market. Kia has also launched its own Carnival, and while it comes with many more features. The problem is that it is priced upwards of Rs7 million. At a fraction of the cost, (Rs1.4 million, or 14 lacs) Karvaan hopes affordability is where it will beat out the competition.
Article continues after this advertisement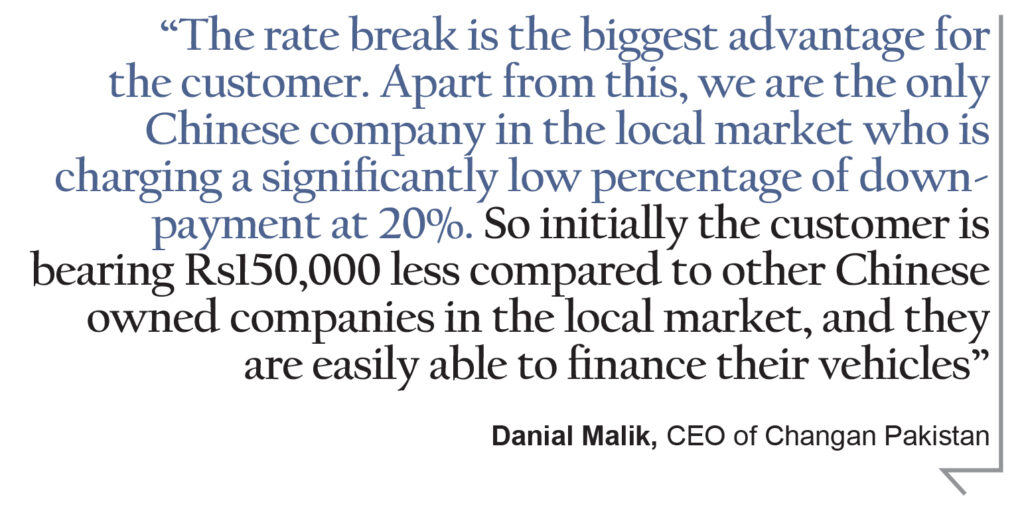 At that price point, the Karvaan, with a larger seat capacity, is cheaper than an automatic Suzuki Alto, which is among the very cheapest cars that the Japanese car making giant offers in Pakistan. Suzuki dominates the lower-priced end of the car market in Pakistan, which means that if Changan is to make inroads into that market, it will need to beat Suzuki's stranglehold as Pakistanis' first car of choice. 
In order to do that, Changan is offering something that few other car companies in Pakistan offer directly, but something that is standard issue in North America and Europe: car financing. The company has partnered with Bank Alfalah to help qualified buyers purchase cars while arranging financing directly at the point of purchase rather than having a separate process for the financing.
Car financing in Pakistan
Automobile companies in Pakistan do not provide auto financing like they do around the world. A strong reason for this is the fact that in order to do so, they need to have sufficient cash flows. In absence of this, Master Motors has managed to set forward a deal with Bank Alfalah for its van – Karvaan.
"Automobile companies providing financing would have been interesting, and there may come a time when this is done locally as well," says Changan CEO, Danial Malik. "However, for the Karvaan, Master Motors managed to sign a deal with Bank Alfalah regarding its financing for consumers. That is the best we can do for now."
What he is referring to is the fact that several of the largest US automakers – General Motors, Chrysler, and Ford – have their own financing arms: GM Financial, Chrysler Capital, and Ford Credit. Indeed GM's financial services arm was one of the largest financial institutions in the United States prior to the 2008 financial crisis, having developed into a full-fledged financial institution that offered more than just car leasing options. The non-car financing arm was spun out as Ally Bank after the crisis.
But the American car companies created their own financing arms for a reason: they know that people are a lot more willing to buy a car if they can arrange for the financing at the auto showroom, make a small down payment, and drive off with a leased or financed car off the lot that very same day. Having to go to the bank to arrange financing separately is a pain point that a lot of people end up not following through on, and as a result, lowers car sales.
Master Motors' foray into auto financing has come at an interesting time. In Malik's words, the Pakistani automobile industry witnessed a "bloodbath" this year when the coronavirus pandemic began in Pakistan. With virtually no auto sales in the country – the month of April recorded actual zero new cars sold, according to data from the Pakistan Automotive Manufacturers Association (PAMA) – the industry outlook looked bleak. However, with the timely rate cuts by the State Bank of Pakistan (SBP), the economy was brought back to life, and car financing loans rates dropped to a two year low.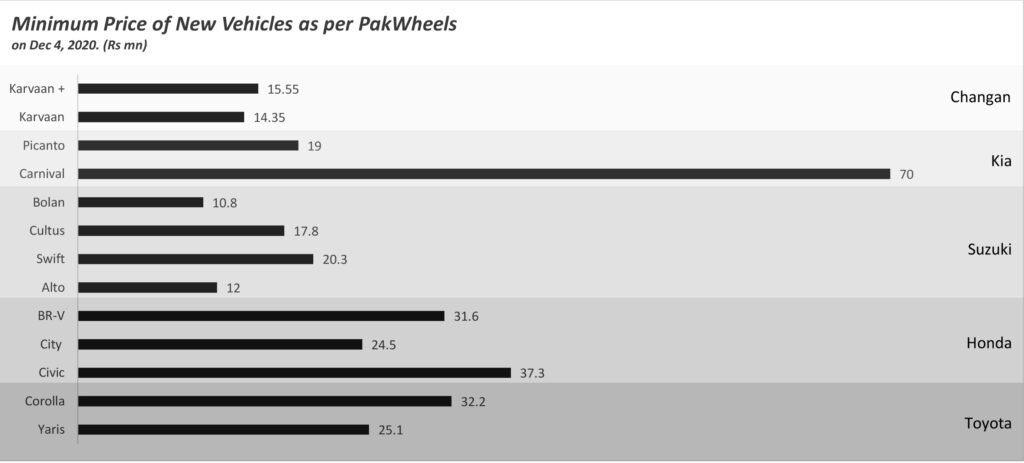 If one were to look at it, it seemed like the right time to get a loan. Why? Because in reality, the real interest rates are negative, meaning they are lower than inflation. That is unusual in Pakistan, where the SBP normally keeps rates at least 1% or more above the inflation rate. While they are not at record lows, they are close enough to make the monthly payments on a car loan quite attractive for many middle class households, particularly for a car as cheap as the Karvaan.
For example, based on the price of the basic model for the Karvaan, one could make an initial deposit of Rs342,000 and get the rest of the car's price financed by Bank Alfalah, with monthly payments equalling Rs21,000 – a number that would be affordable for many middle class families in Pakistan. For a car that can comfortably seat 7 people, that is a relatively low price.
Part of the reason auto financing in Pakistan has not taken off the ground is not just the benchmark interest rates, but also the spread that banks charge on auto financing, which can be as high as the Karachi Interbank Offered Rate (KIBOR) plus 4%, a number that often means that the monthly payments are too high for many people. This, of course, varies from bank to bank and from period to period. Master Motors, however, managed to make a deal out of it with Bank Alfalah that made financing their vehicles result in an indirect saving.
"The Karvaan MPV has become a trusted product both with the customer and the banks due to its superior specs, durability, performance and resale value," he tells Profit. "We hold 65% of the market share within a year. If that is not called disruption I don't know what is!"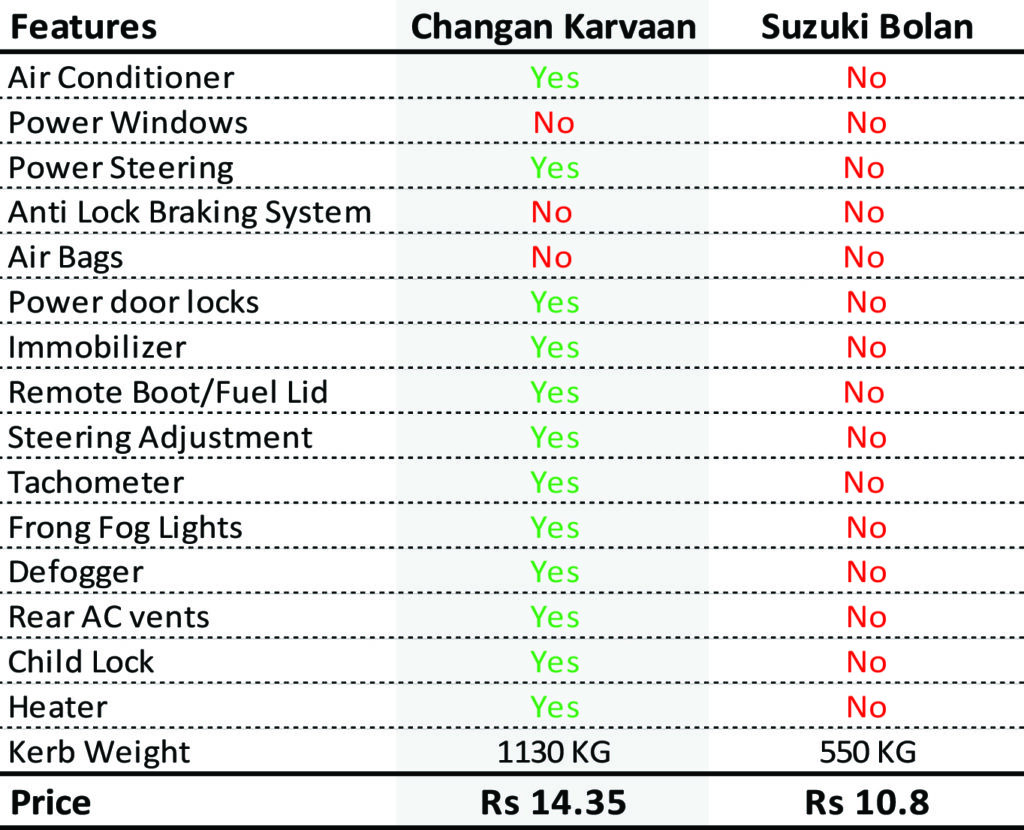 "The demand for the Karvaan is likely to rise considering the fact that road travel has now become more easier considering the highways and motorways. "The number of people going about on road trips has also significantly increased. The Karvaan is perfect in this environment, it provides the comfort of a sedan, can seat a greater number of people and has an adequate engine fit for long journeys."
The financing scheme
"Our financing scheme is on all Changan products including the upcoming products. We are getting around a 1% rate break depending on the terms the customer requires," explains Malik. "Initially, it was limited just to the Karvaan, but now we are applying this to our other products as well." 
At this rate, consumers can get a vehicle at a 10.49% discounted rate for 4-5 years tenure. This is at around Rs26,000 a month. As a result, customers are paying approximately Rs1,000 per month less than what they would have without the discount. According to Master Motors, this saves them approximately Rs40,,000 in total.
"The rate break is the biggest advantage for the customer. Apart from this, we are the only Chinese company in the local market who is charging a significantly low percentage of down-payment at 20%. So initially the customer is bearing Rs150,000 less compared to other Chinese owned companies in the local market, and they are easily able to finance their vehicles."

And a lower down payment means they are able to avoid the initial roadblock faced with regards to vehicle financing that consumers have. For Master Motors, this is good news. As per Malik, the financing customers have doubled if they take into account the number of vehicles financed through Bank Alfalah.
"The response of the campaign has been overwhelming and has seen an increase of 35% in financing cases within a month. However, from BAF only it has doubled the numbers." However, while there is an exclusive deal with Bank Alfalah, other banks are also financing Changan vehicles just like they finance other automobiles. The leaders are HBL, UBL and BAF.
Changan is working aggressively and taking full advantage of low interest rates. This scheme provides consumers with "savings, convenience and access." In addition to this, Bank Alfalah prioritizes Changan customers, and as a result, the processing time is quicker and the process is easier.
In order to make the campaign more effective, following their road shows, Changan also placed its vehicles at Bank Alfalah financing branches. One could simply walk into one of these branches, check out the car, speak to a Changan/ Master Motors representative and buy a car from there. This is in addition to more than 15 dealerships across the country.
At what cost to Changan?
Cars are often repossessed when they are financed through a bank and a consumer does not pay. Taking NPLs in Pakistan as a proxy, one would assume that Bank Alfalah would add a condition to their deal which would require Master Motors to buy back the repossessed Changan vehicles from them to hedge their risks. However, Bank Alfalah has done nothing of the sort.
This is also pertinent to note because Chinese automobiles, much like other Chinese products such as mobile phones, televisions, and air conditioners have their air of uncertainty regarding their resale value. However, this trend has managed to diminish over the years considering the surge in prices by the big three. "It is a myth," states Malik. "Our Vehicles are being sold at a premium in the second hand market."
He may have a point. As per a blog on Olx based on 101 listings, The Changan Karvaan does not lose value over time. Reasons stated for this are that it is durable and a quality vehicle.

"Regardless of the official change in price, we found around 40+ vehicles that are 1 or more years old being sold at prices higher than the original price and almost 10+ vehicles are sold at a price higher than today's brand-new price of the standard variant. Hence proves the preserved resale value of Changan's products," states the blog.
Moreover, one could also expect that the bank would ask Master Motors to share on the rate break. But according to Malik they were able to avoid this by convincing them to look at the big picture." Marketing, however, remains a cost for Master Motors that had to spend on a campaign for financing Changan vehicles through Bank Alfalah.
What's in it for Alfalah?
It sounds like Bank Alfalah cut Changan a pretty good deal, but there has to be something in it for them as well. "Master Changan Motors Limited is our strategic business partner. Bank Alfalah & Master Motors signed an MoU in August 2020. The collaboration aims to boost Bank Alfalah and Master Changan Motor's market standing and footprint by growing their respective shares in Pakistan's Auto Finance industry," is the bureaucratic response from Alfalah given to Profit. 
But there is something else to it as well. For starters, Alfalah may have seen the Karaavan as a truly good product. The van has established itself as a strong consumer brand and has high market demand. The vehicle has good market/resale value. But this is where Bank Alfalah explains how things are not as rosy for the consumer as they may sound, because they are not necessarily saving money. 
"The vehicle is not necessarily saving money straight up when the price is compared to other options available from competitive brands," said a representative from the bank. "It is surely providing value for money in terms of vehicle build/quality. Catering to diverse needs of customers who need bigger vehicles to commute. Also it is the most popular and in-demand vehicle compared to similar vehicles available in the market of other OEMs."

"This is Bank Alfalah's first collaboration with Master Changan Motors Limited . Master Changan Motors is expanding its product line with exciting products ready for launch in the near future. Both the companies ( Bank Alfalah & Master Motors) value the need of providing smart deals to increase customer affordability in these challenging times when the COVID-19 crisis has affected income streams and buying power. The combined expertise of both companies will help save time, reduce hassle and create a seamless purchase and financing experience for customers."
What's next for Changan in Pakistan?
Master Motor is planning to launch the 1,500cc Changan Alsvin for between Rs2 million to Rs2.5 million, making it the cheapest Sedan in the Pakistani market. The launch is expected to be in the first quarter of 2021.
This is Master Motor's attempt at grabbing a share of the low-end sedan sales and to give the Toyota Yaris a run for its money considering how it is priced below it. Moreover, it is also priced below high end hatchbacks such as the Kia Picanto and Suzuki Cultus.
By 2023, Changan plans to roll out EV versions for all its vehicle models. In addition to that, they plan to expand rapidly in Pakistan. Malik calls this CPEC 2.0 considering how Changan is a subsidiary of one of the largest government owned entities in China.
You see, China is a left hand drive country like various countries around the world. Pakistan, however, isn't. It is a right hand drive country. Changan has been producing these cars for the Pakistani market. However, after setting up a plant here, Changan plans to make Pakistan an export hub for its right hand drive export quality vehicles. This is a "strategic objective", says Malik.