After a full year of waiting, the HUM Network has finally released their annual report for the financial year 2019-20. A glance at the report might indicate that the network delayed releasing the report for so long because it shows how the company has now faced a second consecutive year of straight losses and a lower revenue than before. However, things are not always what they seem, and while the HUM report is no glowing recommendation, it also shows that the company has managed to control some of the outrageous losses it could have had instead.
To recall, Hum Network's revenue reached a peak in 2017, at Rs4.6 billion. It began to decline to Rs3.9 billion in 2019, and then Rs3.7 billion in 2020. Net income also fell from a peak of Rs1 billion in 2017, to Rs729 million in 2018, to a loss of Rs536 million in 2019. Now, however, the loss stands only at Rs113 million – much smaller than what others had previously predicted. 
What happened to this once glowing success of a company, that it should now be forced to be content with 'at least the loss is not as bad as before?' The story of the HUM Network over the past few years has been no less than any one of the many dramas that the network has gotten so good at putting up regularly. 
To recap, Hum Network is entirely the brainchild of Sultana Siddiqui, who is the sister of investment banker and financier Jahangir Siddiqui. Hum network fundamentally is a product of three key factors: the first, her own career in media; second, her brother's financing; and the third, former president Musharraf. 
On the second point, Sultana joined  Pakistan Television (PTV) as a producer in 1974 in SIndhi programming, before moving into Urdu programming in 1981. She then had a long career at the state-owned broadcaster (effectively the monopoly on entertainment in Pakistan until 1992). 

Article continues after this advertisement
This is where former president Musharraf comes in, whose government allowed private television channels in Pakistan starting in 2001. That is when Sultana began contemplating starting her own television network.
And who did she turn to for help? Her brother, Jahangir Siddiqui, who had become by this time one of the richest men in Pakistan, and certainly one of the richest self-made billionaires in the country. He was in a comfortable position of being able to help Sultana launch her television network, which she did in 2004. 
She launched her entertainment network with the name Eye Television (later renamed Hum Networks), and the company was listed on the Karachi Stock Exchange shortly thereafter. 
In the years since, Hum Network has consistently produced some of Pakistan's most famous television dramas. Almost every Pakistani can remember the national obsession with the 2011 show Humsafar, starring icons Fawad Khan and Mahira Khan. It was the channel's biggest hit drama generating Rs200 million for the company in revenue on its first television run, the highest for any Pakistani television show until that time. In the last decade, the company consistently ranked at number one or number two in the ratings.
Today, the company is run by Duraid Qureshi, Sultana's son, while his wife Momina Duraid is the CEO of Moomal Productions. But everyone knows that it is really Sultana who calls the shots, still. She is in part helped by her reputation in the TV industry from her PTV days, and also with her vast network of contacts in Pakistan Electronic Media Regulatory Authority (PEMRA) – key to running a successful TV show. 
Yet all the contacts in the world could not stop the events of 2017 – and why there is such a clear break in the company's finances, particularly when expressed in charts.In 2017, the  Imran Khan Administration came into office and slashed the government's advertising budget. The federal and provincial governments are the biggest source of advertising revenue for television news channels and the print media, accounting for up to a third of revenues for the industry before the recent cuts. Hum TV was still sheltered to a degree, compared to other channels, as a good chunk of its advertising comes from  consumer goods companies.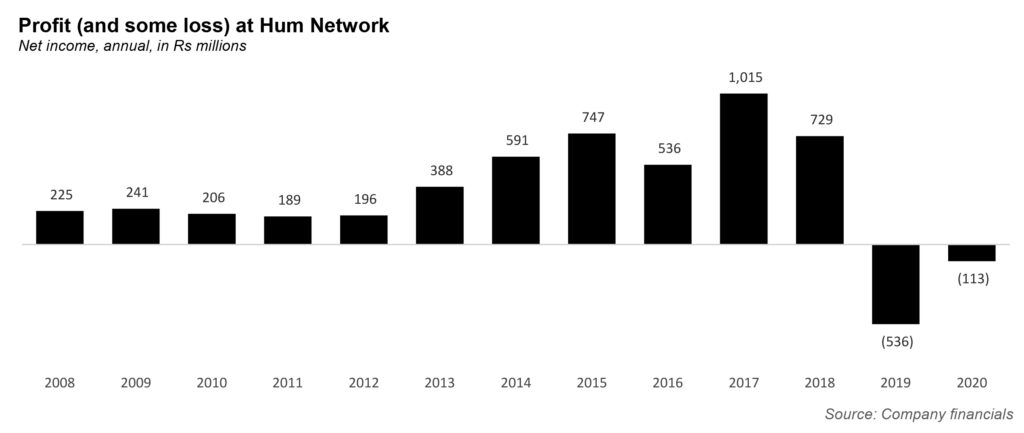 But this explains the drastic shift. And to top it off, the year 2019 was not kind to the company either. The first half of 2020 saw a wave of lockdowns, which meant that the companies; film distribution units practically collapsed (as cinemas essentially shut down). 
The only reason the company still managed to pull through, is because it drastically cut costs. In 2019, cost of production stood at Rs3.4 billion, practically close to revenue at Rs3.9 billion. In 2020, cost of production was slashed to Rs2.7 billion, allowing some breathing room for other expenses. Its why operating profit stood at Rs105 million in 2020, compared to the loss of Rs311 million in 2019. Instead, what costs the company was their financing costs, which jumped from Rs143 million in 2019, to Rs241 million in 2020. Ultimately, this is what led to the loss after tax of Rs113 million in 2020. 
Will the company see profits again? It is aggressively promoting its news channel, which is competing with existing, established giants. But it remains to be seen if the company can continue to keep a check on costs of production – particularly considering Covid-19 pandemic is still not over.