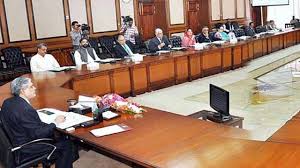 The Economic Coordination Committee (ECC) of the Cabinet on Friday has postponed taking a decision on the summary moved by the finance ministry to reduce the incentives granted three months ago for the revival of exports, it has been reported. The authorities concerned about the shortfall in tax revenues are of the view that withdrawing some of the earlier granted incentives will help alleviate the growing fiscal deficit.
The summary was deferred after the move was opposed by the commerce ministry in addition to the absence of the textile secretary at the meeting. Moreover, the finance ministry had not sought comments on the summary from the concerned departments before the summary was presented for approval by the ECC.
The sources in the commerce ministry have been reported to have said that the Ministry of Finance has urged the ECC to restore 5pc customs duty and 4pc sales tax on import of cotton.  The summary had been presented on the grounds that a total levy of 9pc in duties and taxes on imported cotton would add Rs 10b in revenues. The industry is forced to import cotton owing to a shortfall of the commodity in the local market.
The textile package announced by the Prime Minister Nawaz Sharif on January 10, 2017 had allowed the abolition of tax and customs duty on import of textile machinery and cotton in order to support the dwindling exports.
The government's decision to partially withdraw some of the offered incentives within three months highlights escalating fiscal constraints.
From July through March this year, the FBR has been consistently facing a shortfall of Rs168 billion in tax revenues and has been finding it increasingly difficult to meet the target of Rs3.621 trillion for the FY2016-17. The FBR largely blames changes in tax policies for the shortfall.
During the current year, cotton production stood at only 10.54 million bales – which was 25% less than 14.1 million target set for this fiscal year. The industry will have to import a minimum of 3m bales of cotton to meet the shortfall until the next crop arrives.
The finance ministry moved the summary on the grounds that the agriculture sector had already started reviving. The incentives had been granted earlier by the government to support them by making imports expensive in order to revive the agricultural sector.
During the last fiscal year, the industry had imported 2.6 million bales while the local production stood at an estimate of 9.7 million bales.
According to the data released by the Pakistan Bureau of Statistics, the exports plunged 3.1 pc to $15.1b during July-March period of the current FY, which was $478 m less than the exports in the same period of last year.
This led the trade deficit to rise to $23.38b during July-March period of the current fiscal year, which was 38.8pc or $6.53b more than the comparative period of last year.