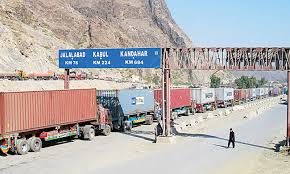 Transporters thronging the Pak-Afghan Transit Trade Route have alleged that the clearing agents have been charging illegal money from good trucks returning from Afghanistan on the Torkham border checkpoint.
According to information available from office bearers of the Combined Truck Dealer and Welfare Association, which includes Hikmat Shah and others said every truck returning from Afghanistan is required to pay Rs 1,300 to the clearing agents. In case of refusal, the customs center at Torkham will not provide the clearance stamp as all the clearing is conducted by clearing agents there. The transporters have urged the authorities to listen to their concerns and put an end to this illegal amount being charged and Deputy Collector (DCO) Torkham was also reached in this regard but he said the matter didn't come under their jurisdiction.
Transporters have stated that they will conduct a wheel jam strike on the 24th in case their demands weren't met in this regard.