Over a passage of time, it becomes important that we reflect into the economic performances of the PML-N and PPP regimes respectively and gain an insight into their overall achievements over their years in power. This comparison will give us a basic idea and perspective about how these two governments performed over the course of their regimes, what benefits one had over the other, which will lade bare in this analysis below.
Every year, the government tends to present its fiscal targets for next year. However, when it comes to fiscal discipline, there is general perception amongst people that the annual budget plans are only the paper work while the Govt. keeps running its business irrespective of any budgetary guidelines. To evaluate, we have analyzed the fiscal performance of current and previous Govt. and have come to the conclusion that the degree of deviation has remained much lower in current regime.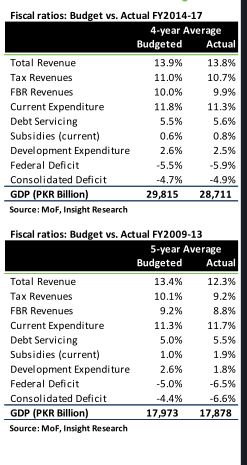 During FY2014-16, cumulative fiscal deficit remained at PKR5.5t, exactly in line with the set forecast. However, the same fiscal head was 52% higher than the budgetary target of PKR3.7t during FY2007-13. We believe low petroleum prices resulting in lower subsidies, few one off receipts and IMF rigorous targets helped current Govt. in meeting the fiscal targets. On the ratios side, average fiscal deficit has remained at 4.7% in the outgoing regime (compared to target of 4.6%) while in previous Govt. the deficit remained at average 6.6% (vs. target of 4.4%).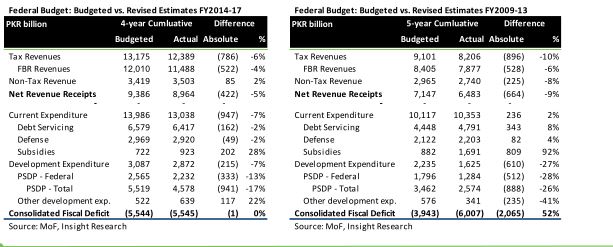 Despite this, we remain skeptical on the Govt. FY2018 budget deficit target of PKR1.5t (4.1% of targeted GDP), which, as per our estimates, could spike to PKR1.6t (4.5% of our estimated GDP) due to likely higher spending on PSDP/subsidies while the revenue target is also tough to achieve.
We have used Govt. official budget documents for the fiscal targets and official fiscal operations data (Govt. revised estimates are used for FY2016) for the analysis. Net Revenue receipts have remained 5% lower than target in last 4 years (FY2014 to FY2016) compared to the shortfall of 7% previous tenure. (FY2007-FY2013).
Higher SBP profits and CSF payments helped current Govt. to partially bridge the tax revenue shortfall. On expenditure side, debt servicing and defense have largely remained at par to the target in PML-N Govt. Subsidies, on the other hand, have remained 28% higher than the target. This, however, is much better than PPP tenure average deviation of +72% above targets. Federal PSDP disbursement has remained 13% lower than the target in PML-N tenure compared to the 28% less in last Govt.