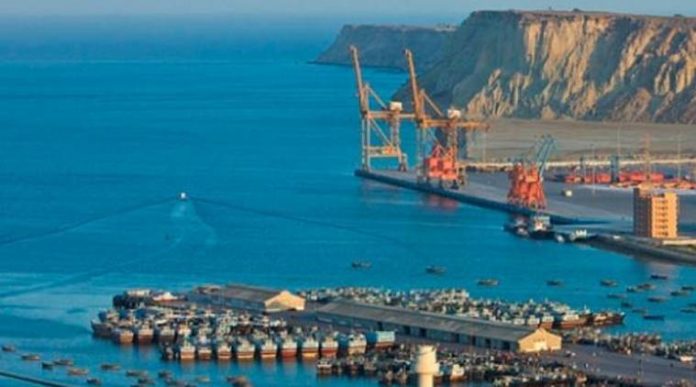 A high level Chinese delegation arrived Tuesday on a four-day visit to Pakistan to discuss industrial cooperation, implementation of Gwadar projects, and Pakistan Railways' up-gradation of Main Line-1 under the China Pakistan Economic Corridor (CPEC).
The delegation comprising senior officials from National Development and Reform Commission, and National Railway Administration, Chinese investors, and representatives of China EXIM Bank and China Development Bank met on Tuesday with Minister for Planning, Development and Reforms Ahsan Iqbal and discussed the latest progress of the projects.
On the occasion, the Chinese delegation's head said that all out efforts would be made to ensure speedy completion of all projects under CPEC. He said the Chinese government acknowledged the Pakistani government's measures and commitment to complete the CPEC project on time. He attributed the speedy work on CPEC projects to the active role of the Pakistan government's leadership especially that of Ahsan Iqbal.
The Planning Minister on the occasion said that the mega project of CPEC has entered into an important phase after start of industrial cooperation between the two countries. "Due to CPEC, various hurdles, such as weak infrastructure and energy crisis in the way of industrial cooperation are being removed", he maintained. He said Pakistan-China industrial cooperation would prove as milestone in promotion of local industries and transfer of Chinese industry to Pakistan.
The industrial cooperation, he said would help boosting employment opportunities and enhancing skill and experience among education youth of the country. He said the speedy completion of Sahiwal Coal fired power project under CPEC was a great example of the government's active role. He said special measures were being taken to enhance work speed on various Gwadar projects including Gwadar Hospital, Technical Institute, Gwadar Eastbay Expressway and New Gwadar Airport.
He said that Gwadar Master Plan would be finalized soon to make the city according to the international standard port city. Ahsan informed that under CPEC, 50 universities of the two countries would be inter-connected and work was in progress in this regard. Iqbal stated the CPEC project, which was launched with just a MoU in 2013, has become one of the most important projects in the world right now.
He hoped that the visit would prove as step to ensure commencement of a number of mega projects under China Pakistan Economic Corridor, transforming this multi-billion dollars initiative into a true economic corridor.