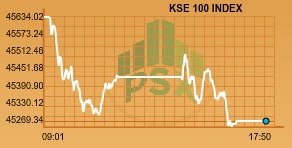 LAHORE
The Pakistan Stock Exchange (PSX) remained at a death of volumes on the last trading session of the week. Investors remained on the sidelines as the political stage showcased uncertainty. Indices extended losses right from the word go and failed to recover at any time of the day.
The benchmark KSE 100 index dropped a further 345.53 points to 45,288.49, taking the year-to-date loss to almost 7 per cent and a 15 per cent fall from its peak. The KMI 30 index laid off 795.75 points while the KSE All Share Index depreciated by 192.99 points.
Only 134 scripts managed to advance, while 199 declined. The market volumes contracted to 113.66 million with only 42.45 million shares traded in the KSE 100 index scripts. Azgard Nine Limited (ANL +5.20 per cent) led the volume chart by miles, volume 18.55 million.
Pakistan Cables Limited (PCAL -3.33 per cent) declared financials for the year ended June 30, 2017. The company reported an 18 per cent rise in sales but gross profit margin came down from 15.81 per cent to 15.68 per cent. Increased 'other income' pushed net profit up 81 per cent to Rs 4.78 million. 'Other income' formed 20 per cent of the net profit. Earnings per share clocked at Rs 16.81 against FY16's Rs 9.29.
Habib Bank Limited (HBL -1.41 per cent) extended markup earned by 7 per cent during the period April – June 2017 compared to the previous quarter. The Rs 36.11 billion mark up earned, was 4 per cent more than that reported in the same period last year. Increased taxation coupled with other factors slashed net profits by 15 per cent quarter-on-quarter but it was still 4 per cent more than 2QFY16. Earnings per share clocked at Rs 4.69. The board approved an interim cash dividend of Rs 3.50.
Engro Foods Limited (EFOODS -5.00 per cent) crumbled to its lower circuit breaker after the company reported a net loss. Sales contracted by 20 per cent year-on-year but were a 6 per cent improvement compared to the previous quarter. Increased selling and distribution expense along with higher finance cost resulted in a net loss of Rs 1.45 which converted into a loss per share of Rs 0.19. This is a fall of 117 per cent YoY, EPS 2QFY16 Rs 1.11, and a 144 per cent fall QoQ, EPS 1QFY17 Rs 0.43.
The exchange shall remain closed on Monday, August 14, 2017, on account of Independence Day. Normal trading shall resume on Tuesday.