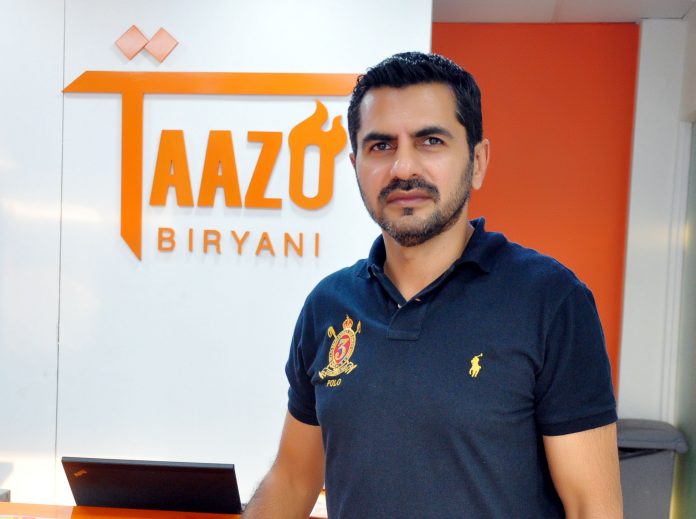 Former head of the Digital Business Unit for a Middle Eastern telecom company and previously Managing Director for the Middle East region for a global management consulting firm, Jawad Shaikh is now the owner of Lahore-based Taazo.
With a joint engineering and business degree from Cornell University, New York, Jawad does not dismiss his passion for technology and telecom sectors. Yet, he abandoned a successful career in the Middle East and the UK, and chose to return home – with an intent to invest into business ventures along with some friends. Taazo, a biryani joint, was the first of these, and it has spread to two outlets.
The one at the Main Boulevard (opposite Pace) seats 10 people while the new joint on Jail Road (opposite Services Hospital) is larger.
Like the attractive orange containers that Taazo serves in, the ambiance of the two outlets is in a refreshing orange colour. Aroma of freshly cooked biryani is the first to greet customers followed by a cheerful cashier and smartly-clad attendants.
Profit had a tete-a-tete with Jawad at his Main Boulevard outlet to learn about his venture so far and how he intends to go about it. "Together with a few friends I had been looking at businesses with a view to exploring opportunities to move back. Some six months prior to this, we did brainstorming about potential ideas before deciding to invest into Taazo." He and his friends have agreed that they will decide on a venture and whosoever wants to invest, can, but it is not an obligation.
He chose to launch Taazo because he felt that there was no food retailing brand in the country that guaranteed a uniform level of quality, taste and service – irrespective of its location. "Since I am quite well-travelled, I noticed that abroad there were prominent fast food chains known for their consistent quality, irrespective of where they were being sold. I couldn't find anything similar here in Pakistani, particularly at an affordable price."
Freshness and consistency, watchwords for Taazo
He had been working on this idea since the beginning of the year and the watchword for him was 'freshness.'
"From ingredients to presentation and taste I wanted my product to be fresh and look and taste like homemade food." Taazo is a Sindhi word, meaning 'fresh'. Jawad came up with this name in-flight, while hunting for ideas on naming his new business.
He chose ingredients that he would prefer using in his home for his own meals. He gets his rice from Hafizabad. "We got a whole stock of it, as the more it ages, the better it tastes so that is not a problem either." His chicken supply, however, comes from a well-known frozen foods brand. "Fresh chicken has its own issues in processing and transportation, so we avoided that to ensure quality." He said that he brought an experienced chef on board and after extensive trials made the Taazo biryani recipe instead of using packaged masala mix.
"We have done major investment on our high-end cooking [kitchen] facility. It is essential for the whole thing to work; so it is to full-blown international standards of hygiene as well as equipment and working methods. What I really coveted for: no one must think twice about eating at Taazo.
"We have some customers who usually avoid eating outside home but regularly visit Taazo. One patron told me that he can't digest outside food, but he eats three to four times a week here."
Despite all this input, Jawad has chosen to lay low on the marketing, focusing primarily on nearby customers on and around Main Boulevard – from Liberty to Siddique Trade Center, instead of going all out with TV commercials or leaflets. "There is a deliberate reason why I haven't yet gone all out for marketing. I didn't want to make any promises to customers that I couldn't keep. It has been only two months since May when I opened this place and I wanted to make sure to get the operations in order first. Then Ramadan slowed down the retail business but it gave me more surety of how I wanted to run this. Now the push is starting on the marketing front."
Affordable to all
Jawad and his team took their biryani to office workers, shopkeepers and shoppers around the area of his first outlet on the Main Boulevard. He narrated that people not only appreciated the food but also volunteered to take them to other shops and introduce their friends to the taste. "Some people were even able to tell that Taazo biryani tasted like the one offered at a renowned five-star hotel; no wonder, for I had poached my chef from there."
He has made his location decision entirely on footfall, which has also made him consider going to malls. "We are in discussions with the major malls and it is a priority. I want to build Taazo on McDonalds model, accessible to all – blue collar workers to students to families – and at a consistent quality." So far he only operates on the Main Boulevard and Jail Road – both busy locations, involving a customer body primarily of office workers, retailers and students, but also host to doctors, hospital staff and entrepreneurs.
Jawad considers his venture a budding success, even though he agrees that the timing of his entry, and Ramadan have been the reasons for the gentle upward growth curve. He plans to excel in one dish first before additions to the menu – "we want to provide the best biryani in Lahore at a price that's affordable to all" – being his ambition for the brand. Although recipes are the primary factor for a food business, he does not seem too worried about its secrecy. "We do have IP of our recipe and there is always this risk in restaurant business but even if someone copies it, it's just a recipe, not our entire model. We spent four months only on building the state-of-the-art infrastructure and developing the brand and customer experience, and that cannot be copy pasted just from the recipe."
High on quality and hygiene
Though he was not prepared to say much about the financials of the business but he did mention investing a significant sum of money in both infrastructure and brand building. "The biggest operational expense for now is on our high quality ingredients."
Jawad's concern for quality and freshness goes beyond just the edibles. Unlike aluminium or Styrofoam packaging, Taazo has taken to reusable and microwaveable, food grade plastic packaging. The bright orange bowls – the color also known for its ability to increase appetite – can be taken away and is particularly popular with female customers. "Though it adds to the cost significantly, but it's essential to project our brand image of freshness, high quality and hygiene", says the Taazo founder. The price offered is also mid-range as compared to other biryani brands that are targeting the mass market. "Operationally you can say we are breaking even. But I have a completely long-term focus so I am not worried about fast break even or franchising it and running away."
Despite H Block market in Defence, M.M Alam Road in Gulberg, and the Food Street in central Lahore overflowing with food outlets, many of these offering Biryanis, Jawad does not consider any as his competitor. To him, his model forms the basis for competition. To his knowledge, he claims with aplomb, there is no other brand that is operating on a similar model or at the same level as Taazo.
Jawad concluded, "I have lived outside Pakistan a lot, first in the UK and then in the Middle East. In starting Taazo, returning to one's roots was also a factor, but for a business you need to make sure it makes economic sense – and I do believe that Pakistan offers tremendous opportunities.. Since my background is in telecom and digital area, so that was an obvious avenue to pursue and that too is there. Moreover, before telecoms I worked extensively in management consultancy. So I have got to experience a wide range of sectors. But targeting the middle market with a well-orchestrated high quality food-retailing brand was one glaring unexplored opportunity and I felt that I needed to take it. There are several challenges but the market provides opportunities as well and that you cannot deny. However, Taazo is not the only initiative that I plan to do here. My next project will be most likely in digital space, in line with my previous experience."