''With the app, it takes just 30 to 40 seconds to place an order,'' said Nauman Sikandar Mirza, CEO EatOye and Foodpanda, while placing an order on the recently amalgamated foodpanda app.
''It knows all my previous orders, my address, my ordering preferences. Instead of calling them [restaurant], telling everything every time this is in 25 seconds,'' he closed the app just as he demonstrated how to place an order on the leading food portal while talking to Profit correspondent.
The convenience is arguably a major factor behind the app's immense popularity – enabling the largest food portal to tot up around Rs2 billion a year.
An alumnus of Lancaster University, UK, Mirza can be considered one of the most successful entrepreneurs of his time. After leaving a job in hotel industry in the UK, Mirza turned to Pakistan to provide a worthwhile restaurant experience to the people. In a matter of just four years, he became a part of the first-ever and the largest acquisition of IT industry between his brainchild EatOye and the Germany based Rocket Internet's foodpanda in 2015.
However, unlike most 'exits' – meaning businesses acquired from those who had launched it, Mirza managed to not only retain the position as the CEO of EatOye but also became the chief of foodpanda, his former competition.
Today, he runs the largest online food portal, the combined business of EatOye and Foodpanda and plans to achieve more in the future.
In tete-a-tete with Profit, the restaurateur entrepreneur Mirza shares his thoughts on his business and what it stands for.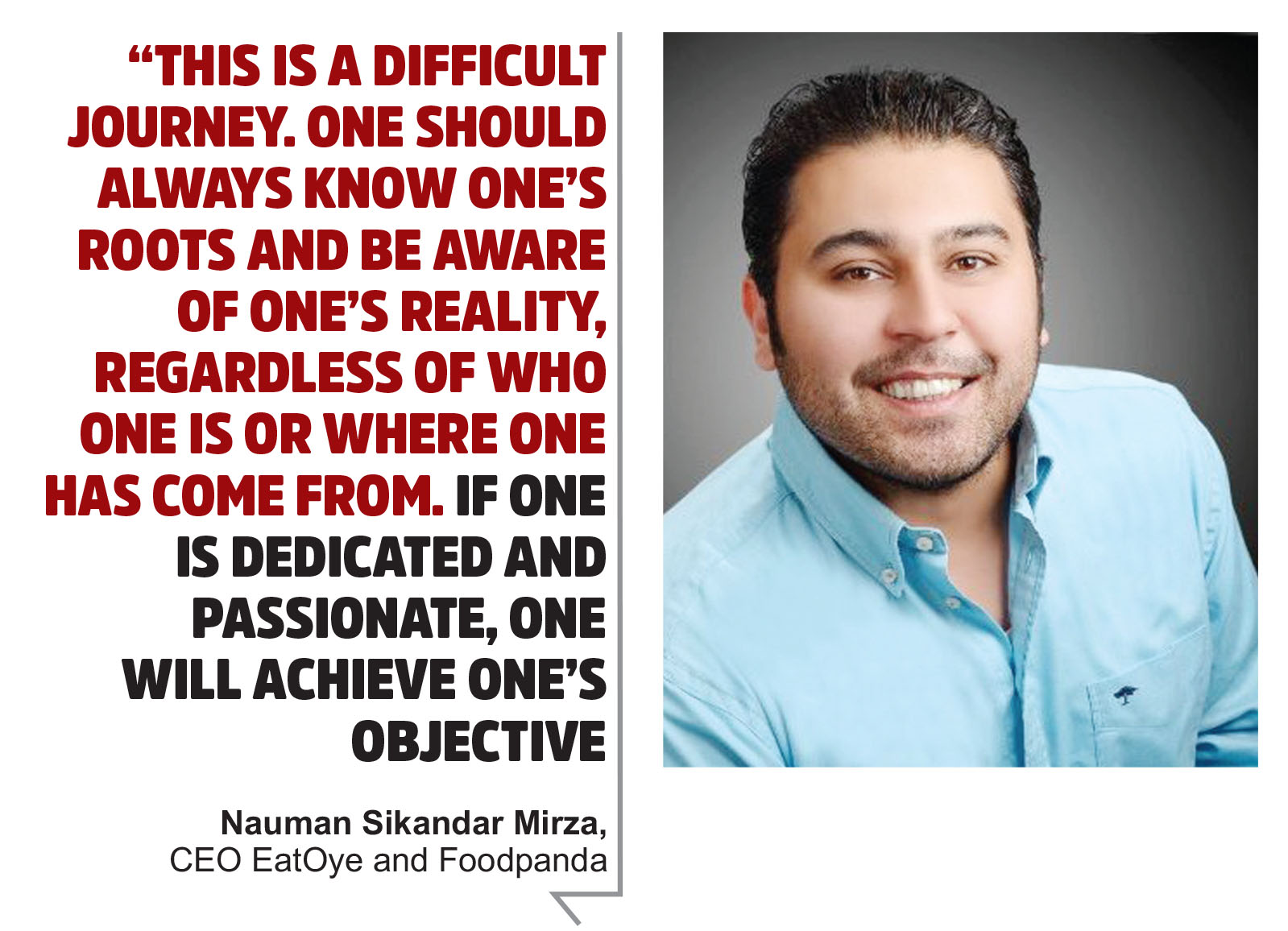 Food Connection Pakistan: Starting with a failure
EatOye did not become a success overnight. The former CEO of Akash Hospitality Group – one of the UK's largest chain of Indian restaurants – had his initiation with a venture slightly different than EatOye. In 2011, he had stepped in to cater to the country's $1 billion strong food market, and Food Connection Pakistan was his first introduction to it.
''I saw that Pakistan has a huge market in terms of food,'' Mirza confidently talked about the local food market which is as big as $1 billion (2012) and every month as many as 50 restaurants open up increasing the market size.
While working at Akash, Mirza conceived the much-needed food portal that was missing on Pakistani horizon at the time.
"There were thousands of restaurants and millions of customers, yet there was nothing which connected these two,'' the restaurateur was intrigued by the possibility of becoming a bridge between the two, thus initiating Food Connection Pakistan.
Food Connection Pakistan, aka FC Pakistan, was an online restaurant guide that showcased restaurants' information, reviews, and pictures in order to inform and attract potential customers for the restaurant. Mirza took this initiative with his then partner Rai Umair – a technology specialist who now works for Arpatech, FC Pakistan's investor.
"We're a nation who talks about lunch when we are having breakfast, and we talk about dinner when we are having lunch; we are always talking about food,'' he smiled when talking about the motivation behind FC Pakistan endeavour.
Despite being a successful venture with an annual turnover of Rs10 million in revenue and 150,000 visitors per month, FC Pakistan did not click the way it should have. Mirza thinks it was mainly because of the lack of direct access to the restaurants which led restaurateurs to believe that the partnership with FC Pakistan was unfruitful.
"The restaurants weren't eager to renew the service because people were just looking at the information, and when they were going to the restaurant or ordering delivery, nobody was telling them that I saw your information on Food Connections Pakistan.'' The restaurants who made big dough from the platform were not able to appreciate the background service – that explains their diminishing interest in the partnership.
Another major reason was that customers themselves were not able to directly make an order and thus FC Pakistan could not track the transactions that were taking place through its channel. This was a flaw that Mirza and Umair identified soon after foodpanda came to Pakistan in 2012.
"Foodpanda had entered the market and they were providing one additional service to restaurants; people could review the information and they could also place an order,'' said Mirza, admitting he had missed on the opportunity of becoming pioneer of such a model – a major regrets of his entrepreneurial career.
Pivoting the model to EatOye
In order to save the market share of the company – with at least 3,000 restaurants on board – and create a value for their stalling startup, Mirza and Umair understood the need of pivoting the model and headed out to find investment for their improved idea – EatOye.
The company then received a funding of $300,000 from Arpatech for the purpose in order to create Pakistan's first local online food delivery portal. This time it was ensured to cater to the all-round needs of the patrons.
The platform required to directly engage customers, it had to channelize transactions in order to satisfy the partner restaurants and it had to have a name that their target audience could not only understand but also retain – EatOye met both requirements.
Success story
In order to help restaurants with marketing – an oft-neglected part – Mirza's EatOye came up with the solution to solve that need but also to provide day-to-day business, with restaurants paying a specified commission if they got business from the platform.
"We have two types of services. The first type, only brings new orders and restaurants do the delivery on their own, paying EatOye 15 to 20 percent commission. The second is where along with bringing the order we provide end-to-end delivery service as well, for 25 to 30 percent of the take,'' said Mirza.
Mirza was able to convince restaurants to come onboard even before EatOye commenced operations.
Another part of the plan was to attract new customers and retain old ones. Mirza thus made it his policy as well as the company's to listen to what the customers had to say.
"Hundreds of customers kept saying that they wanted discount. EatOye soon introduced discounts and ran promotions – still a continuous feature of the combined app.
Within a year, EatOye rose to the success Mirza had dreamt of. It was recognized on various platforms and was awarded with two major entrepreneurial awards.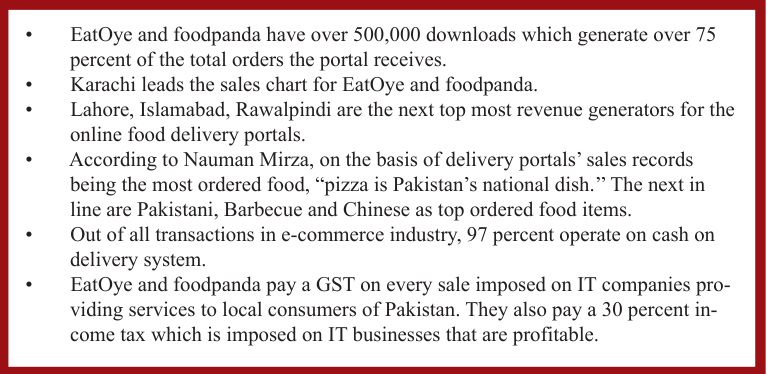 In August 2014, EatOye bagged gold award (1st position) at the [email protected] ICT awards – one of Pakistan's most prestigious IT awards – in its particular category. In October that year, EatOye – based on its victory at [email protected] ICT – participated in APICTA competition and secured silver medal in Indonesia.
"We tried to build excellence in whatever we're doing. Our mission was that customers should rate us a a local company with international standards,'' said he.
Winning against the odds
"When we started, the first month we did not even have enough to pay the salaries; there were days when I did not have money to take my children to hospital. And then we reached a point where another company recognized the value [we were] building and acquired [us],'' said Mirza.
"We were fortunate that foodpanda was operating in Pakistan and [they] saw that EatOye has a potential. We had been growing really fast and acquiring would add a lot of value to the overall business in Pakistan,'' said Mirza on the merger that took place after six months of diligent due process in 2015.
After working separately for two years, right now, foodpanda and EatOye have started to operate as a single website under the name of foodpanda.
Today, EatOye and foodpanda – with a daily run rate (average orders per day) of 5,000 orders, 10,000 daily visitors, and 1,000 restaurants on board – hold a major share of Pakistan's $250 million food delivery market. It is now Mirza's challenge to secure in the next five years almost one-fourth of this market – which is itself growing at a rate of 10 to 15 percent every year.
Mirza's goal is still the same: to make his product an amazing experience for the users and provide a better platform to the restaurants that partner with EatOye and foodpanda. Customer satisfaction, however, remains the top-most priority and recently the food delivery portals have dropped 1,000 restaurants from the platform that were not able to meet the quality standard EatOye and foodpanda have promised to their customers.

Regardless the two portals combined now receive a quarter million orders per month.
After acquiring a significant share of the market and aiming for a still bigger slice of it, EatOye and foodpanda are unthreatened by the presence of various new food delivery portals. The reason according to Mirza is the 1000 percent difference in the daily orders these portals receive as compared to the merged online delivery giants.
However, direct telephonic orders are still a hitch Mirza wants to tackle in order to achieve his goal of acquiring 25 percent of the market by 2020.
An entrepreneur keen on mentoring
Taking great pride in calling himself an entrepreneur, Nauman Mirza is always intent on keeping on improving his product until it is the best of the best. That said, he has also involved himself whenever he gets an opportunity to mentor the new generation of entrepreneurs.
"This is a difficult journey. One should always know one's roots and be aware of one's reality, regardless of who one is or where one has come from. If one is dedicated and passionate, one will achieve one's objective,'' with a broad smile he shared the secret behind his success.