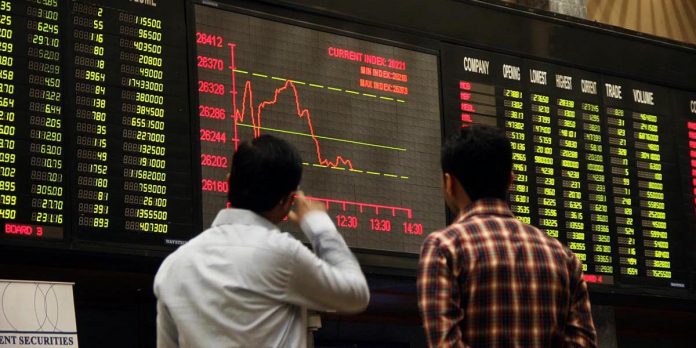 LAHORE: The Pakistan Stock Exchange (PSX) which opened the week with gains in its bag dropped into in the red by midweek. With rising political noise in absence of a positive trigger, local investors preferred to sell. Foreign investors, on the other hand, were net buyers for the third consecutive week. The week not only brought a new head at the exchange, the first ever non-Pakistani, but also saw improved volumes compared to those seen in recent months.
The benchmark KSE 100 index went lower and lower all day long trading between an intraday high of 43,436.20 and low of 42,754.30. The index settled down 460.46 points at 42,934.82. This meant the index inched up a minor 1 per cent in the week. The KMI 30 index lost 1.33 per cent during the session while the KSE All Share Index lost 1.13 per cent.
The market volumes came down from yesterday's 319.45 million to 235.60 million with 108.23 million shares exchanged in the KSE 100 index scripts. TRG Pakistan Limited (TRG -2.62 per cent) dominated the volume chart with 23.67 million shares on the table. Worldcall Telecom Limited (WTL -3.79 per cent) followed with 12.88 million shares exchanged. Azgard Nine Limited (ANL -6.89 per cent) was next with a volume of 11.65 million shares.
All major sectors slashed down their cumulative market capitalisations. The engineering sector lost 3.54 per cent from its cumulative market capitalisation with Amreli Steels Limited (ASTL) 4.07 per cent in the red, Mughal Iron and Steel Industries Limited (MUGHAL) declined by 3.38 per cent and International Industries Limited (INIL) lost 3.00 per cent.
The cable and electrical goods sector's market capitalisation contracted by 3.54 per cent also. Pak Elektron Limited (PAEL -4.84 per cent) closed negative following a 22 per cent rise in the past one month.